Basically: A monster cruise packed with laughs, danger and just possibly love.
Although the hotel is running well and family life is good, Drac (Adam Sandler) is lonely. Mavis (Selena Gomez) decides they need a break so they head off to…the Bermuda Triangle. It's been a long time since Drac "zinged" (i.e., found true love at first sight). Desperate fumbling with a not-helpful app and a single awkward dance aside, he doesn't know what to do. Mavis sees how unhappy he is and decides it's time for a vacation. After a moderately harrowing flight, she surprises Drac with…a cruise. He's adamantly against it, until he sees beautiful captain Ericka (Kathryn Hahn). Blonde and perky, she assures them it will be a cruise to remember.
But Ericka has secrets of her own, including one down in the depths of the ship.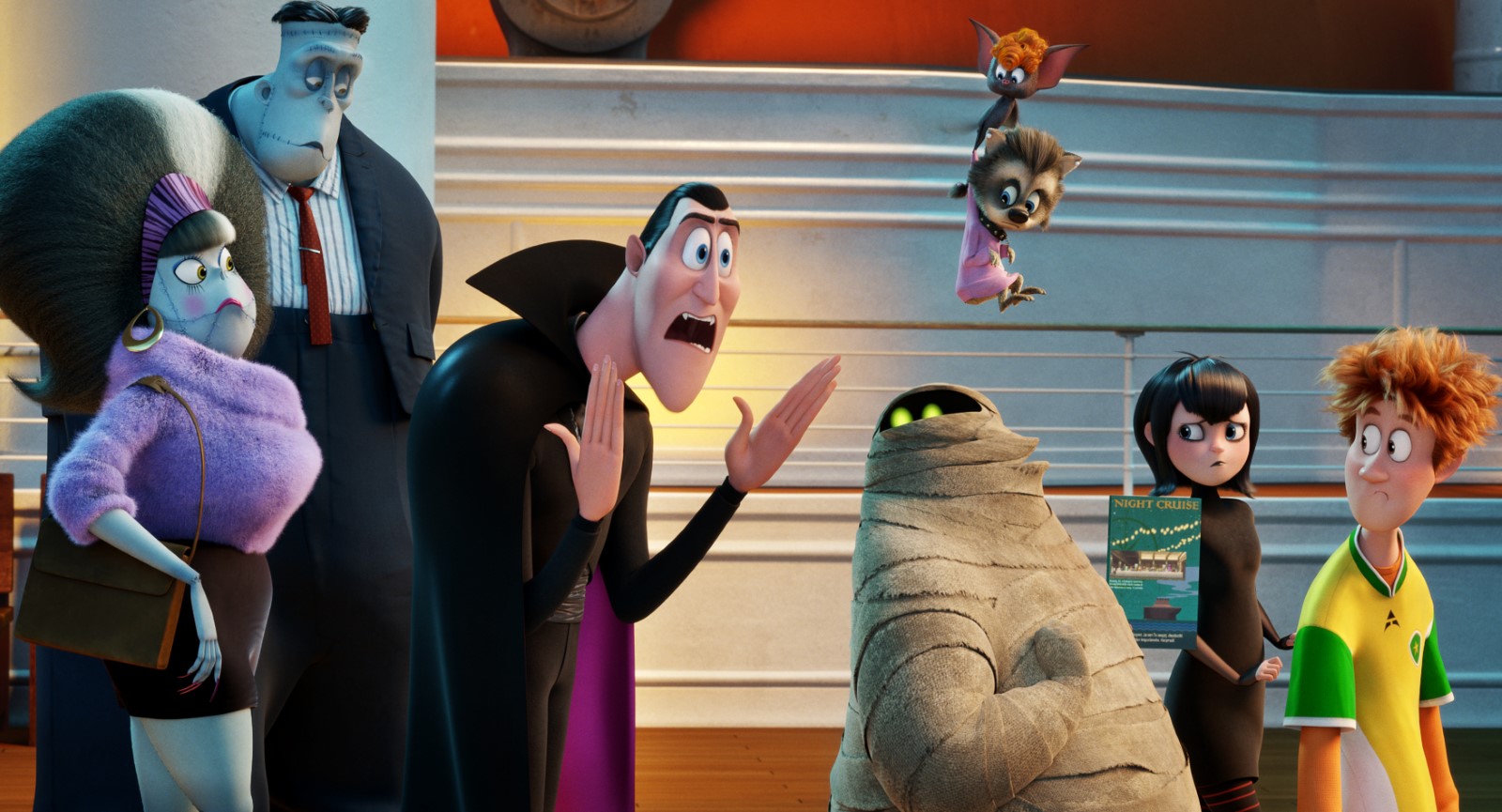 Photo: Sony
As Drac's buddies Murray the Mummy (Keegan-Michael Key), invisible man Griffin (David Spade) and monstrous Frank (Kevin James) try to get Drac and Ericka together, grandson Dennis (Asher Blinkoff) and his werewolf gal pal Winnie (Sadie Sandler) smuggle the gigantic puppy Tinkles on board and try to keep him out of sight. Werewolf parents Wayne (Steve Buscemi) and Wanda (Molly Shannon) discover bliss in the form of a day care for their roiling fur-and-fangs wall of kids, Blobby (Genndy Tartakovsky) struggles with the side effects of seasickness, and the voyage rolls on to its final destination: A famed lost city where all the uncomfortable truths finally come out. And it's up to Drac's son-in-law Johnny (Andy Samberg) to save the day…?
Sony Animation is running on all eight cylinders with this third entry in the Hotel Transylvania franchise. By taking the characters out of the familiar hotel environment, they're able to open up the storytelling to (mostly) fresh gags and take advantage of new opportunities for the characters to grow. Drac's loneliness has been hinted at before but this is where it's fully on display; Sandler does a great job selling the Prince of Darkness as a guy struggling with a need for love. His playful back and forth with Hahn might be some of the best work he's done in years; for her part, Hahn does a splendid job, giving us a young woman who finds that everything she thought she knew just might be wrong.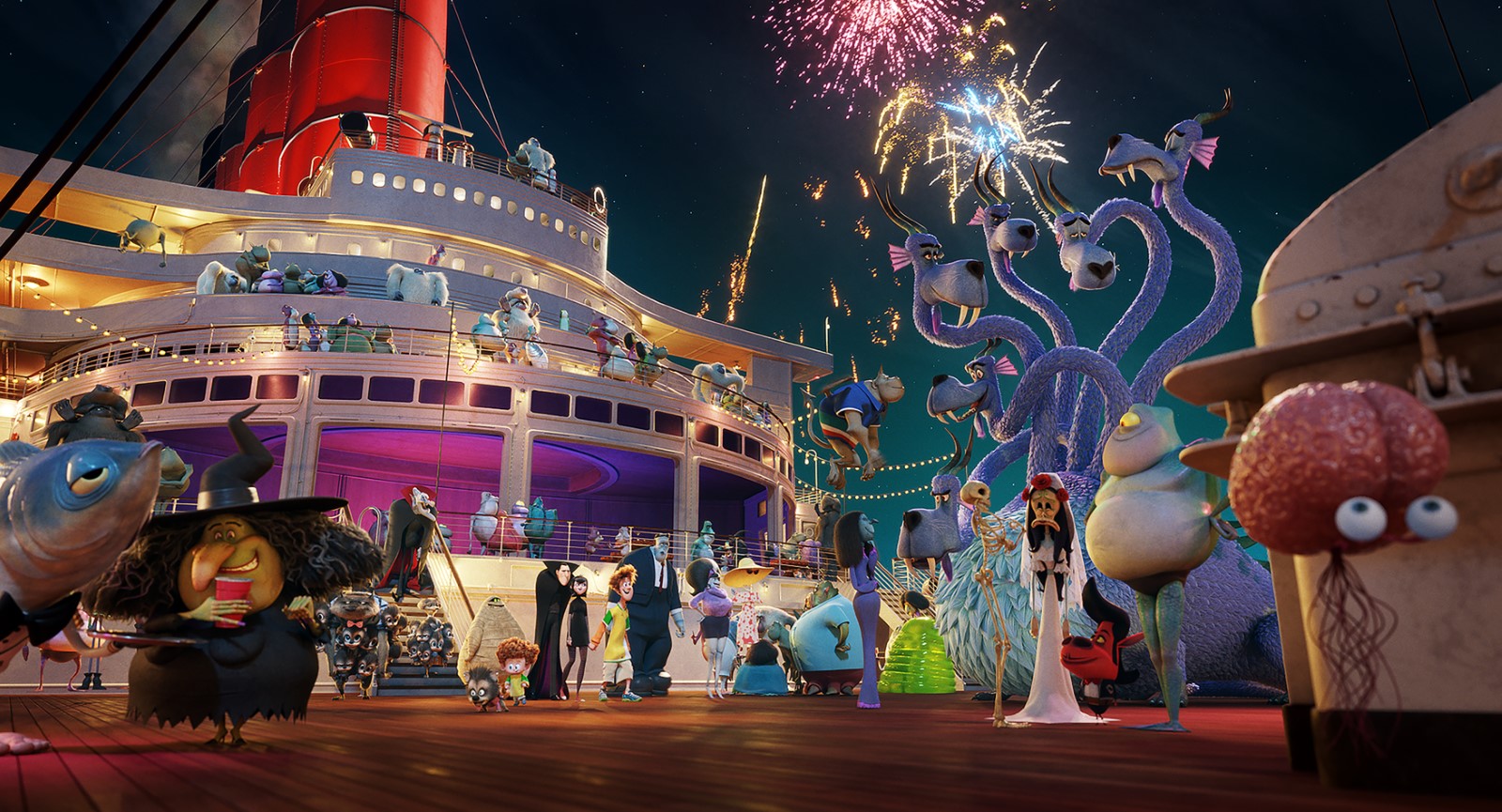 Photo: Sony
Sandler's back up players, many of them loyalists from past movies, deliver solid laughs as monsters who want to have some fun. Spade is snarky as ever as Griffin, with James and Key handing off some clever jokes. Fran Drescher is funny as Eunice, Frank's wife ("Watch the hair!"), and Buscemi and Shannon are hilarious as beaten down parents of a huge brood who get a much-needed break. Mel Brooks is back as Drac's dad Vlad; he has a few enjoyable scenes but is in the movie less than you might expect. Jim Gaffigan also appears as a character we really cannot spoil, save to say that he's there to provide drama. There are also some terrific "blink and you'll miss them" cameos like Chrissy Teigen as Griffin's wife Crystal, Tara Strong as Frankenlady, Chris Parnell as the Fish Man, and Joe Jonas as the Kraken.
In the end: Hotel Transylvania 3 is lightweight summer fluff but it's enjoyable, well done, with a tremendous cast and expert storytelling behind every frame. It's out to entertain, to make audiences smile, and move the story of these characters along one more chapter.