Basically: FREE GUY flaunts big action and bigger fun but sneaks up on you with its big brain…and we like big brains, we cannot lie.
How do I say this without setting up false expectations for the rest of this review? I guess I should get it out of the way: I am developing a crush on Ryan Reynolds. Not for his sense of humor (although it is admirable—I covet it, actually), or for his pectoral muscles (although those should also be congratulated). No. I am crushing on Ryan Reynolds as a producer, one who makes choices that are wild, relatable, and yet tend to glitter bomb you in the face with intelligence. Reynolds is armed with satire like a tommy gun shooting sunshine. You might need sunglasses but you'll also get lots of Vitamin D. Stop being silly. That D stands for delight.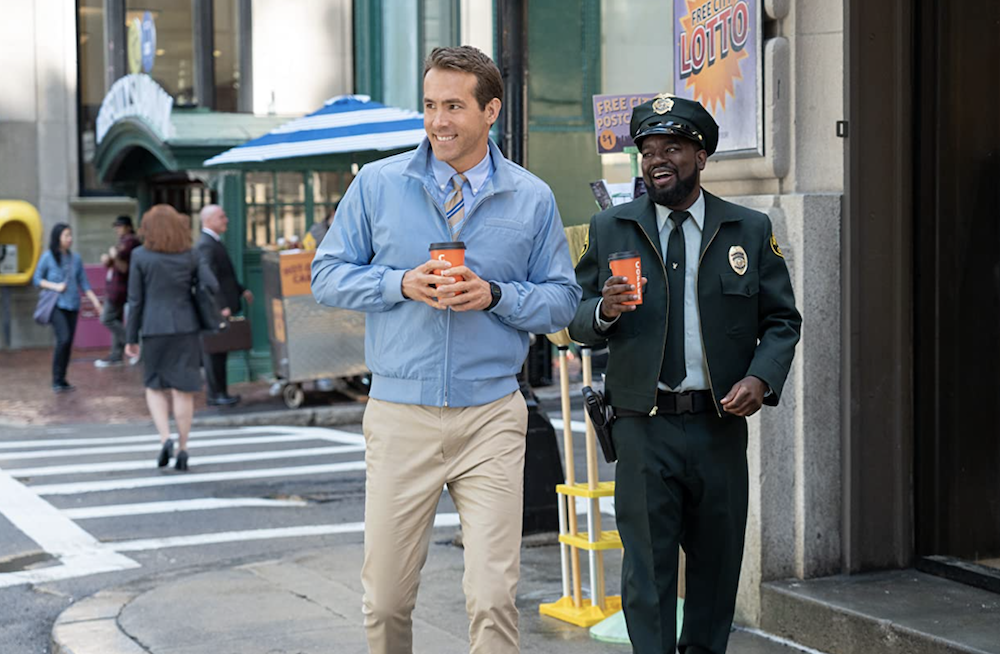 Photo by Alan Markfield © 2020 Twentieth Century Fox Film Corporation
You know who else needs sunglasses? Heroes. Especially the players in the Free City video game, where crime is winning (so basically Grand Theft Auto). That's good for racking up coins but not for the unwitting NPCs (non player characters) inside the game. They get mowed down by stolen cars or have their heads stomped on during hourly bank robberies. Yet they manage not to panic and carry on through the same day every day.
And then a boy meets a girl. Okay, actually, a Guy (Reynolds) meets a MolotovGirl (Jodie Comer) but the aphorism still holds. Suddenly Guy awakens to all the possibilities of life and refuses to play by the rules anymore.
As expected, FREE GUY is a winking action-adventure with pop culture wittiness and a pacing that keeps you engaged throughout the full 2 hours. But, my friends, when I donned my mask and loaded up my sanitizing spray, I never expected to see a film that hilariously deals with philosophical conundrums the way The Good Place used to. I know you didn't either but that is what is coming your way.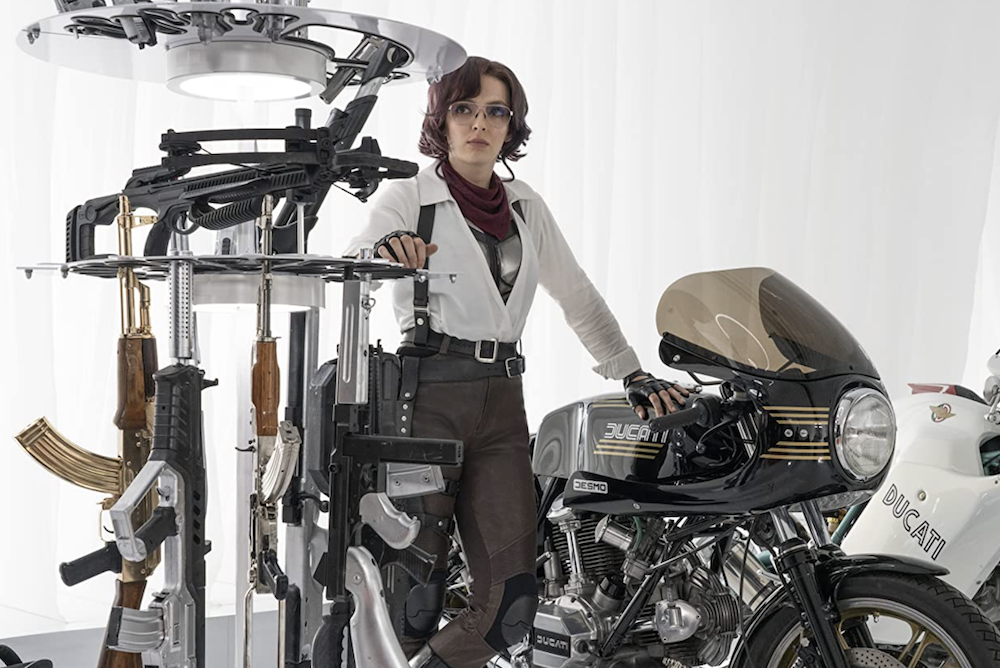 Photo by Alan Markfield © 2020 Twentieth Century Fox Film Corporation
Guy is a soft fluffy daydream of a character who goes on a quest to find the heart of the game—mostly to impress Comer's Millie AKA MolotovGirl—but he becomes more than a hero. Just as FREE GUY becomes more than an engaging video game spoof. This is a satirical dissection of society and class. Yup, that's what I said. The themes here blew my mind. The plight of the NPCs becomes a means to explore privilege versus the proletariat. Guy's sudden sentience is an exploration of existentialism that questions what life is. And in the world beyond the game we tackle the cruelty of capitalism with a sprinkling of the rot of misogyny.
What is going on? Writers Matt Lieberman and Zak Penn did a thing here. They somehow manage to blend all of that goodness with romantic comedy and slapstick shenanigans too. And it all works. It comes together like a hot fudge sundae with bullet sprinkles, philosophical hot fudge, and creamy sweet ice cream in the flavors of our childhoods. Director Shawn Levy also deserves applause. This movie looks amazing and yet it never feels like too much.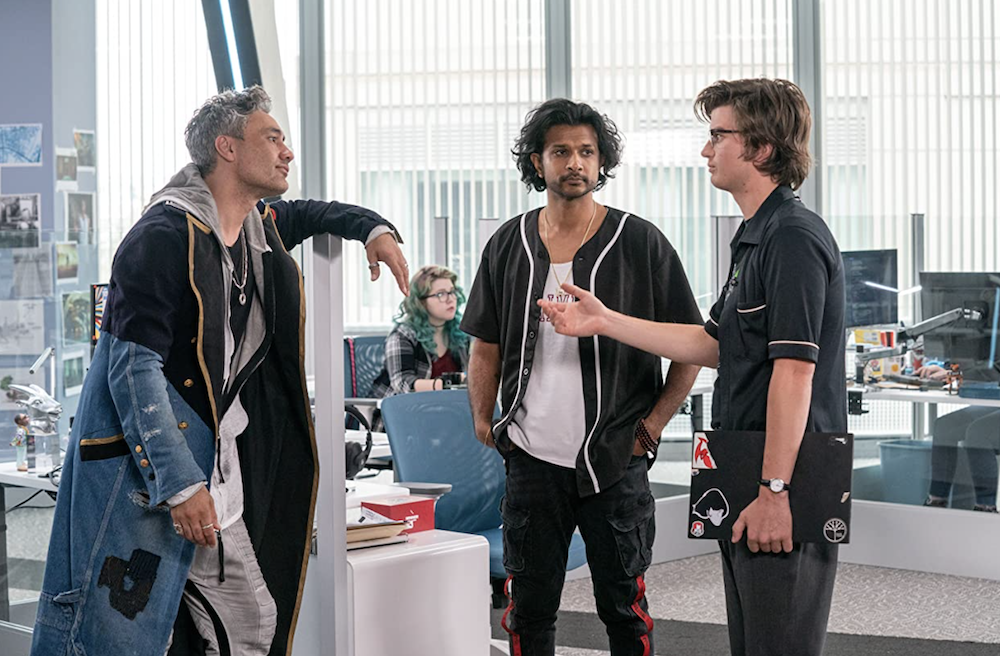 Photo by Alan Markfield © 2020 Twentieth Century Fox Film Corporation
The performances from Reynolds and Comer are peak but Taika Waititi as an asshole named Antonie, Lil Rel Howery as the clear eyed Buddy (Guy's BFF), Utkarsh Ambudkar as the astute semi-fucboi Mouser, and Joe Keery as Keys (tha sweetie), they all put in equal work.
And the cameos. Your brains are not prepared for the cameos. Do not let anyone spoil them for you.
Sidebar: For the idobi Radio fans, Millie has Tame Impala and Arcade Fire posters on her wall. I mean, if anything was ever going to tell us who she is. Right?
FREE GUY has a lot of similarities to Galaxy Quest (1999), in the ways it spotlights a fandom and lets us all in on the joke as a kind of celebration of the things we love (and obsess over). But it goes so much further. This movie is deceptive because it is social commentary. In that way, FREE GUY reminds me of Nine Days. The two stories, on opposite sides of the spectrum, speak to the meaning of life and what makes life meaningful. 
There's only one drawback to FREE GUY, the villain stole my catchphrase. Only I am allowed to say, "Welcome to the conversation."
In the End: To borrow Guy's catchphrase: It's not just a good movie, it's a great movie.