Basically: A surrealist journey into an existential crisis and the many shades of motherhood.
Michelle Yeoh has a high aptitude for being great; when writers and directors recognize this ability the outcomes sparkle. In Everything Everywhere All At Once she is an alternate universe Doctor Who. Just kidding. Yeoh is "The One" like Neo. Well, kind of.
Actually, she is Evelyn Wang, proprietor of a laundromat, a daughter, a wife, a mother, and apparently not succeeding at any of those. Unlike Michelle Yeoh, Evelyn has no aptitudes at all. I'm not kidding, this film wants us to know that. However, she does have an appointment at the local IRS office with an angry but fair auditor (Jamie Lee Curtis), and she's about to be served with divorce papers by her husband, Waymond (Ke Huy Quan).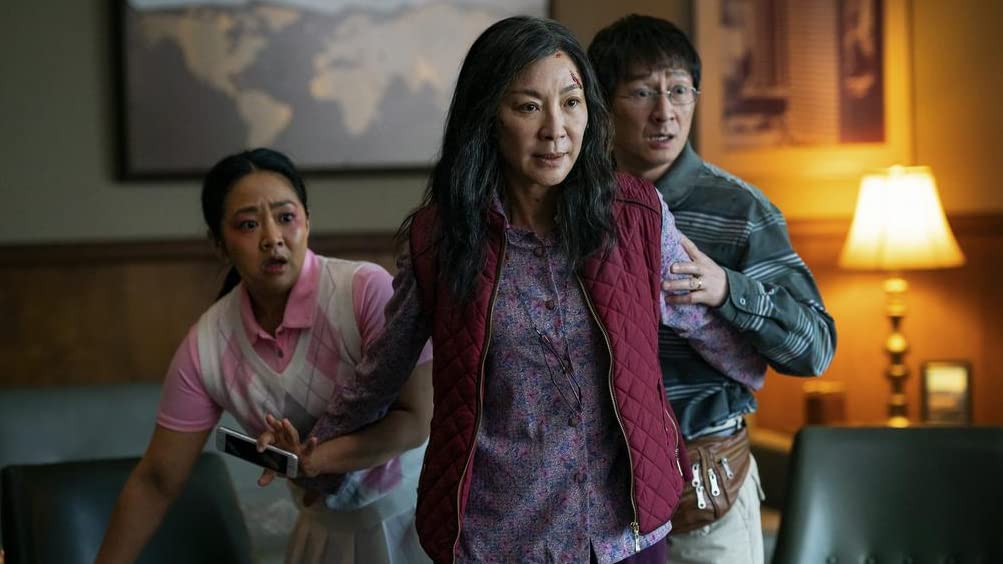 Pay attention to those relationships—they're going to matter—but the bond this film hinges on is between the mother and her daughter, Joy (Stephanie Hsu). Their relationship is explosive, in an end of everything everywhere way. We all know, it's natural for daughters to seek approval from their mothers, but this need can also be as destructive as some mothers' attempts to criticize their daughters into perfection. Oh yes, baby, we're talking about intergenerational trauma or maybe drama. And yet, if you've ever seen Swiss Army Man (2016), you know DANIELS (the writer-director team of Dan Kwan + Daniel Scheinert) are not prone to taking the soft and easy route. They've made a film that is absurdist and challenging and hilarious.
Imagine if Stephen Chow, The Wachowskis, and Bong Joon Ho got together and started freestyling.
You can't do it, can you? That's why you need to see this film.
When I say Everything Everywhere All At Once is a surrealist journey into an existential crisis and the various shades of motherhood, what I mean is . . . exactly that. The two Daniels utilize quite a few themes of existence, science-fiction, and theoretical physics to tell their story. First up, they explore quantum realities, a theory that imagines every choice we make splinters into a different universe and a very different version of ourselves. Then they jump into probability versus improbability and how the most farfetched happenstances might create new opportunities. Finally, and most joyously, they explore the theory of potentiality. Asking the question: Can the energy of wasted potential be harnessed, and could the inverse also be true when someone's potential is pushed to the point of breaking?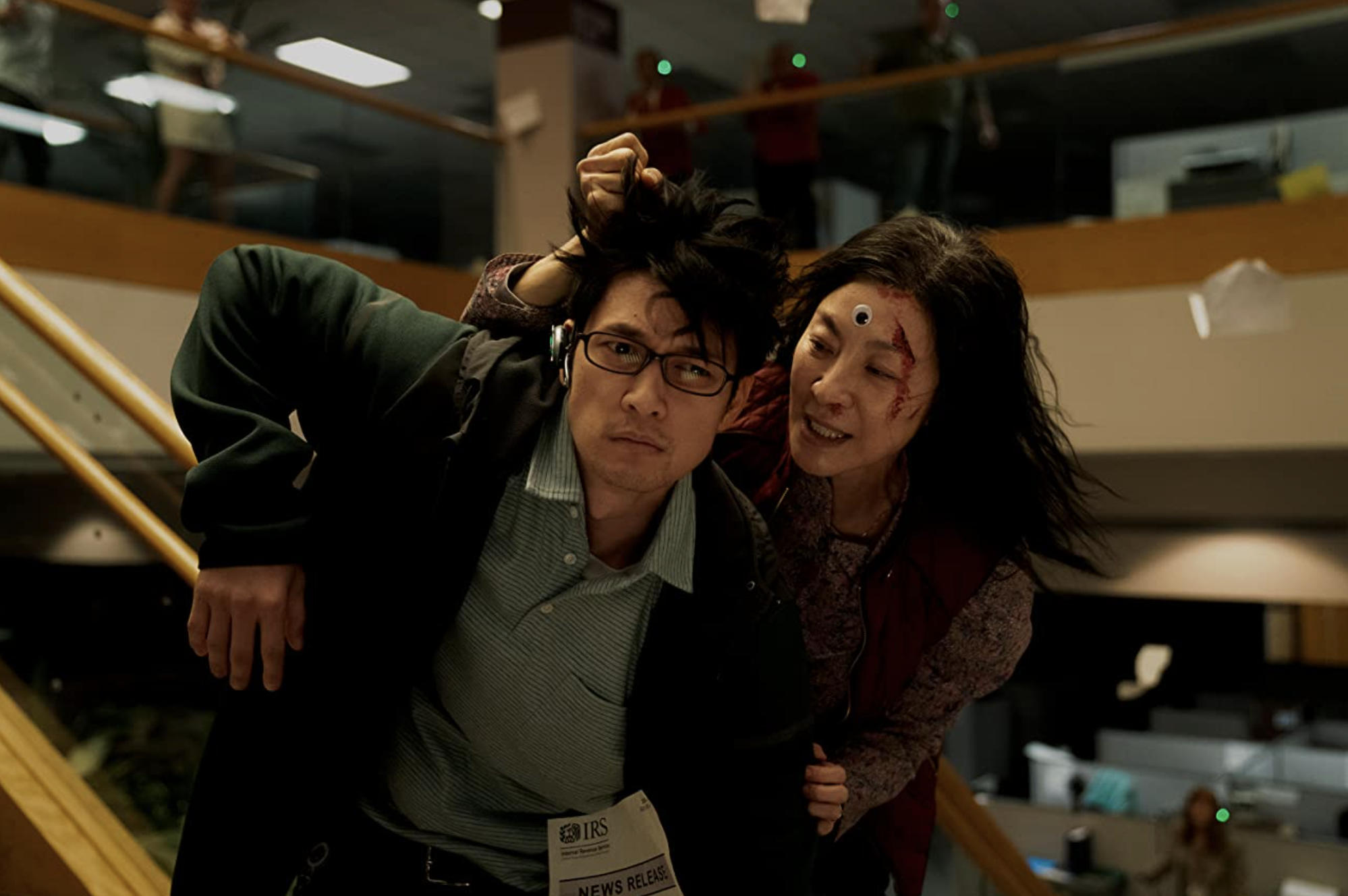 I kinda loved it.
Buckle up and get into it, buttercup. There's no chance you'll guess where this film is going. You probably don't want to try.
Without questions, Yeoh and Curtis rock this script, but Quan plays Waymond with a mixture of the wonderment of Data from Goonies and your favorite Jackie Chan character—which means he is excellent. I cannot wait to see more of his work in the TV adaptation of American Born Chinese. Hsu is asked to take on a series of faces with a galactic range of emotions and she bodies every one of them.
Beyond all of the above goodness, this film understands that misunderstandings are the most destructive force in the universe. Did I mention I kinda love Everything Everywhere All At Once?
Yes? Then don't make me repeat myself. Go see this wildness that lands an emotional punch.
In the End: Seriously? Don't make me say it again: SEE IT.