by Kat Bittner
Basically: It's a royal visit and everyone is invited to Downton Abbey! 
It's Autumn 1927. The leaves are changing. A grey morning mist blends with train smoke as a letter arrives through royal mail. King George V and Queen Mary will be visiting Downton Abbey! Will the Crawley family and their household staff be able to pull off this major event and bring the whole village together? 
It's been four years since we last visited the Downton Abbey estate and whether you have watched every episode, skipped a season or two, or came into it without having watched the series (do watch the series!) the movie is enough of a self contained story. It does a great job of establishing a balance between the upstairs and downstairs worlds. Each of the main characters and supporting characters are able to have their turn in the spotlight, so whether you are a lord or a footman the biggest dramas still remain the personal ones.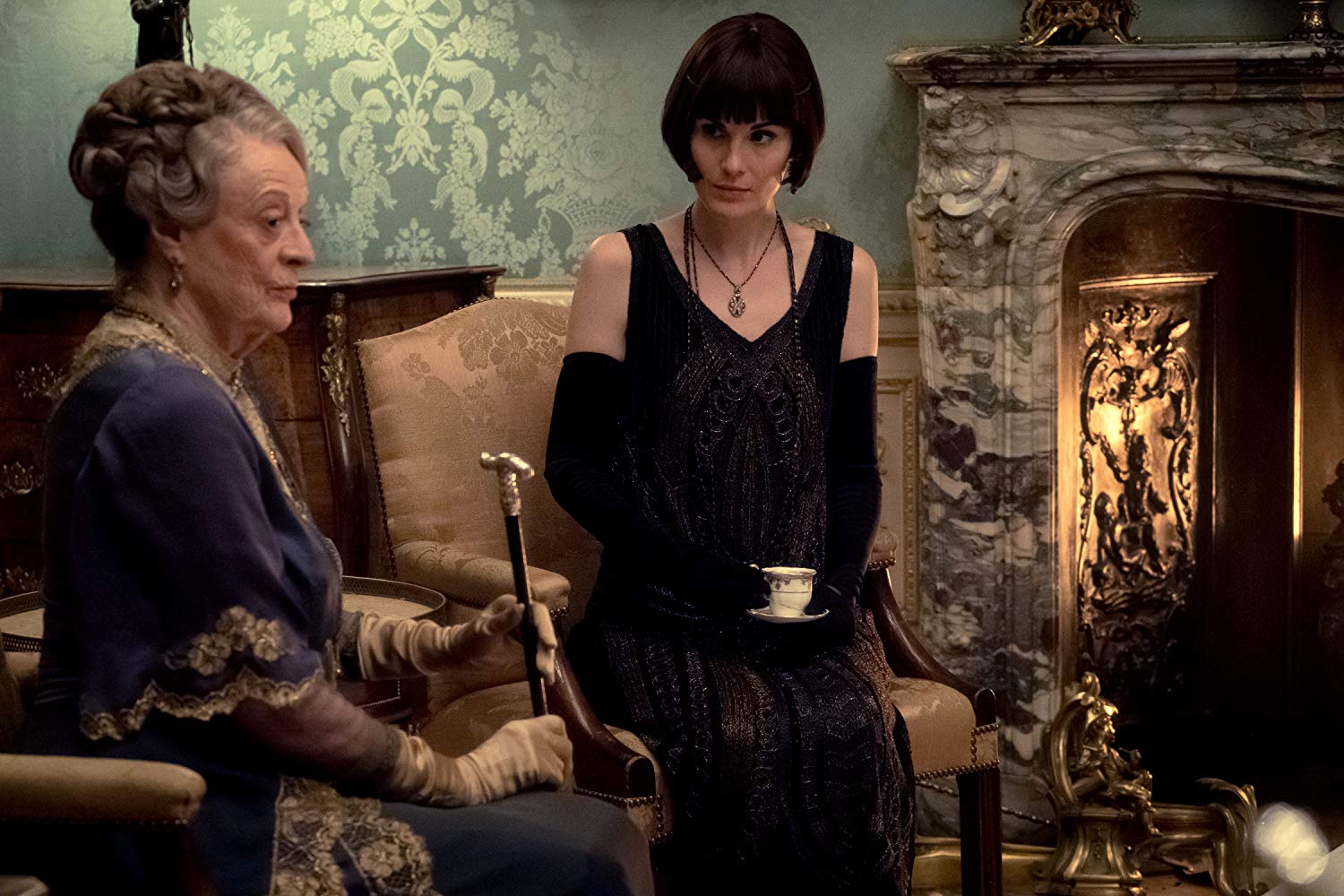 Photo by Jaap Buitendijk - © 2019 Focus Features
Lady Mary (Michelle Suzanne Dockery) has been groomed to take over the estate and the royal visit is her first major event. She's overwhelmed and having Thomas Barrow (Robert James-Collier) as head butler does not help either. He is bulldozed by the royal household staff especially by the (sardonically nicknamed) Page of the Thing a Mie. What Mary needs is a firm hand and she calls in Mr. Carson (Jim Carter) out of retirement to help her with this momentous task.
The majority of the new characters are introduced via the royal household staff and their counterparts—Butler, Housekeeper, and Chef—have put traditionally stern and steady characters like Mr. Carson, Mrs. Hughes (Phyllis Logan), and even Mrs. Patmore (Lesley Nicol) on the defensive. With their leadership positions challenged they are cast aside in preparations for the King and Queen's visit. Whereas their proteges have come into their own, like Daisy (Sophie McShera) who has matured from kitchen maid to Mrs. Patmore's second in command. 
Speaking of the royal couple, one of their travel companions is Lord Grantham's aunt, Lady Maud Bagshaw (Imelda Staunton), who has fallen out of favor with his family. Lady Grantham (Maggie Smith) is determined to reconnect with aunty, especially when she believes her son should be her heir. However, there may be competition for the inheritance…(oh the intrigue).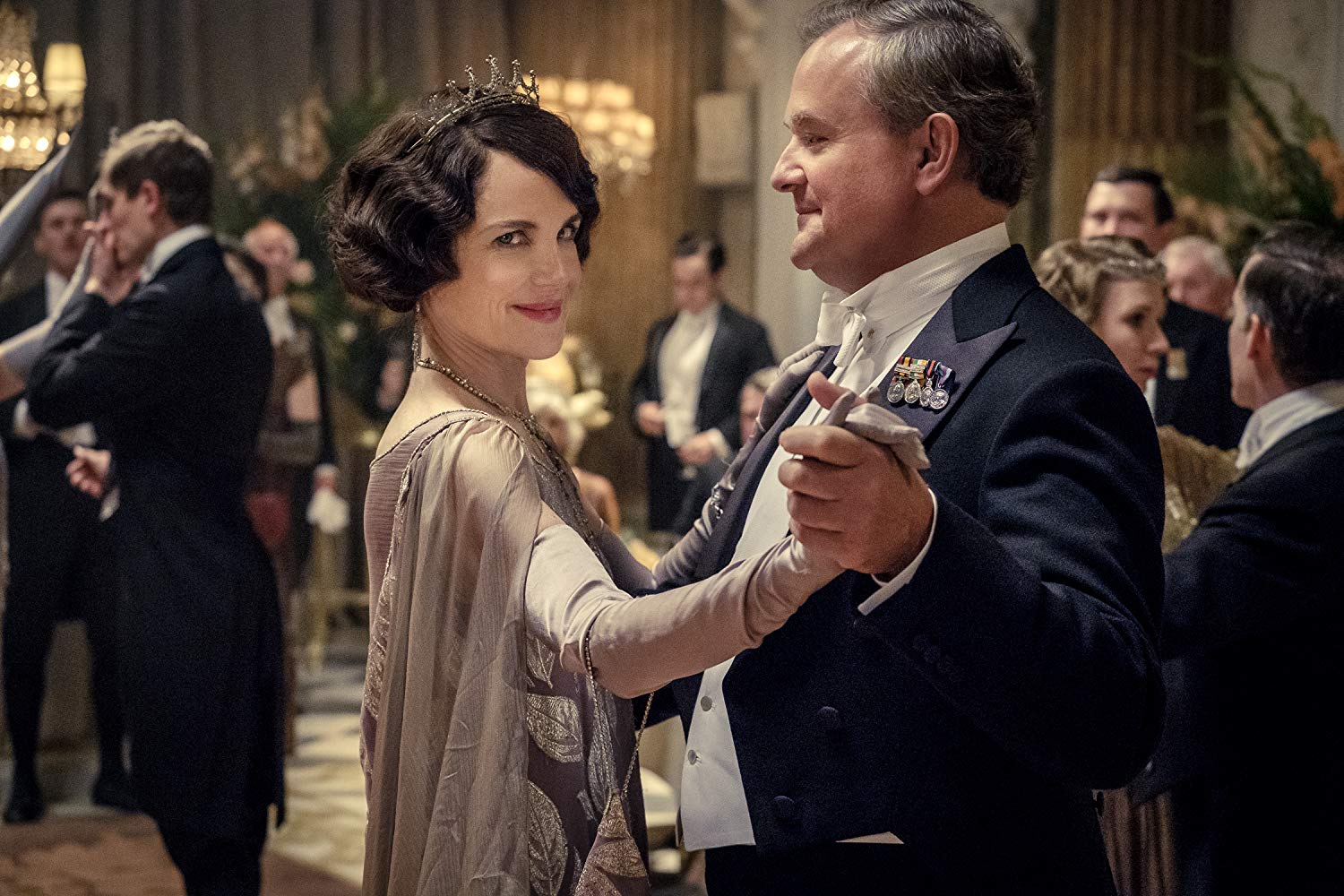 Photo by Jaap Buitendijk - © 2019 Focus Features
As an American I liked how the film still navigates between the worlds—upstairs vs. downstairs; Downton Abbey vs. the village and beyond. Tom Branson (Allen Leech) has been able to tread these different settings, but at what cost? There is a potential plot against the King and Queen that draws Tom to a former acquaintance Captain Chetwode (Stephen Campbell Moore). This will ultimately decide whether or not his loyalties are to his new life or to his former one.
My favorite among the many story lines in the Downton Abbey film is Tom Barrow. He's a complicated character who has evolved from scheming under butler to head butler position. Yet, in spite of his achievements, he still has not found his place until he meets Richard Ellis (Max Brown), a member of the royal staff, who inadvertently opens him up to another part of society and the genuine connection he has been seeking throughout his life. 
In spite of multiple subplots the movie is able to float along at a leisurely clip. We're able to get the dynamics of the relationships among the characters without the need to have seen all the episodes of the series. For example, the banter between Dowager Countess of Grantham and Isobel Merton (Penelope Wilton) (sarcasm is the lowest form of wit) is still razor sharp with each round of verbal sparring worth the price
of admission. 
In the End: If you yearn for more genteel times Downton Abbey the movie can offer that escape. It's as warm and comforting as a cup of afternoon tea.