Actually: 7.5
Basically: The incredibly wild story of a punk rock rebel who refuses to be your villain.
In the latest tale of a villain reimagined, we meet a young Estella who was born with a head full of harlequin hair—black on one side, white on the other. And much like her tresses, Estella refuses to conform. She will not be bullied, silenced, or locked away. Which, of course, we love about her but it still gets her kicked out of a stuffy private school. Thankfully her mum is always on her side…until a most foul and suspicious tragedy happens. A tragedy assisted by, you guessed it: Dalmations (but only three).
Ten year old Estella ends up on the run but thankfully she runs into a pair of same aged rascals, Jasper and Horace. The three of them grow up together on the streets, eventually becoming grifters. Guess who designs and sews all their disguises? Estella, totally. You see, our girl (Emma Stone) is an artist to her soul. All she needs is an opportunity to show off her skills. Jaspar (Joel Fry) makes sure she's in the right place at the right time (sort of) and Estella meets the fatally fabulous Baroness (Emma Thompson). And that, darlings, is when things really go off the rails.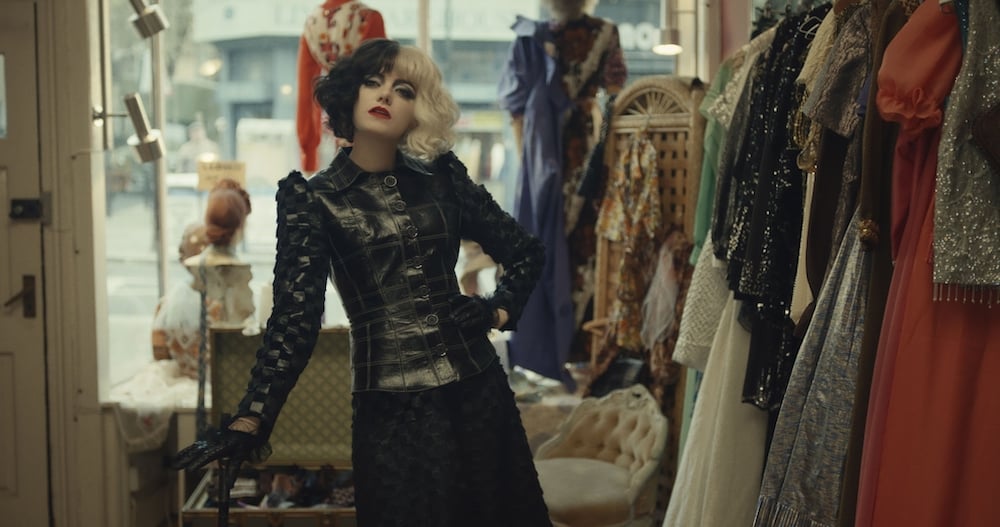 Photo by Laurie Sparham 

© 

2021 Disney Enterprises Inc.
First off, Cruella is a movie perfectly made for the idobi audience. The entire film is gloriously in-yo-face, it's non-conformist with a bad attitude, badass music, and punk rock fits that would make Vivienne Westwood applaud. Costume design by Jenny Beavan really makes you believe Estella and her alter ego, Cruella, are the next big fashion designers of the 1960s. The clothes are so totally sumptuous and unexpected and daring. Brava, Jenny! 
The plot is a breakneck origin story that has all the beats of a fairytale and all the fury of a thriller but it's also good family fun. That's a hard combo to pull off but director Craig Gillespie and writers Dana Fox and Tony McNamara do more than make it work, they allow it to sing with heart and character arcs that make the entire film a good time. They also do some really clever things with the plotting that surprises and delights. Look out for that hand beaded dress!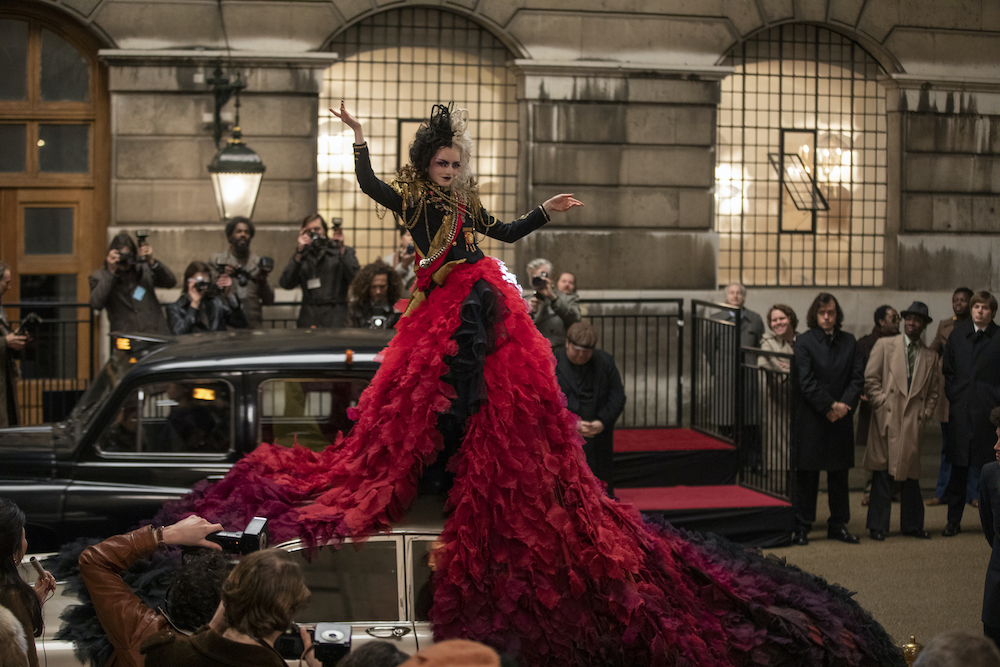 Photo by Laurie Sparham 

© 

2021 Disney Enterprises Inc.
I'm wary of villain redemption tales, especially ones like Joker who show us how horrible the character is but still try to justify their awfulness as everyone else's fault. Cruella artfully skirts that pitfall by showing us how easily rebels can be misremembered by history. It falls in the Wicked category of storytelling. This isn't a villain, this is a woman who refused to be held down by the wealthy. Therefore the only misstep of the film is one that fairytales make too often—the wicked older woman. Oh well, we can't have it all but we can have a raucously funny and gorgeously dressed thrill ride. And that works for me.
Especially since the cast is so endearing. The Emmas (Stone and Thompson) are perfect counterpoints, leaving you wondering which will be triumphant. Fry and Paul Walter Hauser as Horace make a lovely found family and Kirby Howell-Baptiste as Anita Darling is so charming we all want a bestie like her. And of course Mark Strong stays winning.
From the storytelling to the costuming, the performances to the soundtrack, Cruella threatens us with a good time and delivers most fabulously.
In the End: Get everyone together in the living room and watch it. You'll be singing and cheering for the story and oohing for the clothes and the action.