by Soma Brodhun
Basically: A refreshing rom-com concoction set in the glitzy world of a "crazy rich" fairytale.   
In this highly anticipated adaptation of Kevin Kwan's original Cinderella novel, a level-headed American-Born Chinese economics professor discovers that her sweet and seemingly unassuming boyfriend is actually the heir to a multi-billion dollar real estate dynasty in Singapore. Confusion, laughter, and romance ensue.
Rachel Chu (Constance Wu) is a respected professor of economics and game theory at NYU but her life changes dramatically when her boyfriend, Nick Young (played by charming newcomer Henry Golding), asks her to accompany him to his best friend's wedding in Singapore. Nick does nothing to warn Rachel that back home his family is basically royalty and that he is one of Asia's most eligible (and smoking hot) bachelors. Oblivious to the dangerous waters Nick has carelessly thrown her into, Rachel quickly finds herself barely treading water in a wild sea of his family, friends, and strap-hangers, who all seem to question her place at Nick's side. Faced with this, Rachel begins to question not only her self-worth but her cultural identity as well.  

Photo: Warner Bros. Pictures
This story delivers a funny, engaging, and tightly-constructed romp while giving us, at times, startling glimpses of the dark underbelly of greed, cruelty, and manipulation present beneath the surface of the glamourous world of a "crazy rich" fairy tale life. We get whisked along for a wild and emotional ride as Rachel & Nick are suddenly forced to deal with the very real repercussions of his privileged and traditional Chinese upbringing.
The real friction and tension in this movie is not about wealth at all—though it makes for a fun spectacle and backdrop—the real conflict centers on the fraught relationship between Rachel and Nick's mother Eleanor (played with surgical precision by Michelle Yeoh). Eleanor's distaste for Rachel and objections to the pairing go deeper than rich vs. poor, old vs modern, Chinese vs ABC (American Born Chinese)—it's really about cultural tradition and family values.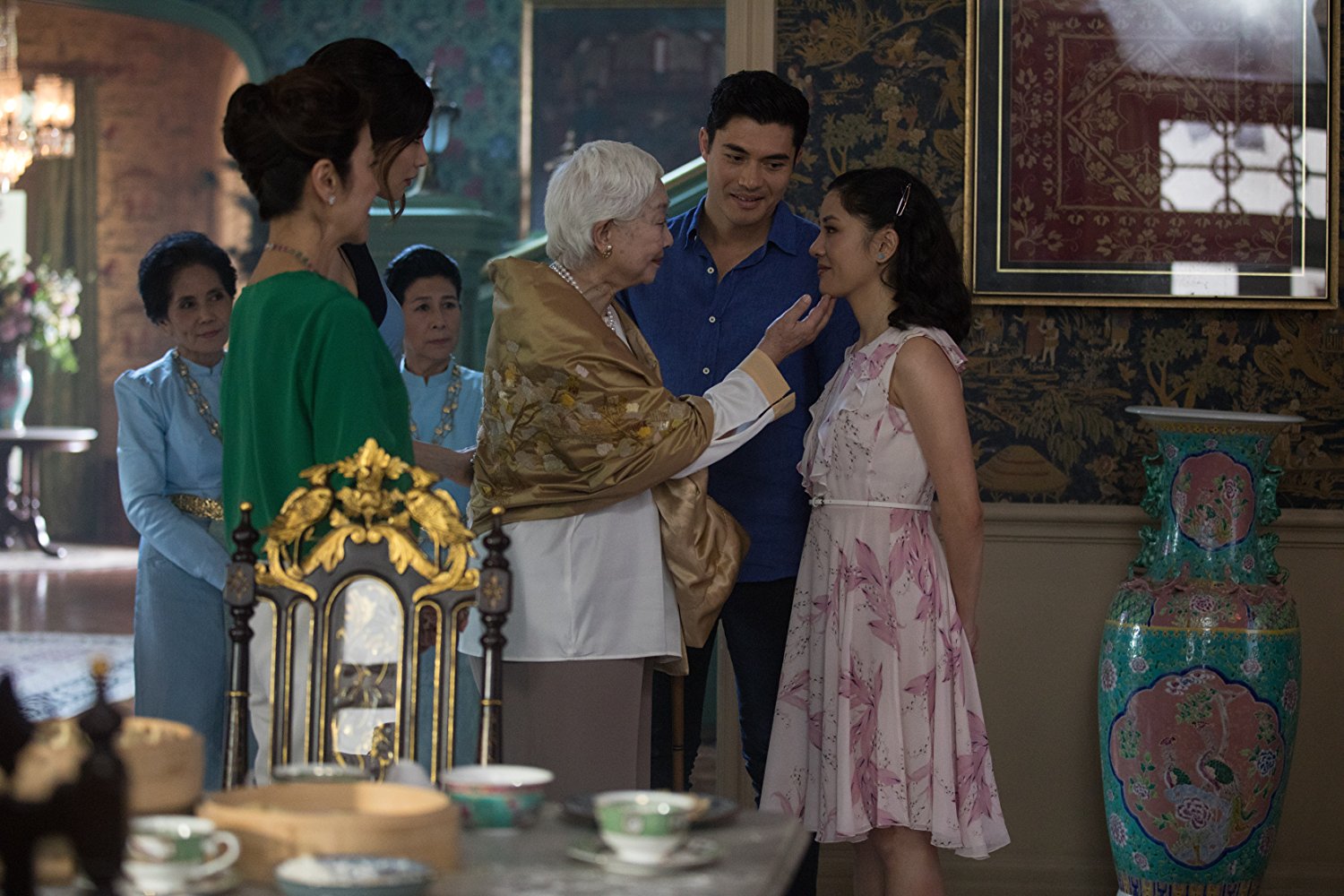 Photo: Warner Bros. Pictures
In many ways, the character of Eleanor is a metaphor for China itself. Eleanor loves her family and would do anything to protect them but she expects and demands obedience and adherence to history and tradition—to the point of sacrifice. During a party scene, while she glares with disapproval at the display of obvious affection between Rachel and Nick, she comments that when your children are too long away from home they begin to forget who they really are. Being Asian-American myself (or American-Born Thai, if you will…) and understanding that feeling of constantly being caught between two worlds that is an all too familiar insult—and it cuts deep.   
Drama aside, this movie is also jaw-dropping laugh out loud funny and gleefully treads right on the edge of a being a dark comedy.  There are almost too many standout performances to name. In fact, the whole movie was so well cast I can't imagine any other actors filling those roles (Hollywood, take notice ….isn't it time??!!).  Constance Wu is always delightful and nuanced in her performances and she holds her own against veteran badass Michelle Yeoh in some pretty intense and emotional scenes. The supporting players are wonderful in this film as well and I hope I get to see more of them. Special mention goes to Awkwafina's hilarious performance as Rachel's old friend and roommate from college, deftly helping her navigate this alien world of privilege and politics. Nico Santos is devilishly good as Nick's cousin and resident "fixer" Oliver. And the amazing Gemma Chan is gripping as another of Nick's cousins, whose own life is not quite as perfect as it seems on the glittering surface.  
In the End: Crazy Rich Asians is crazy good. Let's hope it's the beginning of lots more Asian-American nights at the movies.