Basically: A young white supremacist learns how to not be one through love and understanding for the umpteenth time in cinema.
Man, I have to say I'm quite tired of this trope—telling a true story of a white out-and-out racist who learns not to be one through the will and kindness of black people. So when I first heard of this film a few years ago I was already worried and tired…and since then I've become even more tired. I sat in the theater ready to be bored and ready to say it's rubbish. The thing is I actually ended up liking it. 
Burden is about a young man from South Carolina called Michael Burden (Garrett Hedlund), a military veteran turned repo man. He was raised by a businessman named Tom Griffin (Tom Wilkinson) who also happens to be the local leader of the Ku Klux Klan. Mike looks at his father figure with great reverence, Tom looks at Mike like a son. While Mike has some terrible views, he does show kindness when he meets a woman named Judy (Andrea Riseborough) during his repo rounds. She's in danger of losing her TV because of her deadbeat ex-husband. Mike pulls some strings to help Judy, which soon leads to a romance. All the while his father figure Tom opens up a KKK museum in the middle of town that brings him and the Klan into conflict with local preacher and civil rights leader Reverend David Kennedy (Forest Whitaker).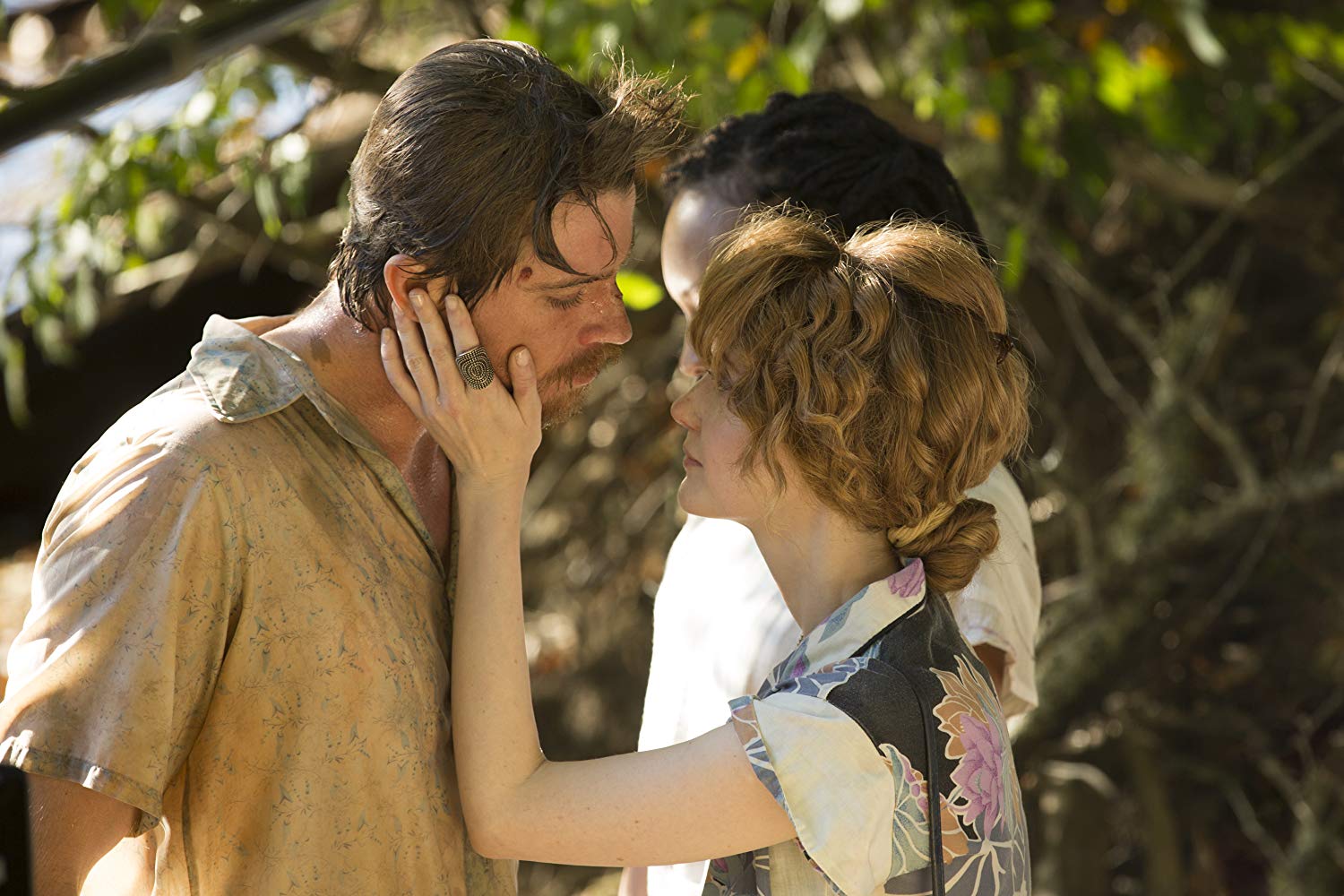 Photo credit: Mark Hill / 101 Studios
The movie then goes into what you'd expect: The change in Mike. But what makes Burden a bit different from what we've seen before is that Judy is the one who pushes Mike into being a better person. She is against the Klan and doesn't want their influence on her son. What impressed me is that this story actually focuses on the fallout of that choice—Mike becomes a target of the Klan for forsaking them.
This is how the well-meaning black folks around Mike and Judy connect to the main story which, honestly, is a flaw because Whitaker's performance is strong enough to be the main narrative but the story keeps going back to Mike before the threads all come together. 
Burden is pretty disjointed at times and you can understand why it took a while to make. However the performances really hold it all together. Hedlund does some interesting things as Michael with weird ticks and usage of his body that keeps your eyes on him. He makes you think of Burden as an abused pet—he can be violent or soft—and Hedlund puts that on the screen very well.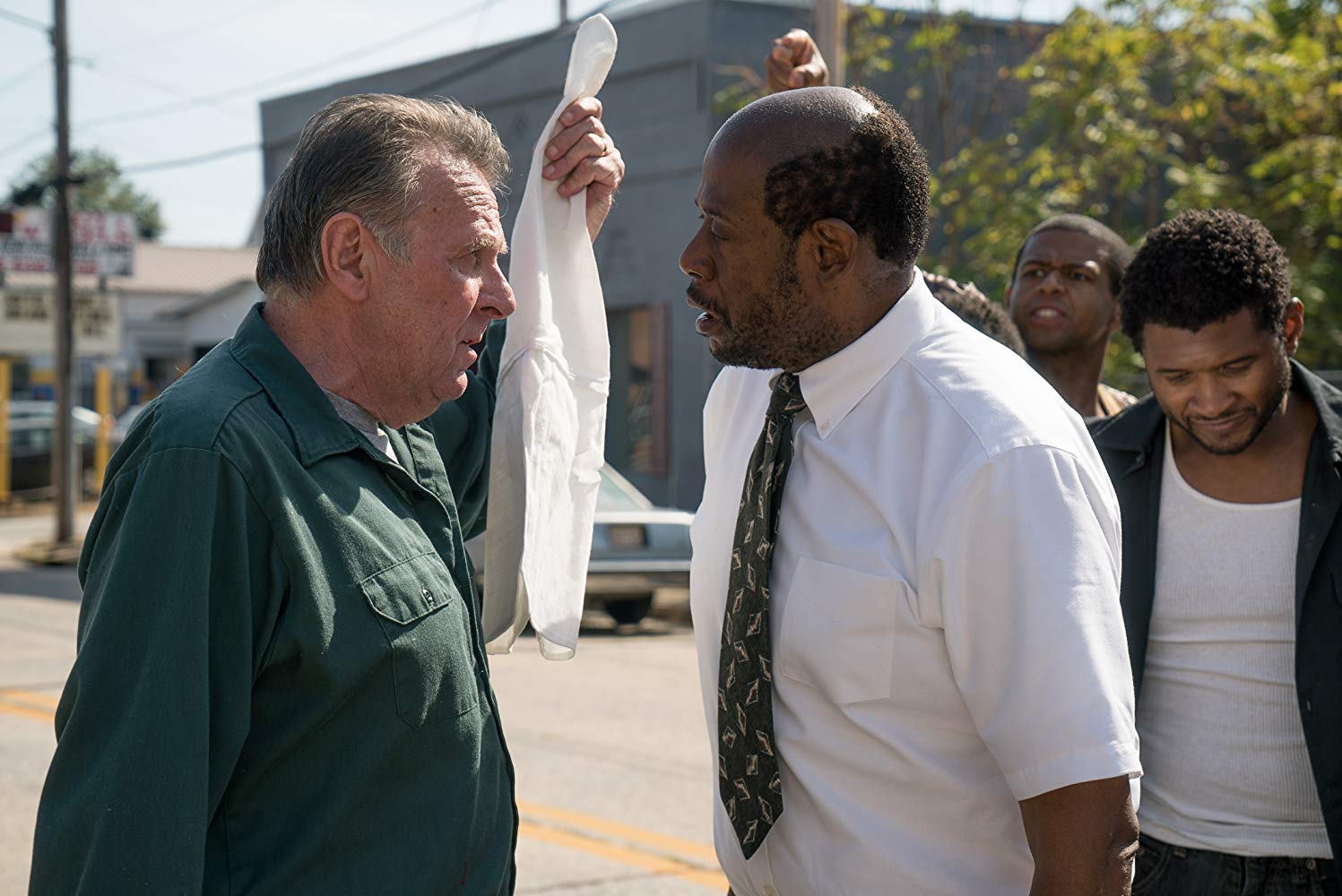 Photo credit: Mark Hill / 101 Studios
Riseborough brings a lot of empathy into the film as Judy, she's very relatable as a woman who's in love but she must think of her child and her own safety first. Crystal R. Fox and Dexter Darden both have great interplay with Whitaker as his wife and son respectively. They really round out his character and add in a great dynamic of a generational divide between pushing for civil rights and interacting with racist groups. It could've been explored more. 
Usher is also in this film and he isn't distracting, he actually reminded me that he is pretty good at acting and should probably do more. While Burden does some weird things with editing and in showing personal turmoil, for the most part it's a good film. The script is what really holds it back. Also, don't look up the real story—the ending will depress you.
In The End: While not an amazing movie the performances make Burden an endearing one. Even if you're tired of these tropes this one isn't a waste of your time.