Actually: 8.5
Basically: The story behind the fall of Fox News creator Roger Ailes as he's brought down by the women he harassed, Megyn Kelly, Gretchen Carlson, and others.
It's been three years since the impactful year of 2016 and the shadow of Roger Ailes still looms over the media landscape. Following his resignation, and his death a year later in 2017, the impact of Fox News hasn't fallen one bit, but the reckoning of the #MeToo movement has since swept over the public consciousness (even tying in the current Chief Executive of the United States), creating a perfect storm of stories ready to be told.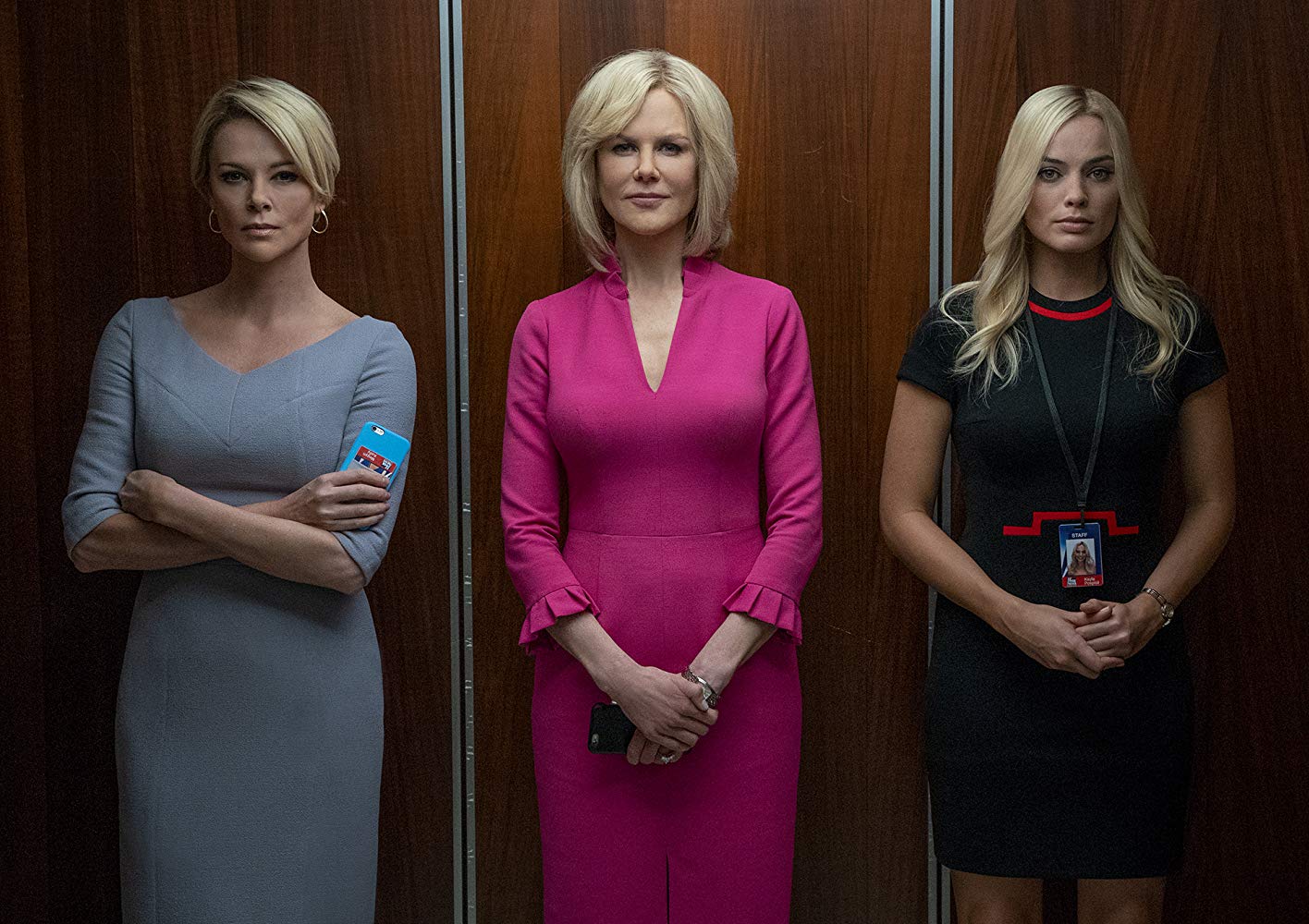 Photo: Hilary B Gayle © 2019 - Lionsgate
Bombshell tells the story of the women who took down Fox News CEO Roger Ailes, the man who exerted his power over them by trying to exploit their bodies and diminish them for his own ego and self-worth. The one thing I wondered going into the theater was: Which version of this story will work to bring that across, this ensemble film or Showtime's nine-episode series 'The Loudest Voice'? While you should take each piece of work on its own merits, when telling stories based on real people and events, it's hard not to see how different people deal with and contextualize the same events. Does Bombshell succeed? Can I empathize with these women who I feel participated in damaging the republic?
Bombshell starts with Charlize Theron's Megyn Kelly in 2015. She talks directly to the viewer, breaking the fourth wall in a faux-documentary style. As she explains how Fox and Fox News works, we see Kelly at the height of her fame during the beginning stages of the 2016 GOP presidential nominee race. By focusing on this short period when she was a mainstream figure, the film feels like a story or even a biopic about Kelly.
Nicole Kidman portrays Gretchen Carlson, the woman who sued Ailes for sexual harassment and started the ball rolling on his fall. Often she feels like an afterthought or internal conflict for Kelly's arc. I wish Kidman had the chance to portray her version of Carlson's inner motivations and fight, in a similar way to Naomi Watts' portrayal in The Loudest Voice. For the most part, Kidman's Carlson is just waiting for Theron's Kelly to make up her mind about whether or not she's going to reveal that Ailes harassed her as well.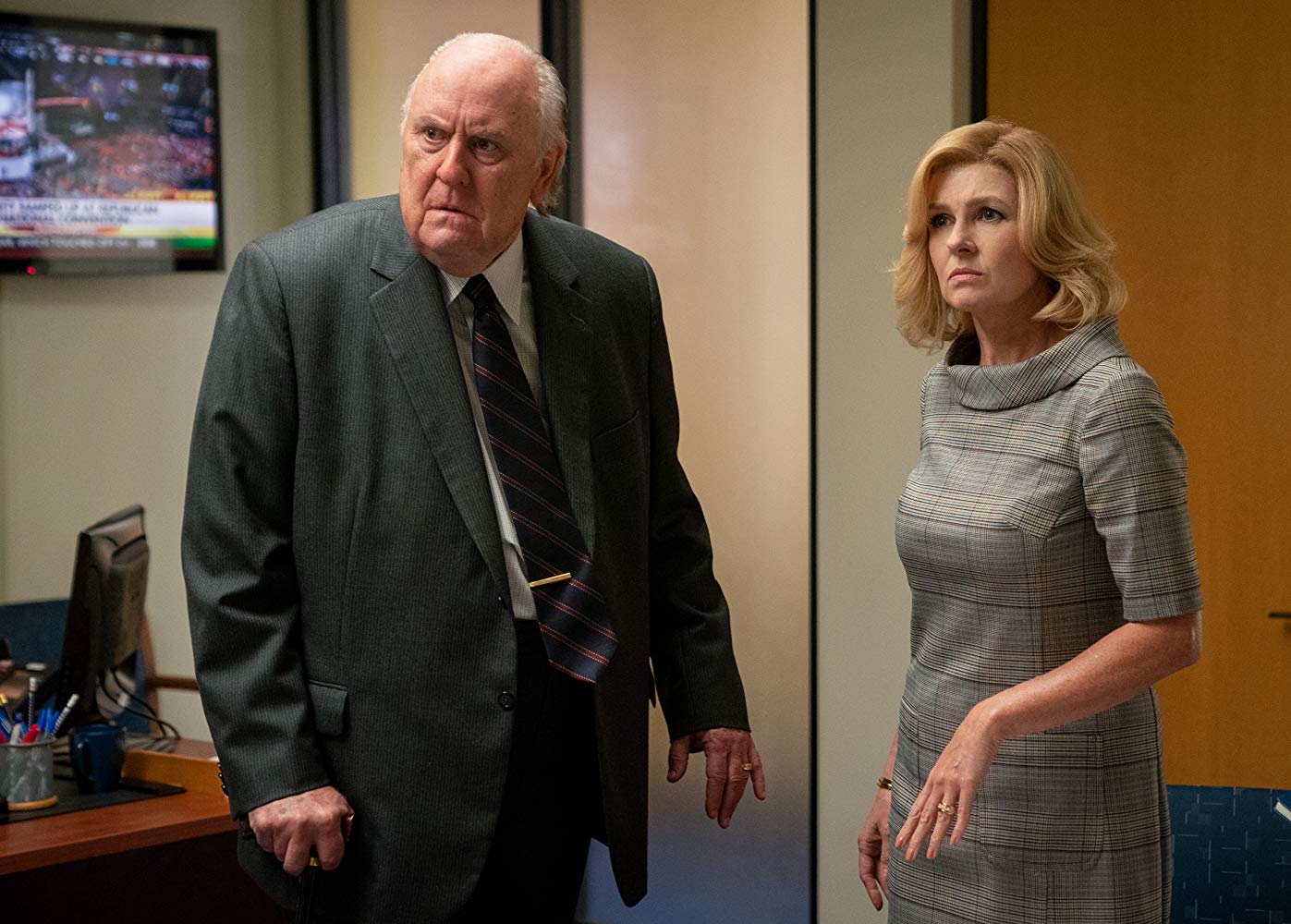 Photo: Hilary B Gayle © 2019 - Lionsgate
The third main character is Kayla Pospisil (Margot Robbie), a young associate producer who ends up the newest victim of Ailes' harassment. The one thing that hit me about this character is she is made up—so is Kate McKinnon's Jess Carr—and they are by far the two most empathetic characters. The world of Fox News has the biggest effect on their psyches and their interactions with the world. That's not to say Kelly or Carlson don't have arcs but this version of Carlson doesn't get much to do and is kind of simplistic in this version. 
I should talk about John Lithgow as Roger Ailes. Lithgow's portrayal is well done and creepy but never comes off as utterly deplorable or a genius at the same time. Again, I personally think it's because I'm comparing him to Russell Crowe's performance on The Loudest Voice. I think Lithgow's performance works well as a creepy old man exerting his power but he never comes off as a foe truly able to hold down all these women. Ailes feels overpowered and small in comparison to these women. Bombshell does try to show that Ailes' personality corrupted the entire culture of Fox News with other men following his lead in how they treat their female co-workers, especially the men in power. It also shows the women who went along with and protected the status quo because it benefited them or they were scared of the repercussions. These scenes are subtle but really round out the adversity facing the protagonists.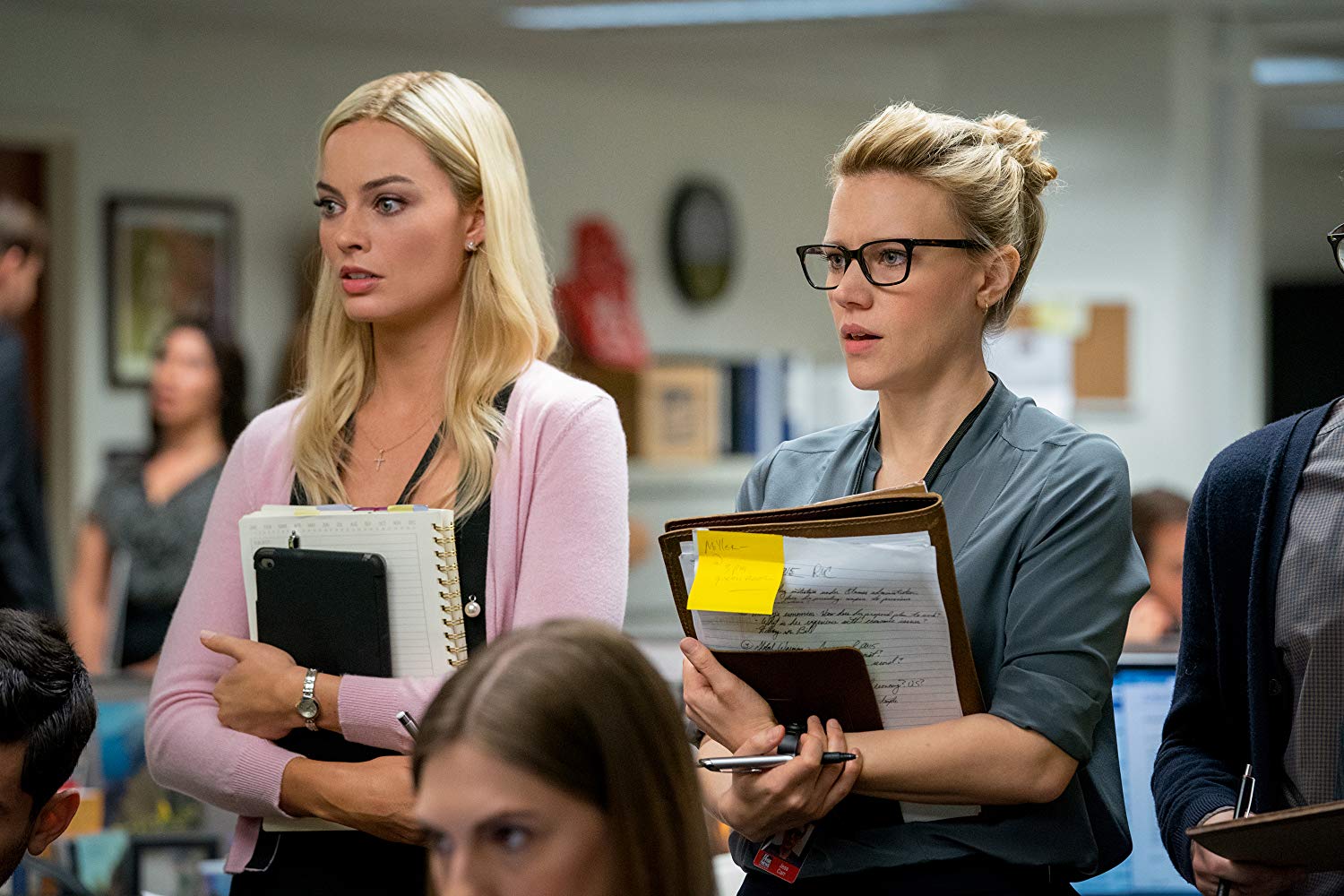 Photo: Hilary B Gayle © 2019 - Lionsgate
The film also has tons of cameos who play various personalities from Fox and other news organizations. Picking out the actors playing real people is a fun little exercise as you judge how well they pull it off. The costuming and makeup department deserves all types of award nominations for how close they get to the way things were and how these people look. They did an amazing job. 
But Bombshell is really about Kelly's journey. After her highly publicized interaction with Trump at the 2015 GOP debate, which the film carefully recreates, it pushes Kelly more and more toward fighting for the rights of women in the workplace. It's her story, she's portrayed as a heroic Gen X woman taking her place as a leader of change to show Millennial women they don't have to deal with these terrible men…
…and that's weird for me. This was Megyn Kelly on Fox News. She was part of the three hours of prime time block on the network that trashed Obama for silly things, railing against and gaslighting many ideas her fellow progressive Americans believe in. (There's also a scene with the Murdoch sons to round out the Fox News image.) Bombshell tries to show Kelly as a flawed hero by including her comments about Jesus and Santa being white. However, we are currently in a time where Trump is facing impeachment and the #MeToo movement is still very public and very visually led by white women. In this context, Kelly doesn't come off as flawed. In the beginning she's a little blinded by ambition but by the end she's a reborn heroine. Something about that doesn't sit right with me.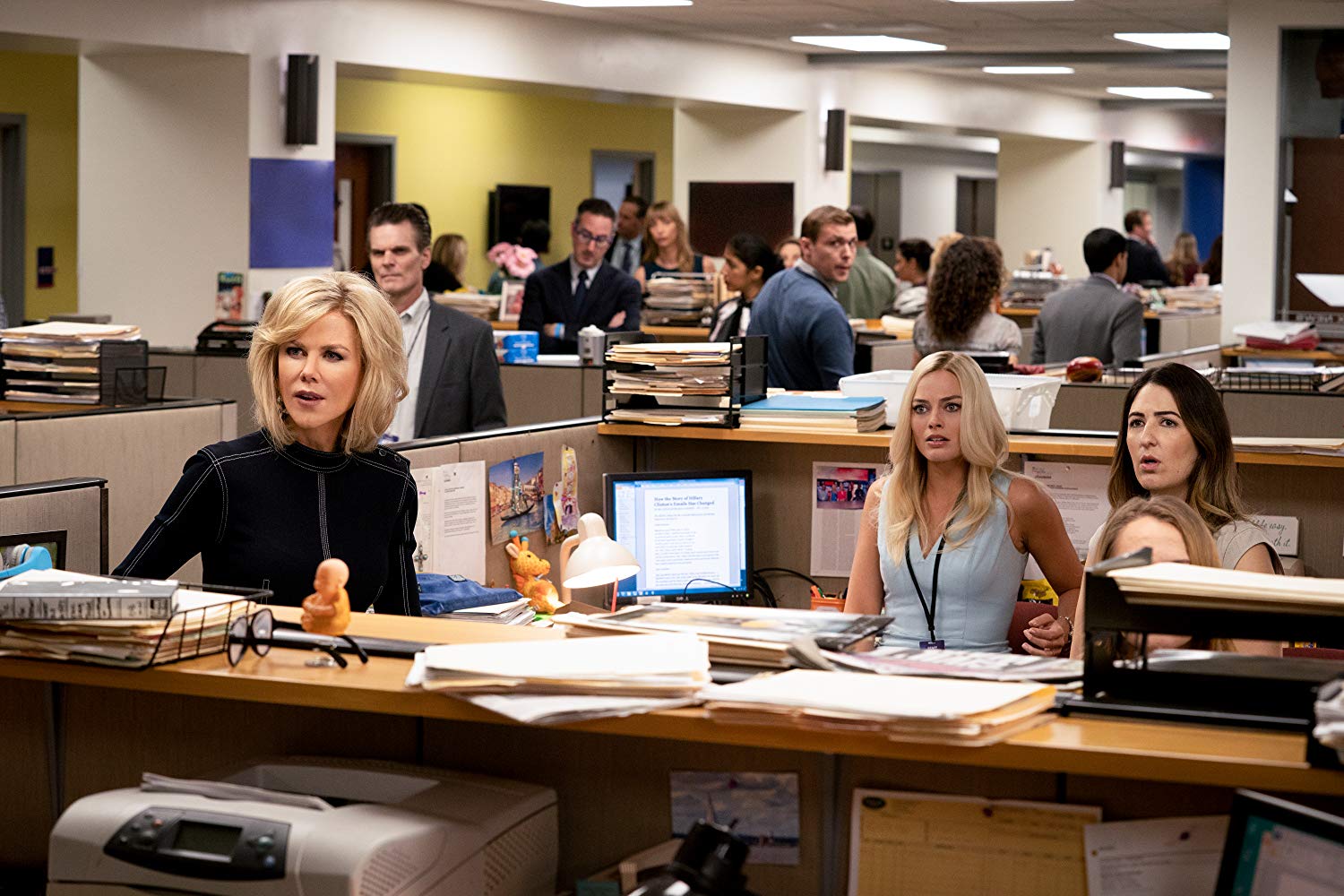 Photo: Hilary B Gayle © 2019 - Lionsgate
Does Bombshell help to clean up her image? Or does it show us a monster we already know? Is this movie trying to make Gen X a savior of the world? A new Batman in contrast to the Millenials' Nightwing? It's something I struggle with as I think about this very well made and acted film. Bombshell has a strong message, a good one at that, but it's about a group of people I don't think I really care for on either side of the tale. The few I do like in this film are make-believe. The power of cinema, I guess, is that the outcome of the story is more important than the players in it.
In The End: Bombshell deals with the heavy subject of sexual harassment in the workplace in a very realistic and sobering way with amazing performances that might leave you questioning if you can empathize with the suffering of people you think of as foes.