Basically: Rami Malek becomes Freddie Mercury and you'll want to sing-along with every song.
Disclaimer: I cannot give an unbiased review of Bohemian Rhapsody. I love Queen—in a cosmic kind of way. Our romance began in a skating rink in 1980 to the rapturous beat of "Another One Bites the Dust". That's real, y'all.
—
Bohemian Rhapsody is one of those films that will either make you ecstatic or thoroughly annoyed. For me it's a tearjerker and a joy. Yet I do get the annoyance. If not for a few diamond-like facets—namely Queen's genius music catalogue, and the fact Rami Malek and Gwilym Lee are so damn good as Freddie Mercury and Brian May—this film would be a bit…um…bland. You'll likely hear that complaint a lot; that it's formulaic or silly or if it weren't for Malek it wouldn't work…but isn't that like saying without the cayenne pepper a pot of chili wouldn't have kick?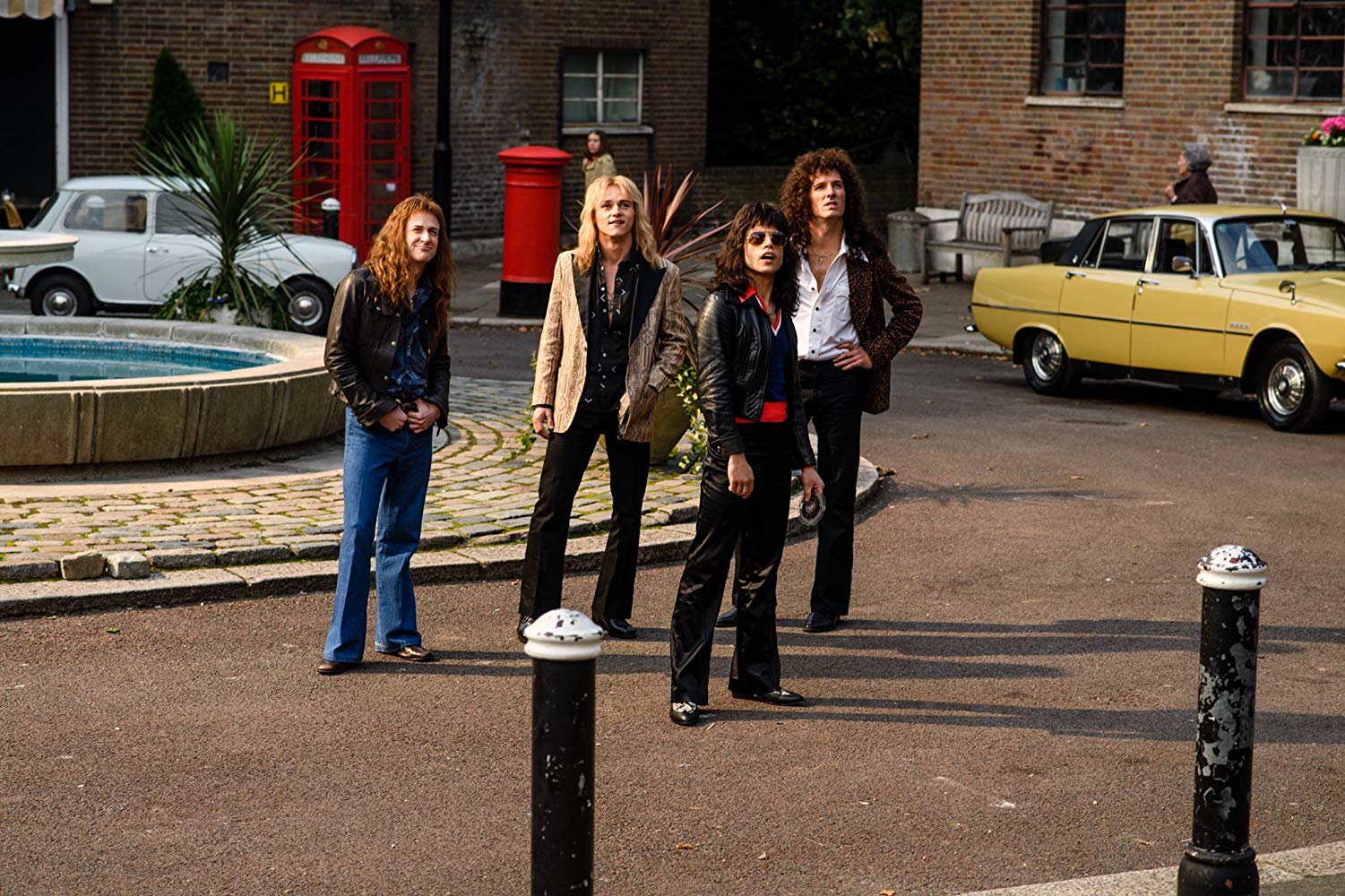 Photo: © TM &2018 Twentieth Century Fox Film Corporation.
Bohemian Rhapsody isn't on the same level as biopics like Ray but I feel the same way about Malek's performance as I did about Jamie Foxx's. Yes, this movie is a frothy glittering cotton candy type of confection with a bit of bitterness due to the tears—but that feels right for a band who wrote songs about princes of the universe, fat bottom girls, and killer monarchs. Perhaps rather than searching for pith we should embrace the camp. The boys of Queen: Mercury, May, John Deacon (Joseph Mazzello), and Roger Taylor (Ben Hardy) certainly did. So have the actors who portray them.
The film starts with a young Mercury (then Farrokh Bulsara) toiling away as a baggage handler at Heathrow Airport. We see the discontent at home with a father who doesn't understand him and a mother who dotes. Then he's off to the club to hear a band play. They're called Smile and when bandmates May and Taylor are left without a lead singer…Mercury struts right on in.
The rest is a high-gloss comet of concerts, triumphs, and drug fueled spirals. Yet, there's more to Bohemian Rhapsody than the accusations of formularity would have you believe. What is most extraordinary about Malek's performance as Mercury is how flawlessly his insecurities—his teeth, the racism of being called "paki", his flamboyance—mix with his strengths—his faith in his talent, his magnetism, his refusal to be defined. Anthony McCarten's screenplay captures quiet triumphs that could easily be missed. The brotherhood between the four gents in Queen is fully present. They bicker, they're cruel, and yet there's no doubt they're family.
Photo: © TM &2018 Twentieth Century Fox Film Corporation.
The film deserves applause for respecting Mercury's wishes as well. He did not want to be known for his sexuality or for dying from AIDS. He didn't want who he was to be hidden either. Thus the film doesn't shy away from these things. We watch him struggle with his own specific bisexuality—having both a soulmate in Mary Austin (Lucy Boynton) and a life-partner in Jim Hutton (Aaron McCusker). It is fleeting, but we also see him get his diagnoses, while footage of real news anchors, at the start of "the AIDS epidemic," plays in the background. One of the most tender moments is one Mercury shares with a young man in a treatment facility. There are lesions on the young man's face and you can see how depleted he is from the disease but when he sees Mercury he perks up. "Ay-oh," he says and Mercury gives him love right back, "Aaaay oh."
This isn't to say there aren't problems. The timeline is reengineered, placing events in a more dramatic order, and sometimes the campy humor turns into full on cheese. Not the good kind either. Gaudy 1970s graphics spin onto the screen announcing city after city after region after region on tour. For no reason at all. Weird vignettes of Mercury in odd poses pop up.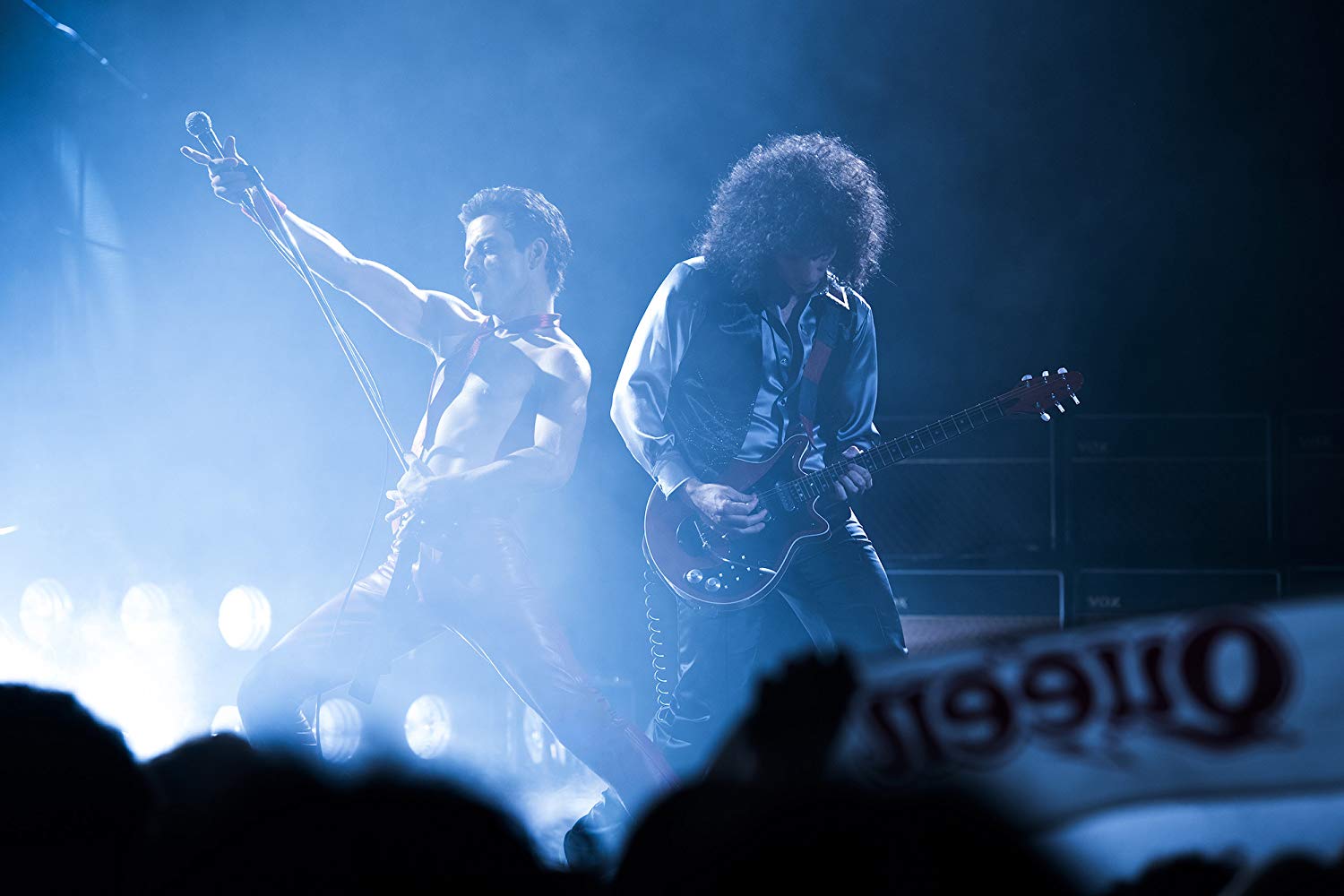 Photo: © TM &2018 Twentieth Century Fox Film Corporation.
Oh and there's a porn-stache twirling villain in the form of road manager Paul (Allen Leech). Paul becomes an enabler and then a scapegoat to blame for Freddie's fall. It couldn't have been that simple. One doesn't take the drugs or the lover because someone else puts them in front of us, one takes them because something inside us either wants to or needs to. Bohemian Rhapsody would've been well served by digging deeper into the characters' psyches. Which brings me to another drawback, we don't get enough of May, Deacon, or Taylor. They are simply satellites revolving around Mercury's sun. But we know they wrote much of the music alongside Mercury and they must've had full lives that contributed to Queen's legend.
Although there are problems I found myself imagining years to come, when Bohemian Rhapsody reaches a cult status similar to Rocky Horror Picture Show, and fans dress up as the characters and belt out the songs to the stars. Perhaps this movie is made solely for Queen fans. Perhaps this is a bland film that I love anyway. I'm not sure. I do know: Despite its flaws Bohemian Rhapsody is a gem. Take a bow Rami Malek.
In the End: Don't let anyone stop you, Bohemian Rhapsody is gonna make a supersonic traveler of you.