Grade: C-
Basically: Aaron Sorkin makes a really long TV episode about the making of an I Love Lucy TV episode. In other words: Standard Aaron Sorkin. 
I've always been worried about this film—and it's not because of Javier Bardem's origin of Spain vs. Cuba or even about whether Nicole Kidman should've been cast as Lucille Ball. I was more afraid of writer/director Aaron Sorkin, actually. I didn't know if his type of dialogue and delivery was going to work for these people (or maybe I should say the myth of these people). I feel my fears were pretty much on the money. 
Being the Ricardos is about Lucille Ball (Kidman) and Desi Arnaz (Bardem) who play Lucy and Ricky Ricardo on I Love Lucy. It follows them during the first season while making episode twenty-two: "Fred and Ethel Fight". The writers' room and the show is trying to mitigate a crisis with the network and sponsors when rumors of Lucy being communist begin to circulate in the press. The workplace drama is balanced with the drama of the Ricardos' marriage—and whether Ricky is or isn't cheating on Lucy. This structure isn't really bad and I'd say the film itself isn't bad either…but it's very lacking.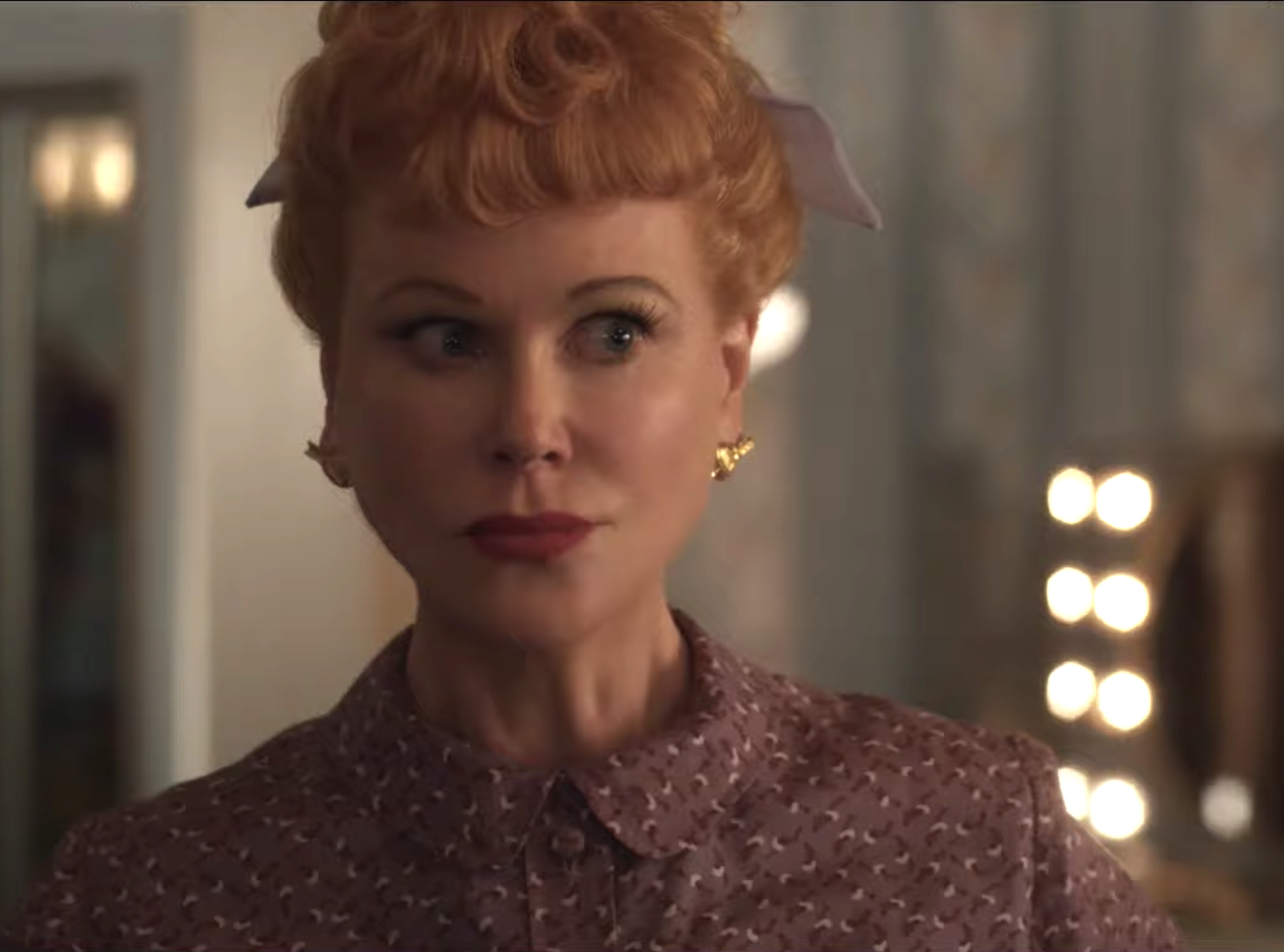 Photo: Amazon
The biggest issue for me is Being the Ricardos doesn't feel like a film. It's like watching the first two episodes of a television show…about a television show. Now, those who follow Sorkin's career know he has a history of making shows about making shows. The framing and staging feel like a lost episode of Studio 60 on the Sunset Strip. Like a flashback episode arc that Sorkin would then use to connect to the main plot. It was just so flat. 
All these great actors are top tier and give their A-game. Kidman does her best to play Lucy but something is missing and she does slide a bit into imitation in some scenes. But there are other scenes where Kidman really brings some new depth to this interpretation of Lucy. Bardem has the charisma needed for Desi but it does feel a bit off here. Also, the vibes between the two are lacking. I don't know why the crew chose to use makeup to make them look a bit more like Lucille and Desi but it's also distracting and I think—and I could be wrong—that it affected their performances.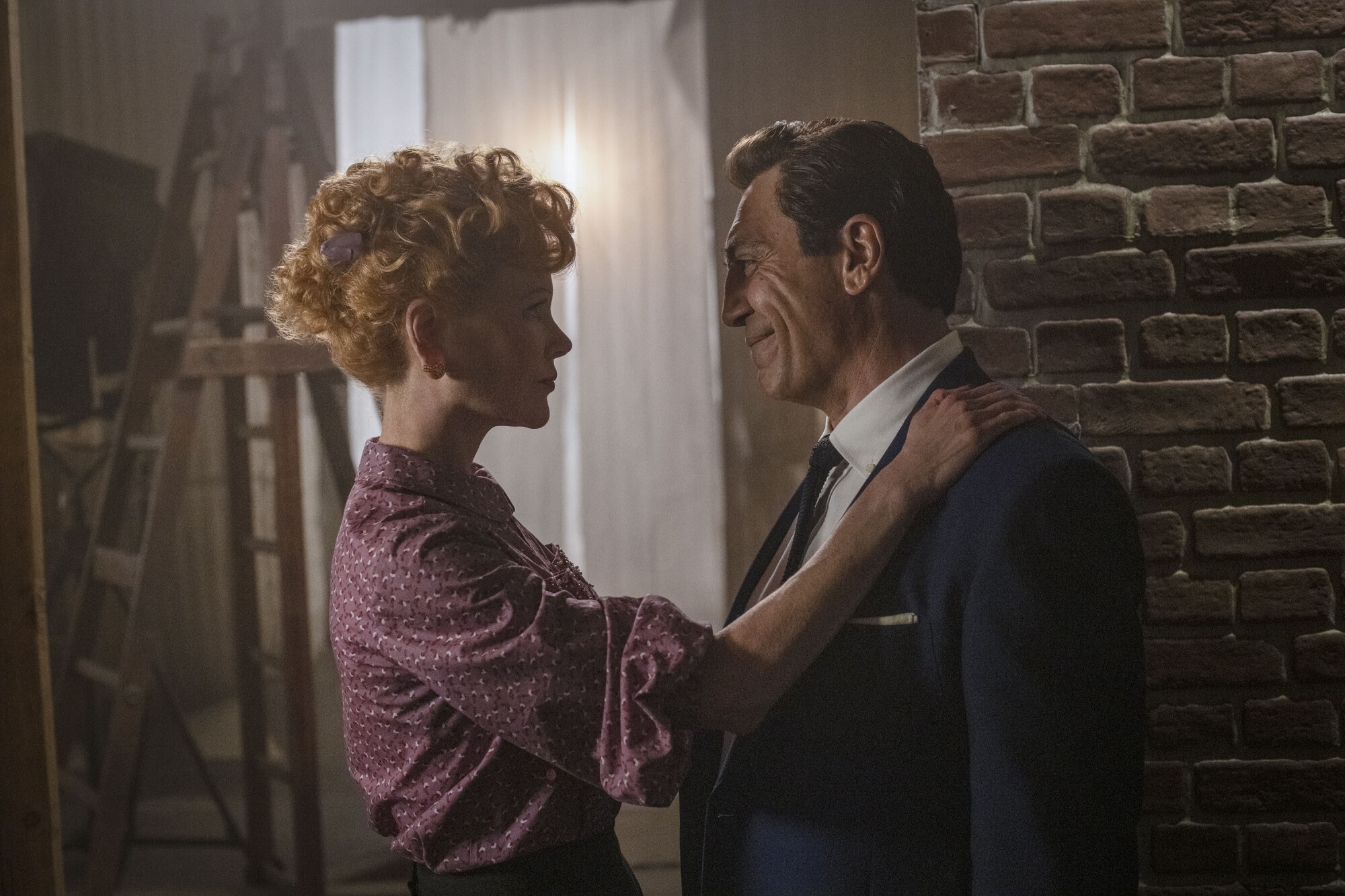 Photo: Glen Wilson/Amazon
J.K. Simmons as William Frawley and Nina Arianda as Vivian Vance—the actors who played Fred and Ethel on I Love Lucy—do some great work to pick up the slack. They come in like role players in the NBA to save the two star players from getting blown out. Alia Shawkat as the writer Madelyn Pugh has some good scenes with everyone, especially Arianda and Kidman. 
Yet with that being said, Being the Ricardos feels flat and big in scale. It will be streaming soon so watching it on TV will be fine. But on the movie screen, it's just not up to snuff. 
In the End: Being the Ricardos is a TV pilot masquerading as a major motion picture. That format could work in different directing hands but it doesn't work here.