Basically: Humans return to Pandora with their colonizing ways to seek revenge against Jake Sully, who turned on humanity for love. Sully and Neytiri must protect their family by seeking refuge with the water tribes.
Thirteen years. James Cameron had us sitting here waiting for the heat for thirteen whole years. A long wait isn't completely out of nowhere for him as the break between Terminator and Terminator 2: Judgement Day was almost ten years. However, cinema didn't change that much between those two films. The world wasn't that different between 1984 and 1991. But with Avatar and now Avatar: The Way of Water, it literally feels like an entire generation's worth of change has happened from 2009 to 2022. 
The first Avatar made people genuinely believe in its world using mainly CG characters through motion-captured performances. The 3D movie craze was reborn, which started a 3D TV boom, and then there was a bust and a cooling of 3D as a selling point. Cameron influenced the game industry as well; the current single-player AAA story-focused action game is probably the biggest product of Avatar's success that isn't talked about. Would we have games like Uncharted, God of War (2018), and The Last of Us without the techniques Cameron brought to filmmaking? I don't think so.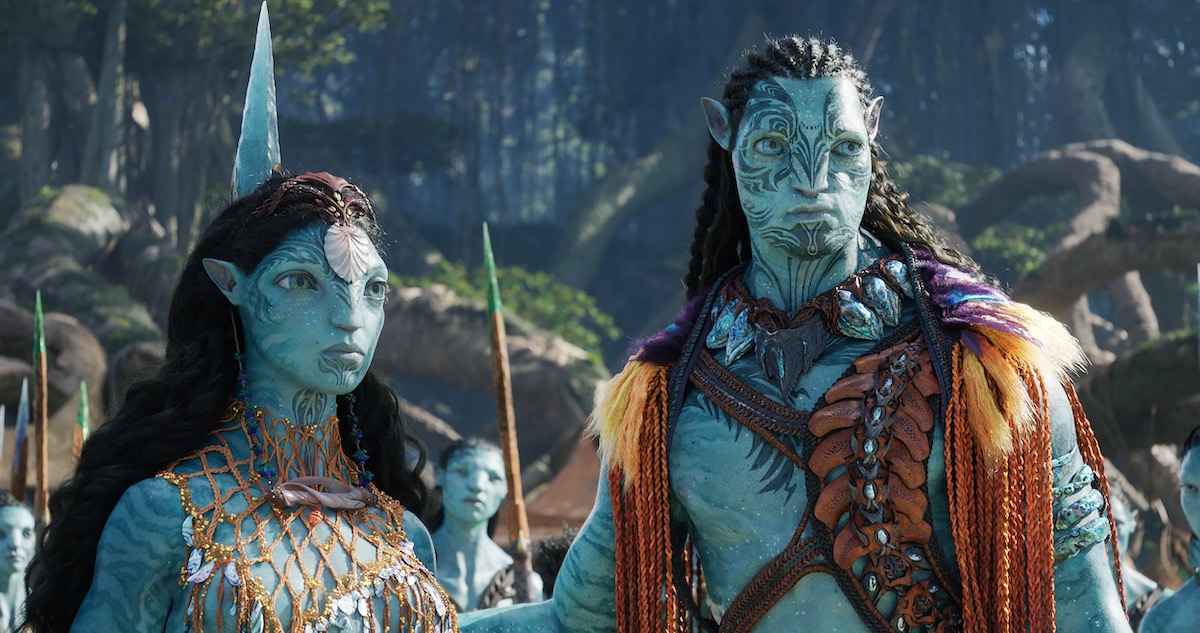 With its very universal story, Avatar easily translated globally through spectacle and message, becoming so successful that, for some reason, it has become a joke in the film sphere. We really have folks questioning one of the kings of cinema. Yet Avatar: The Way of Water is a big test for Cameron who has some very heel-like critiques of the latest movie business model AKA the MCU and the superhero cinema universe. Can Cameron back up his verbal darts against those films, where other filmmaking kings have faltered or just been ignored and considered irrelevant? 
Naw. James Cameron smashed it. He's standing on top like the tribal chief-era Roman Reigns.
Avatar: The Way of Water brings us back to Pandora, the world we were introduced to all those years ago. More time has gone by and Jake Sully (Sam Worthington) and Neytiri (Zoe Saldaña) now have a large family. Jake is still the leader of the forest Na'vi tribe, and they have three children: Neteyam (Jamie Flatters), the oldest; Lo'ak (Britain Dalton), the middle child; Tuktirey (Trinity Jo-Li Bliss), the youngest daughter; and also an adopted daughter Kiri (Sigourney Weaver) who is the Na'vi child of Dr. Grace Augustine.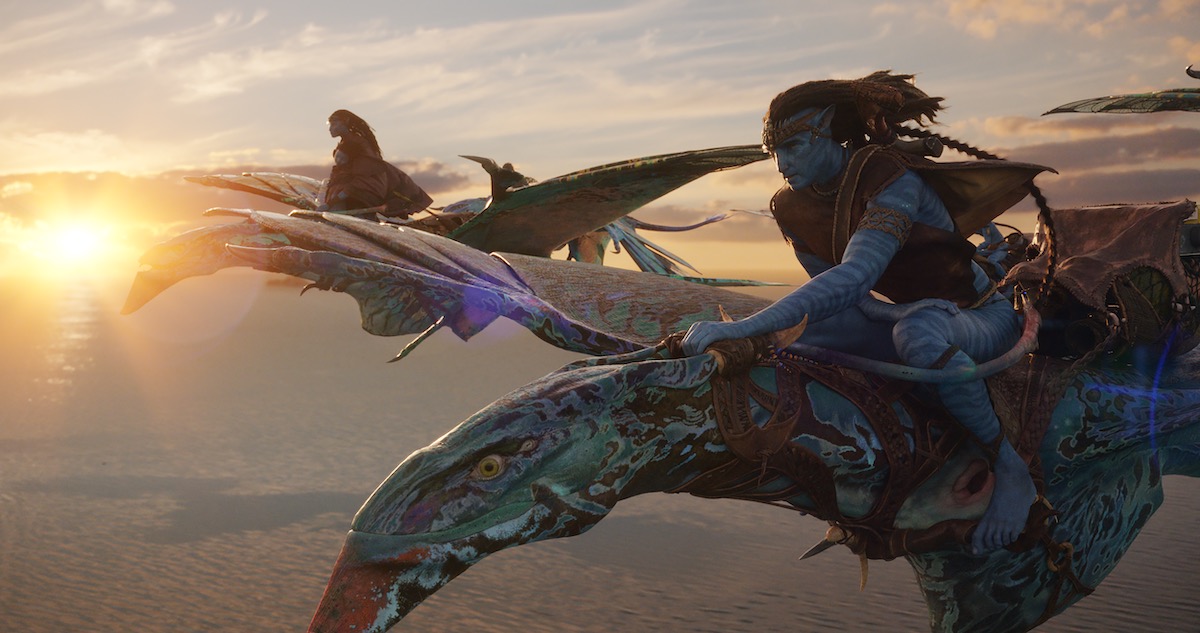 All is well until humans from Earth return to, of course, pillage this world for its resources. After their last loss, the humans come with even more fury and weaponry, driving the Forest Na'vi from their home into hiding and starting a guerilla war. When a former foe from the first film returns, Jake takes his family away to the ocean tribes in order to protect the greater forest tribe's safety.
Unfortunately, some of the Na'vi feel a real way about Jake and his rejection of his original species. This leads to some family drama about fitting into a new community. While some of this storyline parallels Jake's journey in the first film, it's still very different and should lead to fewer jokes about how this movie is like Ferngully or Dances with Wolves.
Visually The Way of Water is unquestionable; Cameron and the many, many people who worked with him have taken the fidelity of the characters to new heights. The character design has a lot more subtlety in emotion and movement along with texture, getting closer and closer to reality. This, along with the use of a 48 FPS frame rate at specific parts, adds dynamism to the action scenes comparable to Sakuga scenes in anime.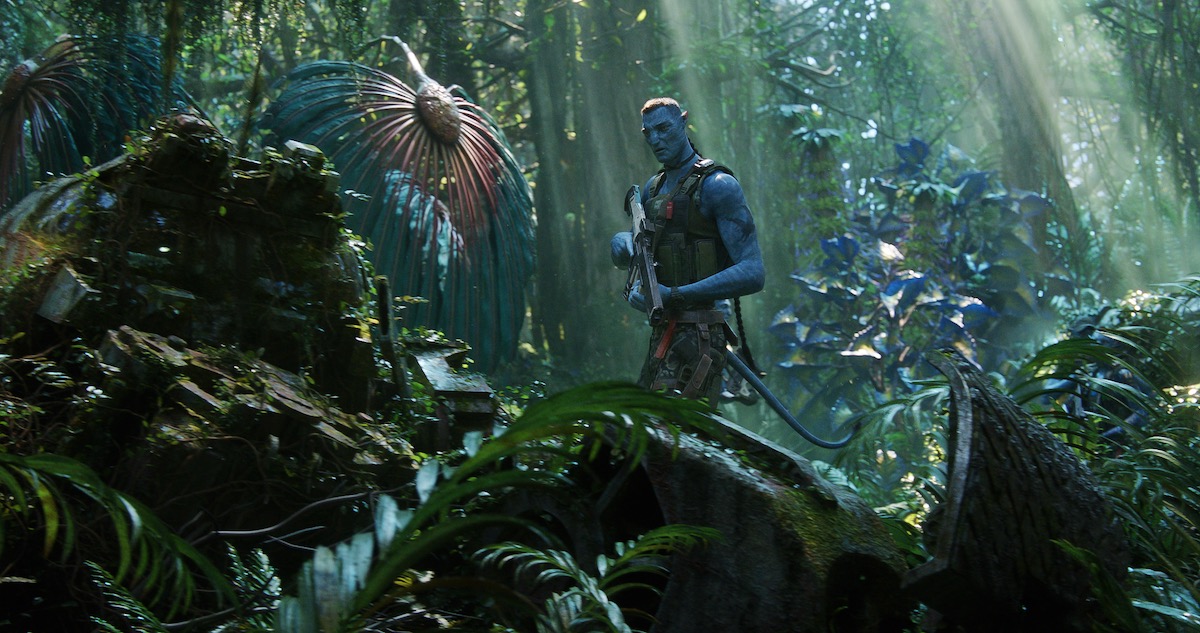 Now let's talk about the use of 3D. One of the most significant selling points of the first film was 3D and how it ultimately brought that style into a new era. No more red and blue glasses and weak-looking things flying at you. The use of 3D in The Way of Water adds depth to what you see—the atmosphere it creates is amazing and makes you want to see the film more than once. Cameron has done it again, with better CG and higher frame rates pushing it further to add even more depth. For me, the most amazing thing is how it plays with your eyes' peripheral vision. The way things change the planes of view and go in and out of focus to control your focus is like a bloody magic trick. It pulls you in more than any other film I've seen. 
On top of all of this, the movie does it in water. So much of it takes place underwater as Cameron creates even more of Pandora's world. The whole ecosystem feels completely natural and instantly makes other films with big ocean scenes not up to par. It's actually hard for me to explain fully but this alone will keep your mind processing—you'll wonder how it all works and how the filmmakers were able to figure out how to push this tech. You'll end up sitting there like: Yeah, I can see why it took so long to make this film. 
In the End: Avatar: The Way of Water is equally impressive in its technical merits and in its storytelling merits. It's one of the best films of 2022, easy.
—
Want more Avatar: The Way of Water thoughts?
Read Sherin Nicole's review.