Basically: An old-school family adventure comedy complete with quicksand.
If you know Dora, la mejor exploradora, you'll be pleasantly entertained by Dora and The Lost City of Gold. For kids, it's familiar enough as the Dora they love. For parents or caregivers the elements that might be annoying—that Map song, that dang Map song—are toned down to an entirely forgivable degree.
If you don't know Dora, Lost City of Gold has everything we love from old school adventure flicks. It's got archeology and jungle puzzles like the Indiana Jones trio and The Goonies and quicksand like Black Beauty, The Neverending Story, The Princess Bride, Crusoe—there was so much quicksand. The live-action Dora is also new with an almost completely Latinx cast and heroine who is kind, knowledgeable, and quirky. 
When Dora's parents (Michael Peña, Eva Longoria) get a lead on Parapata, an ancient Incan city of gold, they send Dora to live with her cousin Diego (Jeff Wahlberg) in the city. High school life is a whole new jungle for Dora. She has spent her days alone, running through untamed Peruvian territory with her GoPro making videos for an imaginary audience, and hanging out with her friend Boots (voiced by Danny Trejo) the monkey. For her, Diego's southern California public high school is a "horrible nightmare," where everyone is just trying to survive. With no help from her cousin, Dora tries to be herself in an environment where individuality can make you a target, but when her parents go radio silent on their sat-phone her seemingly unflinching optimism takes a hit.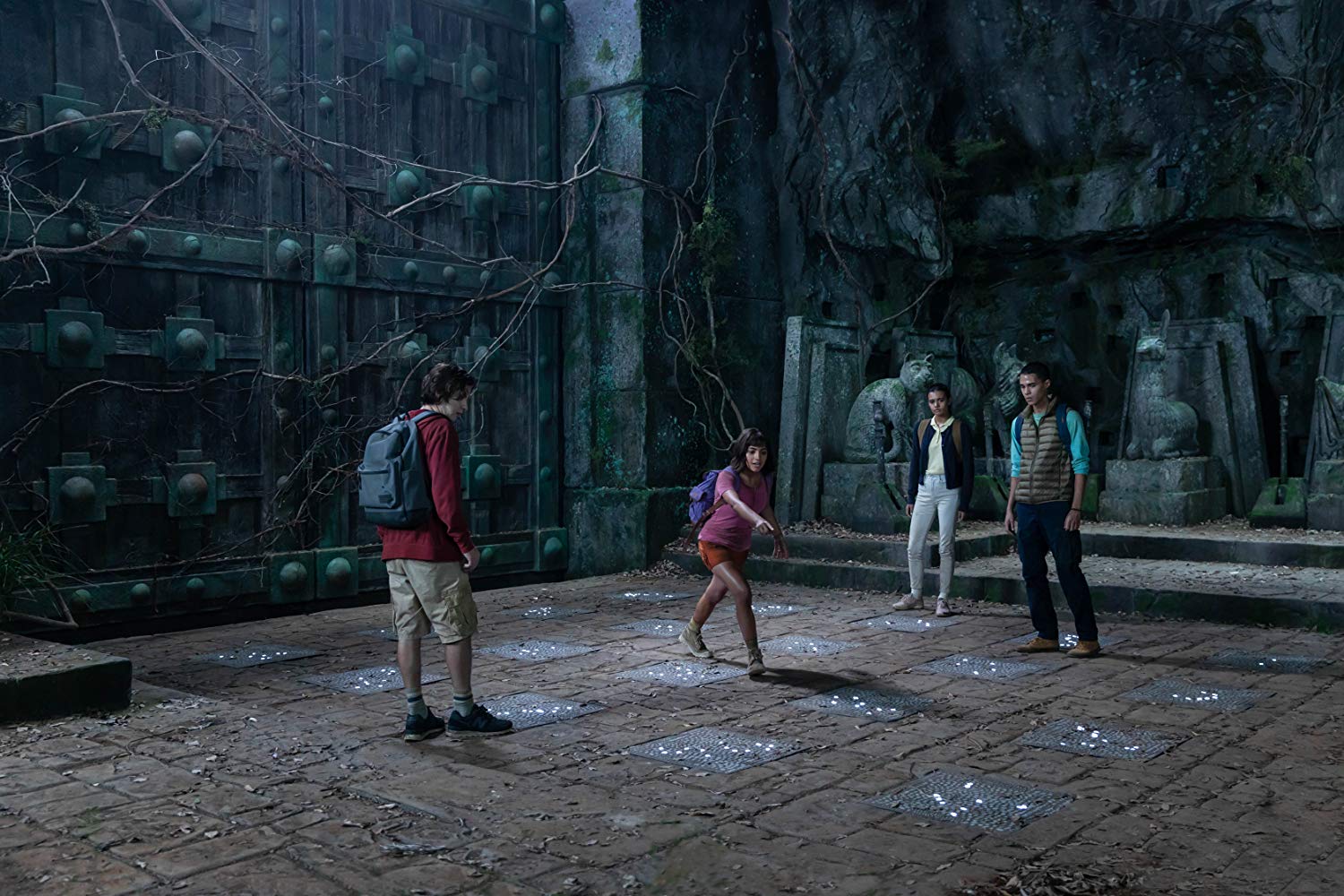 Photo by Vince Valitutti - © 2018 Paramount Players, a Division of Paramount Pictures.
After a rhythmless but funny first act, the story takes off when Dora, Diego, and their classmates turn up in the real jungle. They must find her missing parents and then their way home with bad guys hot on their heels. With the "help" of a mysterious stranger named Alejandro (Eugenio Derbez) the group tumbles through the jungle, sometimes reacting to danger and sometimes creating it.  Where in most adventures the hero is framed as fearlessly brave, Dora—played fantastically by Isabela Moner—is a sweet, energetic, intelligent brand of brave that is a perfect role model for young fans. She sings her way through uncomfortable issues and applies her vast jungle experience anywhere it will help. 
The jokes in the film—although sometimes served up the usual way—are delivered on unexpected beats, which makes for hilarity that catches you off guard. Peña is outstandingly funny as Dora's dad.
The only drawback is, you'll definitely have more fun if you are there with kids. Dora and The Lost City of Gold is obviously not intended to be an adult hit, but not at the expense of your intelligence. The movie is chock full of really interesting information about ancient Incan culture and people. Moner learned the indigenous Peruvian language Quechua to speak in the movie. And when it comes to language, there are a few spoken. English takes the bulk of screen time but Spanish is peppered throughout, this is Dora after all. 
Dora and The Lost City of Gold isn't a family movie adults should go see on their own. It really does play to the intended audience—that's not a bad thing—but it's fun. The film is a familiar upgrade of a well-loved Nick Jr show that families can enjoy together.
In the End: If you're looking to escape the summer heat with a family movie, Dora and The Lost City of Gold is a good choice.