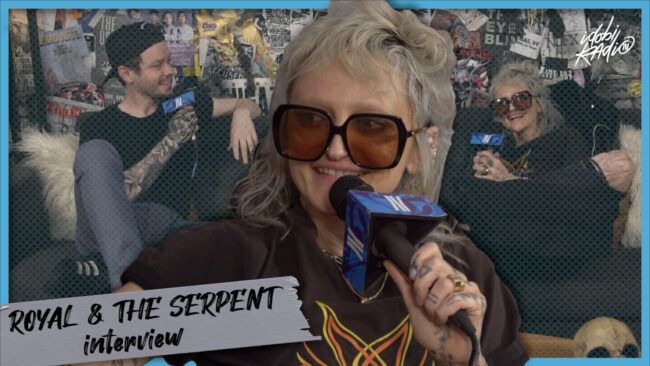 Royal & the Serpent came on the scene like a dynamite in 2020 with her smashing viral single, "overwhelmed." The track exploded on TikTok, becoming an inescapable sensation, appearing on every radio station, playing in every coffee shop, and blasting out of phones on a loop across the country. You probably found yourself humming the hook in the shower for weeks on end, whether you realized it or not. Royal & the Serpent quickly proved her longevity as an artist and continues to top herself creatively over and over.
Over the last two years she has released multiple EPs and a slew of singles. With IF I DIED WOULD ANYONE CARE, Happiness 4 Dummies, and Happiness is an Inside Job under her belt, she is currently one of the most innovative artists in the alternative space. She has toured with iconic acts like Demi Lovato, PVRIS, grandson, and YUNGBLUD and is set to support the upcoming Fall Out Boy tour this summer with Bring Me The Horizon.
Royal & the Serpent stopped by the idobi Studios in North Hollywood to chat about her new conceptual releases, her interesting tattoos, and her excitement for the tour with our very own Nick Major!
What are you cooking up right now? When was your last release? October is when Happiness is an Inside Job dropped?
Yeah, last year. I think I'm gonna start dropping like two- ish songs at a time, put them on little— we're gonna call them rat traps. No one knows that yet. So this is top secret.
And is that like a little mini EP kind of thing?
It's gonna be like one a month. We're gonna do like two songs a month and then eventually they'll all form one big project.
If you put out a full-length album, it'll be your first actual proper full-length…
Yeah, I haven't done that yet.
And this single song…
They're all gonna be called rat traps, but they each have like a different story. So like the first one's gonna be called Rat Trap Vol. One Blueprint and it's two songs…that I'm really excited about.
Is it conceptual at all?
Oh, yeah, for sure. The whole thing is a journey.
You got a tour coming up…you're touring with Fall Out Boy! That's so sick, dude. How did that come to be? Cause I think you're one of the only artists that's on the entire tour…
Yeah, and I'm one of the only chicks, I think. There might be some others, but yeah. I got a call saying I was up for it. I think my team was even nervous to tell me that I was up for it because they didn't want me to get my hopes up, honestly, I have my booker to thank for that. She absolutely crushed that one for me because I've never even met the guys. Everyone's met them and everyone's like, "Oh, you must be good friends with Pete." I'm like, "I've never met the guy."
It's gonna be arenas. It's gonna be a big tour for you. What are you looking forward to most?
Oh god, the whole thing. I don't know, I'm so excited. I'm excited to see Bring Me [The Horizon]. I'm really excited, they're so good live. I've never seen Fall Out Boy, too, so I'm excited. I mean, "Thnks fr th Mmrs" I'm just gonna absolutely lose my shit to.
And thanks for all the new memories that you're gonna be making on this tour.
Sugar, we're going down.
Sugar we're going down. It's gonna be awesome. I think I saw you said you're gonna be touring on a bus, potentially, for this one as well, which will be taking it up a notch from the van life. What are your bus essentials gonna be?
Never done that before! I feel like peanut butter and pickles on a sandwich. You hate that idea, but it's so delicious, mark my words. You should try it. That's gonna be my tour snack and I love baby food. So those are my essentials.
So is it like the applesauce packs that you like?
Those are cool, but like the jar is just like classic Gerbers.
So you like to just eat Gerber's baby food?
I sure do. Well, my genius idea is to make adult food like bigger jar sizes because I think they're so small I can eat like six at a time.
So you need one that's six times as big?
That's gonna be my next venture—shout out Gerber's. Hit me up.