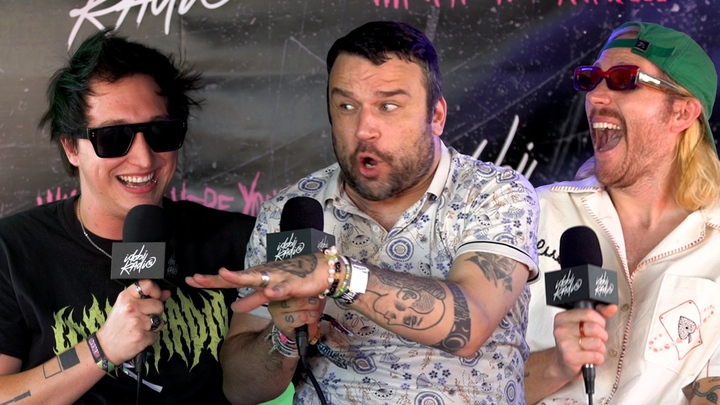 When We Were Young Fest was packed with incredible acts this year, both legendary and brand new. However, there was one band that I was most excited to see, hands down. Say Anything has been a staple band in my life since I was 15 years old. I met my now wife when I was a sophomore in High School. Say Anything was one of the first things we bonded over. As two queer kids growing up in the South, their song "A Walk Through Hell" was an unconventional, yet perfect description our our love and perseverance for each other.
We truly walked through hell to be together. Over the next decade, we overcame many obstacles that can hardly be summarized in words. From me transitioning from female to male, to moving across the country more than once, to proving to all of our doubters that we would make it together, Say Anything's "A Walk Through Hell" was always the soundtrack to our love story.
Say Anything has always been weird, sometimes hard-to-swallow, and just downright different…yet, so were we. When it came time to choose our first dance song at our wedding, we played with several ideas. Perhaps we go with something common? But we've never been common. Maybe we go with something everyone else will approve of? We've never based our relationship on those standards. My wife and I sort of laughed, and came to realization that no matter how strange the song, especially in the context of a wedding, "A Walk Through Hell" was the most honest choice, and the only choice for our marriage.
I had the absolute pleasure of telling this story to the man, the myth, and the legend that wrote the song. Thank you, Max Bemis.
"Today is my wife and I's one year wedding anniversary and our first dance song was actually "A Walk Through Hell" so this is so weird and full circle for me right now," I told the band. "That's beautiful, Congratulations," Max Bemis says. Alex Kent looked more than shocked. I needed to know if anyone else had ever told them something similar. Did they have any idea this song would be one people would even consider dancing to at their wedding?
"I actually wrote that song at 17 so I didn't even think it would make it on the record. It kind of isn't," Bemis answers. "I definitely didn't think it would be one of the more popular songs by a band that I'm still in right now at 40. When I was 17, I wrote it to play in front of my class so that this girl would like me." He jokes that it didn't necessarily work for him, but it worked for me so I definitely owe him a big 'thank you'.
Make sure to watch the whole interview to hear about their time at When We Were Young Fest and their upcoming album …Is Committed dropping next year.