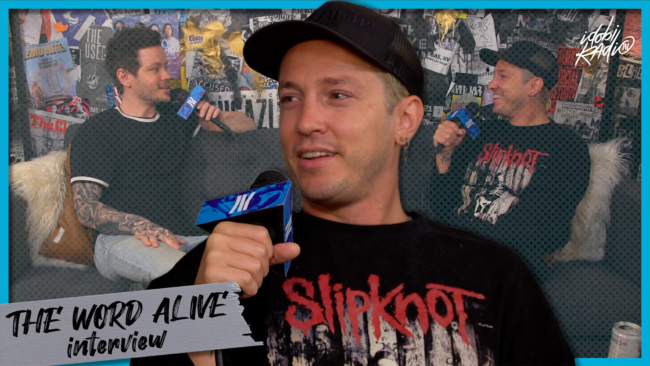 Just ahead of the release of their seventh studio album Hard Reset, The Word Alive frontman Telle Smith stopped by the idobi Studios in North Hollywood and told me why the latest era of the band truly is a… hard reset.

From a recent lineup change to signing with Thriller Records—a new label created by Fearless Records founder Bob Becker—Hard Reset is inspired by self-reflection in a shut down world, a fresh start within the band's camp, and a new perspective for Smith following a healthy break-up. The Word Alive have taken their years of experience within the metalcore genre to keep it relevant and fresh with the times, while still staying true to the sound that put them on the map.

The upcoming release brings back producers Matt Good and Erik Ron—who have worked with the band on separate albums in the past but never had their name on the same release until now. And, for the first time, Hiram Hernandez also joined the team; who Smith credits as the leading force in creating the cohesiveness between the tracks.
There's an exciting list of guest vocals including veterans of the scene like From First To Last (the band that inspired Smith to create his own band), Craig Mabbitt (Escape The Fate)— the original vocalist and founding member of The Word Alive,—and new names to the scene like Julian Comeau from Loveless. For fans old and new, Hard Reset is a showcase of what the band has mastered over the years, bringing out a bit of everything which even includes a follow-up track to their 2010 break-out single, "2012." Working with multiple producers from their past as well as adding a new name to the mix, and collaborating with well-established artists in the scene and new up-and-comers is the perfect recipe to achieve this sense of a full-career encompassing piece of work.
We, of course, dove heavily into the new album but also hit plenty of other topics including the passing of Smith's beloved dog, Colby—who also makes an appearance on the album—how the world shutting down almost immediately after the release of their 2020 album MONOMANIA opened up the band to a whole new fanbase and even Smith's recent fondness of renaissance faires. 
Hard Reset will be released on August 25 but, for now, here are some highlights from our interview and you can watch the full video version of our chat here (which, yes, includes some light interruptions thanks to the flutes and bongos being played in the studio next door).

Time absolutely flies cause you're about to enter a new album cycle for Hard Reset, the seventh album from you guys.
I think it's the most direct album title we may have ever had. It marks a new chapter for the band both with the lineup change, new label. Even sonically speaking, some of the challenges and choices we made through the recording process. This is our first album cycle post-Covid. Post all these things about the world and feeling like our lives,our livelihood, were taken and moved in different directions where there was no, necessarily, end in sight. I think the scene as a whole really went through a lot of change in the last few years. And I think it's resurging in a really, really cool beautiful way. And, so to me, Hard Reset is really about drawing a line in the sand of what was and all the experiences that we had accepted that. Reliving it a little bit but then letting it out and letting it go. So, throughout the record, there's definitely a lot of conversation about the way the world is, [and] some of the experiences that we've gone through. You know, namely, me going through losing relationships and people in my life that I cared about.
I know you have three producers working with you guys. You had Erik Ron, you had Matt Good—you've worked with both of them in the past on separate albums. And then Hiram Hernandez as well. What was it like bringing in three different people for a single release for you guys?
Now that we've done it, I can't picture not doing it. I was working on the record loosely throughout the whole pandemic. And then we had a lineup change and scrapped a bunch of songs. Then I just wanted to refocus and I was talking to Erik Ron, I was talking to Matt Good.
And, Matt called me and he was like, "I want to pitch an idea to you as a friend but also someone who wants to see The Word Alive win." He's like, "I don't think you should go to just me or just Erik or just any producer. I feel like we've done some really cool things that I pull out of you that no one else does. And Erik does the same thing in his way. Maybe there's someone else that is out there that you can get the full thing of what The Word Alive is." And I was thinking about it and I was like, "I agree." 
I never really allowed myself to have that idea. Because it is a little bit different from how people normally make records. But looking at it I'm like, they're pieces of our band that, like… I love this and I love this and I love this. And this was the opportunity to pull from all those things that not only I love about our band, but I feel like our fans love about our band, too. And Matt was just like, "Let's just try it, let's just see what happens." So I did two songs with Matt, two songs with Erik… well, some more songs with Erik that I think will be coming out as well, at a different time. But two songs on this record with Erik and then either the rest was myself or with Hiram. 
Most of the record is with Hiram. And, the songs that I did with Matt and the songs I did with Erik, Hiram—once we had everything together—then kind of like produced over the top of everything we did.  So, it sounds very cohesive and we drew on elements from, "Oh, this thing we were doing with Matt, it trickles into the other songs. This thing we're doing Eric trickles into the other songs. This thing we were doing with Hiram trickles into their songs." So, to me, it's just the best of what The Word Alive is and wants to be.
You got [Loveless] on the track "Hate Me." How did that all come to be?
I had discovered Julian and Loveless probably the same kind of way everyone else did. Whether it was seeing TikToks or videos of him singing and I was like, "This dude has a crazy voice. He's so good."  We started following each other on, maybe Twitter first. Someone had mentioned something or maybe I tweeted him or he tweeted me… I'm not even sure at this point. And they were like, "Loveless / Word Alive collab, when?" and no one knew this at the time but I was very deep into writing the record. I was like, "I'm ready when you are," and he wrote back, "Let's do it." 
So then we start talking behind the scenes a little bit. This record is full of moments for me that were so rewarding because there was a time where the band could've ended and I think everyone would've understood or been like, "Yeah this is the path if they're going." 
"Hate Me" started as a song I wrote most of in 2019 actually before Covid for MONOMANIA and half the band just didn't see it. They were not really feeling it. The song wasn't done or as polished as, obviously, what you'll hear now, but it was still that song. So rather than try to force it or fight that I was like, "Okay." I just kept it and then when that half of the band left… well then we're only left with the two people who are like, "This song is fucking awesome." 
So, then me and Zack [Hansen] were talking and I was like, "I wanna go back into this song, rework a couple things." I go and I do that with Hiram and at the same time, these conversations are happening with Julian. A lot of the songs might dip on the darker, angrier, or sadder, whatever side of things. This one is more like the, "Fuck you if you think you're going to break me like this. That's not gonna happen." It's kind of that angsty, chip-on-your-shoulder song.
Like you said, you're bringing that angst back with this.
Yeah, and I felt like Julian would be able to relate to that because as they're separating their career as true artists themselves, and not just him singing covers. I just felt he would understand the message of the song. It's a song that I wrote from a perspective of my relationship with the music and so I sent it to him. I told him what it meant to me and he sent me an idea back—that's most of his idea—in like 45 minutes.
Oh, he was quick with it.
He was like, "Love the song. I'm just gonna do a rough idea just to see if I'm on the right track." And I was blown away. It was even better than I could've hoped. His part is so crazy and he just added so much flavor and spice to the song. It's exactly what I hoped but then multiplied. And I feel like that's pretty much what every feature on the record did. They took it, they made their own date. They did exactly what I would hope they would do, which is be themselves. Their authentic selves, and their artistic selves. But, him in particular too, he went to town on his part. It's so sick. It's so cool.