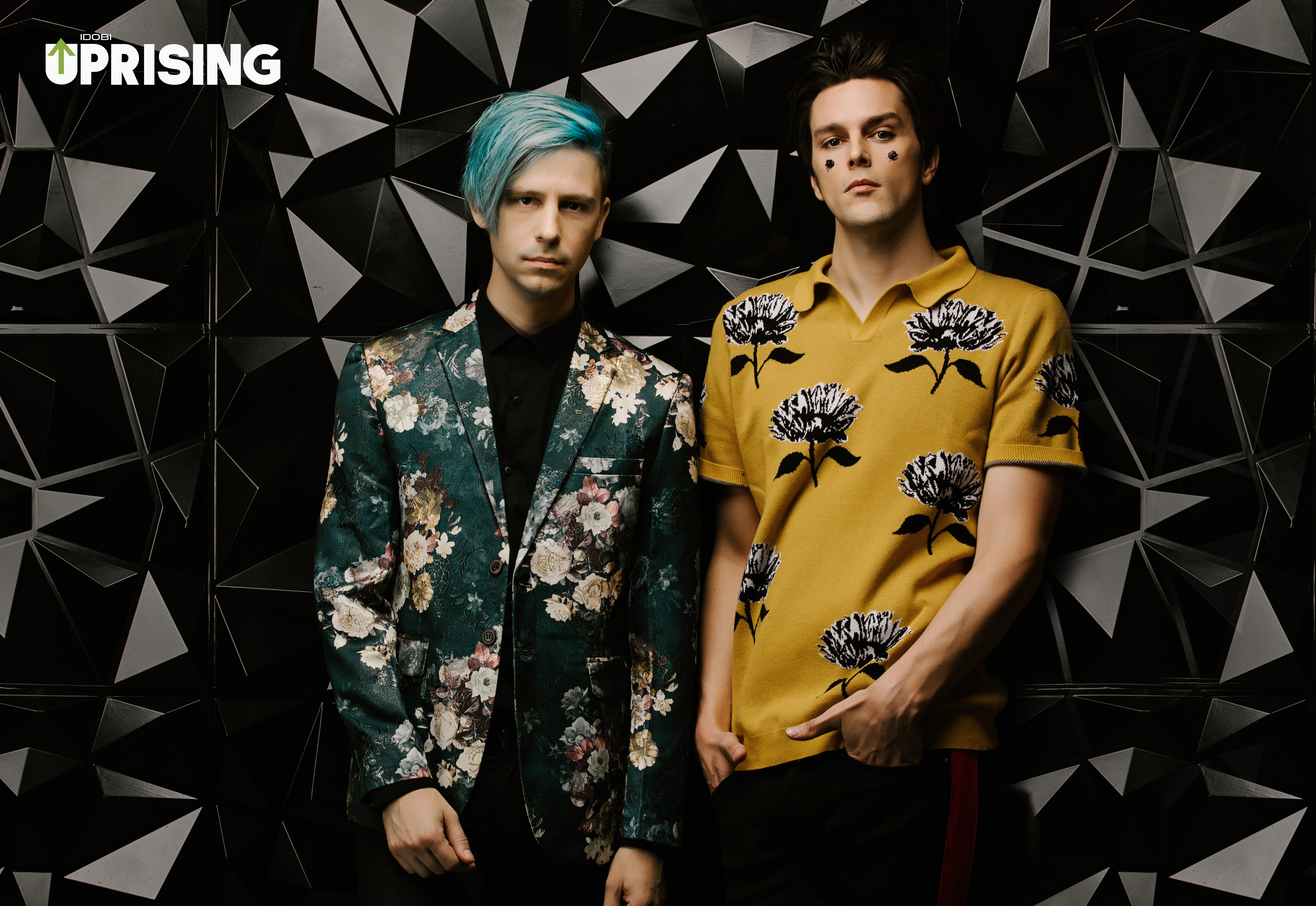 Photo by Lauren Perry
Fun fact:
"One fun fact about iDKHOW is that we once had all of our gear stolen out of my hotel room. That part wasn't fun but we did get all of it back about five days later, the LAPD found the guy who stole it and we ended up with all of our stuff and he ended up in jail."
Overview:
Hometown: Salt Lake City
Formed: 2016
Genre: Indie-pop-rock
Members: Dallon Weekes (vocals, bass), Ryan Seaman (drums)
Now playing on: idobi Radio
Discovering I Dont Know How But They Found Me is like striking gold in an unexpected place. Since 2016 iDKHOW have attracted intrepid sonic explorers around the world through their creative uncoverings of "lost recordings". These relics—new songs presented as previously unreleased old material—whisk you away to an alternate timeline of their own design, mixing the indie rock hooks of today with 80s synth-fueled pop.
When lead single "Choke" first popped up on the idobi radar we knew we'd found something altogether different. Before the end of your first listen you'll already be singing along to that hook—you know the one—and air-guitaring the exuberant riffs.
In fact, any of the tracks on their 2017 debut release 1981 Extended Play will instantly have you wanting more…and yet iDKHOW manages to remain a complete mystery. This band are in the running for the scene's best kept secret: iDKHOW played their first show at Emo Nite LA's 2-year anniversary event back in 2016 before they even confirmed their stage name.
Fronted by Weekes, a long-time Panic! At The Disco bassist, and drummer Ryan Seaman, their stacked talent makes it easy to see why the hype started from the beginning…in spite of their initial denial that the project even existed.
"I Don't Know How But They Found Me began in secret. My friend Ryan and I started booking shows underneath this incredibly long band name and we wouldn't tell anyone," Weekes says. "We would just do it for ourselves and to see if the music we were making could stand on its own two feet and get people's attention."
iDKHOW keep you guessing, dancing between smooth and outrageous in tracks like "Absinthe" and the darkly seductive "Bleed Magic". When "Do it All the Time" closes out the EP, the line "We're taking over the world…one kiss at a time" will make you share this with only the most dedicated music lovers—like you. We know the feeling, which is why we're sharing iDKHOW—our new Uprising artist—they're golden.
—
What the idobi Team
Has to Say About iDKHOW:
"I don't know about you, but I like bands that aren't afraid of mixing genres in surprising ways, bands made up of talented musicians who (between the two of them) can play nearly every instrument, bands who are slowly bringing back the 1980s with their sound and on-stage outfits, and bands with unique marketing skills (secret shows! Referring to themselves as a "bamd"! Pretending they actually formed in the 80s?). Luckily for me, iDKHOW is a band that does all that and more – so why aren't you listening to them yet?"
–Sam Devotta, idobi writer
"Six songs—one being an intro—is hardly enough to warrant satisfaction from I Dont Know How But They Found Me but their new EP is undeniably one of the strongest debuts in the genre this year. Fronted by ex-Panic! At the Disco member Dallon Weekes, the Passion Pit/Smallpools-esque pop weaved into tracks like "Absinthe" and "Choke" will skyrocket the group to the top of "bands to watch" lists for next year."
–Joe DeAndrea, Fresh Pressed, 11/9/18
"It's like someone discovered a time capsule, found a VCR at a thrift shop, and pressed play."
–Sherin Nicole, "Choke" video feature, 1/17/19
—
Follow iDKHOW:
Website | Facebook | Instagram | Twitter
Catch iDKHOW in Heavy Rotation on idobi Radio:
ido.bi/player
Tags:
Dallon Weekes
,
i don't know how but they found me
,
iDKHOW
,
idobi radio
,
idobi uprising
,
ryan seaman
,
Uprising