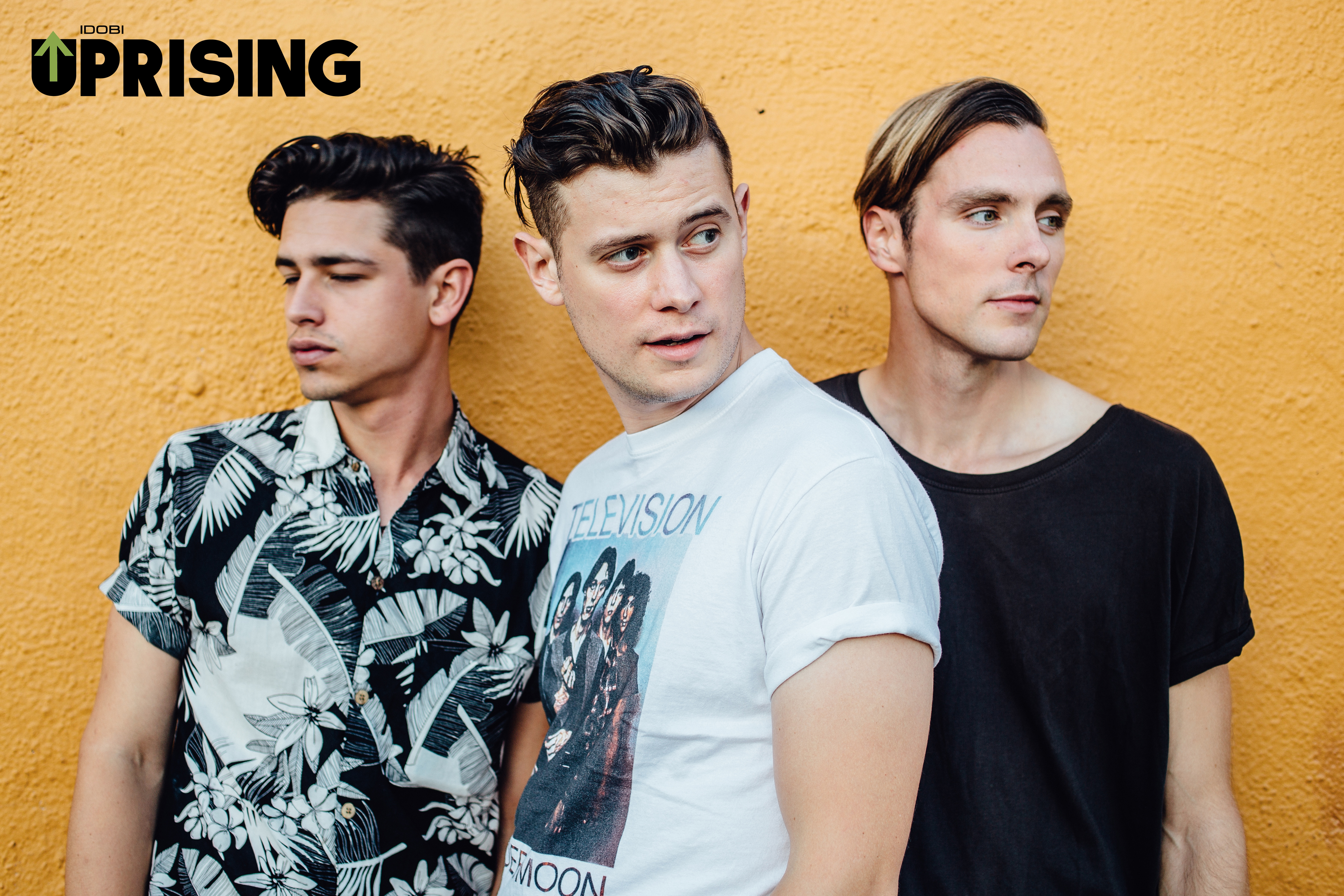 Fun Fact from the Band
"Nick can play a mean saxophone.  Nelson loves Diet Faygo. And Jacob's real name is Damien Von Finkelstein."
Crazy story from tour
"A giant, house-crushing tornado touched down right next to us as we were highway driving in Oklahoma.  We floored it to get past it as it was coming closer to the road. We made it past and watched it cross the highway behind us, then pulled over to snapchat it."
Overview
Hometown: Los Angeles via Brooklyn
Formed: 2014
Genre: Indie pop/cosmic rock
Members: Nick Wold (vocals/guitar), Nelson (bass/vocals), and Jacob Wick (drums)
Now playing on: idobi Radio, idobi Anthm

Welcome to your new obsession. From the fresh and exciting psychedelic sound that'll instantly make you want more, right down to their whole #aesthetic, everything about Los Angeles trio Dreamers is crazy addictive. For music fans, they're what your favorite cartoons were to your five year old self—full of crazy colors and magical elements, more layers than you can comprehend, able to keep you completely glued to whatever device you're using. We have to take a moment to applaud their attention to detail: the band's website looks like the Myspace page of a unicorn who has a severe case of the 90s (we mean that in the best way).
Dreamers first caught our attention with 2014's "Wolves (You Got Me)". Call us hipsters all you want, but some of us grew up in the UK. We're used to a much different indie scene—where the genre is more established and wide-ranging—one that the US is only just beginning to dig into and Dreamers immediately struck us as far ahead of the curve of what's considered a new type of music. They have echoes of the scene we grew up with, but also that special something; a seemingly effortless yet perfectly balanced combination of the best elements of indie, pop, and alternative.
The best part is Dreamers seem to have so much fun making music; and that fun is infectious—you'll hear it in every note, and find yourself in a better mood just by sheer proximity. We're honestly wondering if this prolonged summer weather is because of their first full-length release This Album Does Not Exist, which dropped August 26 and was an immediate hit on our airwaves; Dreamers' Uprising Release Day Listening Party drew in 90,000 listeners to hear it debut on air. The entire record is a bottled California beach party, packed full of fizzy and light-headed indie pop and plenty of psychedelic synths to get you dancing along in a matter of moments. But if you wish to look deeper than the immensely infectious hooks, you'll find yourself exploring themes of existentialism, as Dreamers whisk you away on one hell of a trip—in every sense of the word. So put on your shades, buckle up, and get on this wild ride now, because this band is shooting beyond the stars, for whole other universes they have yet to dream up.
When I first heard Dreamers with "Sweet Disaster" I knew idobi had to jump on it right away. It's just so damn catchy and manages to capture the spirit and sound of what's popular but with a really unique spin. These guys are going to be huge.
– Eddie Barella, idobi Program Director
Dreamers combine their classic rock raw sound with modern day hooks. With their debut album out recently, I can't wait for their follow up already.
– Fish, host of Gone Fishkin
Dreamers is the summer that never ends, the adventure you've always wanted to take, and the album that'll never leave your sound system.
– Emillie Marvel, idobi junior editor
Follow Dreamers:
Website: dreamersuniverse.com
Facebook: /DREAMERSuniverse
Twitter: @DREAMERSjoinus
Instagram: @dreamersjoinus
Tags:
Dreamers
,
Uprising