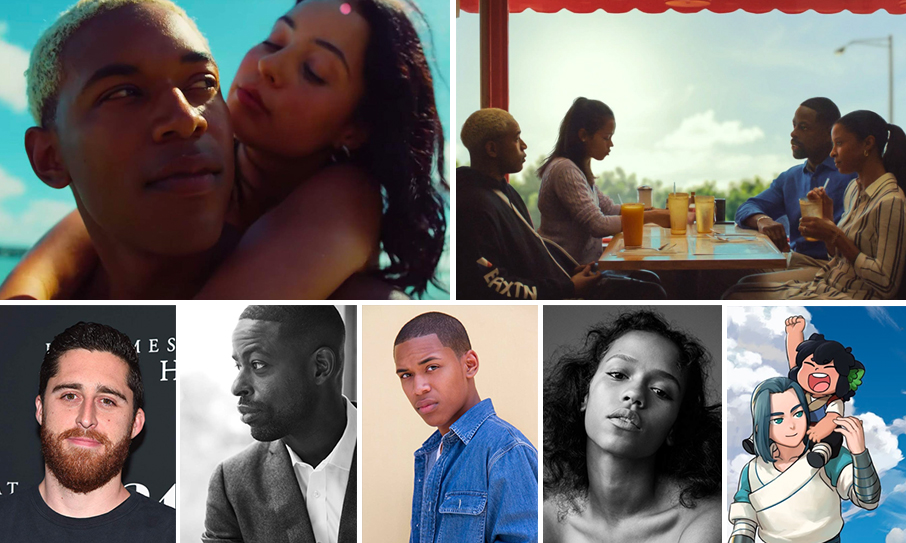 Top row: WAVES (photos via A24)// Bottom row L–R: Trey Edward Shults (

photo via IMDb

) // 

Sterling K. Brown (photo by Nathan Johnson) // Kelvin Harrison Jr. (photo by Carlton Mickle) // Taylor Russell (photo by Sebastian Kim - © Sebastian Kim) 

// The Legend of Hei
This week on Geek Girl Riot we talk about the movie WAVES and share a special Q&A with the cast and crew.
WAVES + The Legend of Hei
WAVES is a deeply affecting movie about a black family and how they react to pressure in different ways. Sherin and Julian recently attended a screening of the film at the Warner Bros. Theater at the Smithsonian National Museum of American History. They break down the story, filmmaking, and soundtrack, which work together beautifully to make WAVES shine. Sherin says of the film: "What's most affecting about WAVES is how slice-of-life it is, and how deeply that knife can cut."
Sherin and Julian also give a special shoutout to a Chinese animation series they're loving called The Legend of Luo Xiaohei and its film counterpart The Legend of Hei. 
WAVES Q&A
Following the screening of WAVES, Sherin and Julian attended a Q&A with the film's stars Sterling K. Brown, Kelvin Harrison Jr., and Taylor Russell along with writer/director Trey Edward Shults. Moderated by Joshua DuBois, the cast and crew share how they used personal stories to apply to the film, what it was like making such a layered piece of art, and why it's so important to create safe spaces for young people to learn and grow. Go see WAVES in theaters tomorrow (read our review).

Care/of (keep scrolling for an exclusive treat!)
Care/of is making your health regimen super easy. The subscription vitamin service delivers personalized vitamin & supplement packs each month right to your door, in tailor-made packaging (with cute inspirational quotes!). Get 50% off your first month of personalized Care/of vitamins with the code GGRIOT50 at TakeCareOf.com.
Tune in to Geek Girl Riot on idobi Radio every Tuesday at 11pm ET / 8pm PT for your dose of late-night geekery from our team of rioters. Til next time, see a list of everything our Rioters talked about below:
LINKS:
 – Lost in Space
 – The King's Avatar
 – The Untamed
 – The Legend of Luo Xiaohei
 – The Legend of Hei
 – The Cosby Show
 – The Fresh Prince of Bel-Air
 – Black-ish
 – Hamilton
– Aspect ratios #1
– Aspect ratios #2
Podcast: Play in new window | Download