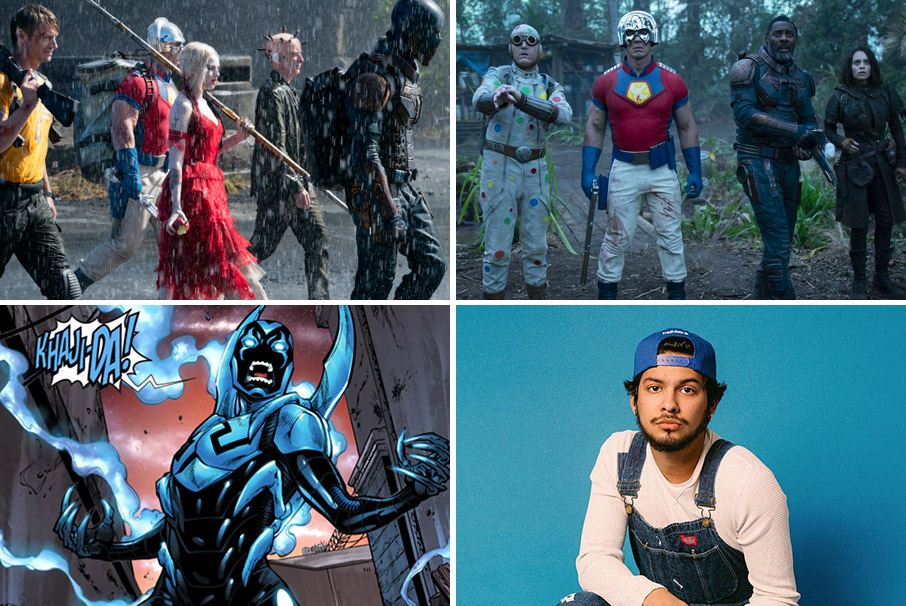 Top row: The Suicide Squad (

photos courtesy of Warner Bros.) // Bottom row L–R: 

Blue Beetle (image via 
DC Comics) // 

Xolo 

Maridueña 

(photo: 

Jack Dytrych

)

 
Geek Girl Riot teams up with Fantastic Forum for a super-powered episode talking The Suicide Squad, the recent Blue Beetle casting announcement, and more entertainment news.
The Suicide Squad + Marvel Voices
Sherin and Alex kick off the show by shouting out fellow Rioter Day Al-Mohamed, who recently appeared on the Marvel Voices podcast to talk about disability representation in comics! Check out the episode here. Then Sherin reads her review of The Suicide Squad, before letting Fantastic Forum take it away…
Entertainment News + More The Suicide Squad with Fantastic Forum
FF host Ulysses Campbell takes over with some entertainment news, before getting further into The Suicide Squad. Ulysses, Sherin, Julian, and Roberto Ortiz talk about the cast and characters, the storyline, and how it compares to the comics and the 2016 Suicide Squad movie.
Blue Beetle + Representation
Then they get into Blue Beetle, the upcoming live action adaptation starring Xolo Maridueña from Cobra Kai. He will be DC Comics' first Latino movie superhero! This leads them into a discussion about representation and pandering, as well as how it feels to have your own culture explained to you…um…yeah. Please stop doing that and listen to what the hosts have to say.
Tune in to Geek Girl Riot on idobi Radio every Tuesday at 11pm ET / 8pm PT for your dose of late-night geekery. 'Til next time, see a list of everything our Rioters talked about below:
LINKS:
 – The Suicide Squad (read Sherin's review)
 – Blue Beetle
 – 'José Alaniz & Day Al-Mohamed on Disability Representation in Comics' – Marvel Voices Podcast
 – Lord of the Rings
 – Venom: Let There Be Carnage
 – Y: The Last Man
 – Cobra Kai
 – Star Wars: The Bad Batch
– Suicide Squad
 – Weekend at Bernie's
 – Supergirl
 – Batgirl
 – The Queen's Gambit
 – The Flash
 – Trolls
 – The Hobbit
 – Justice League
 – Constantine
 – Teen Titans
 – Young Justice
 – Spider-Man
 – Criminal Minds
 – Never Have I Ever
 – Vivo (read Julian's review)
 – Coco
 – Moana
Podcast: Play in new window | Download