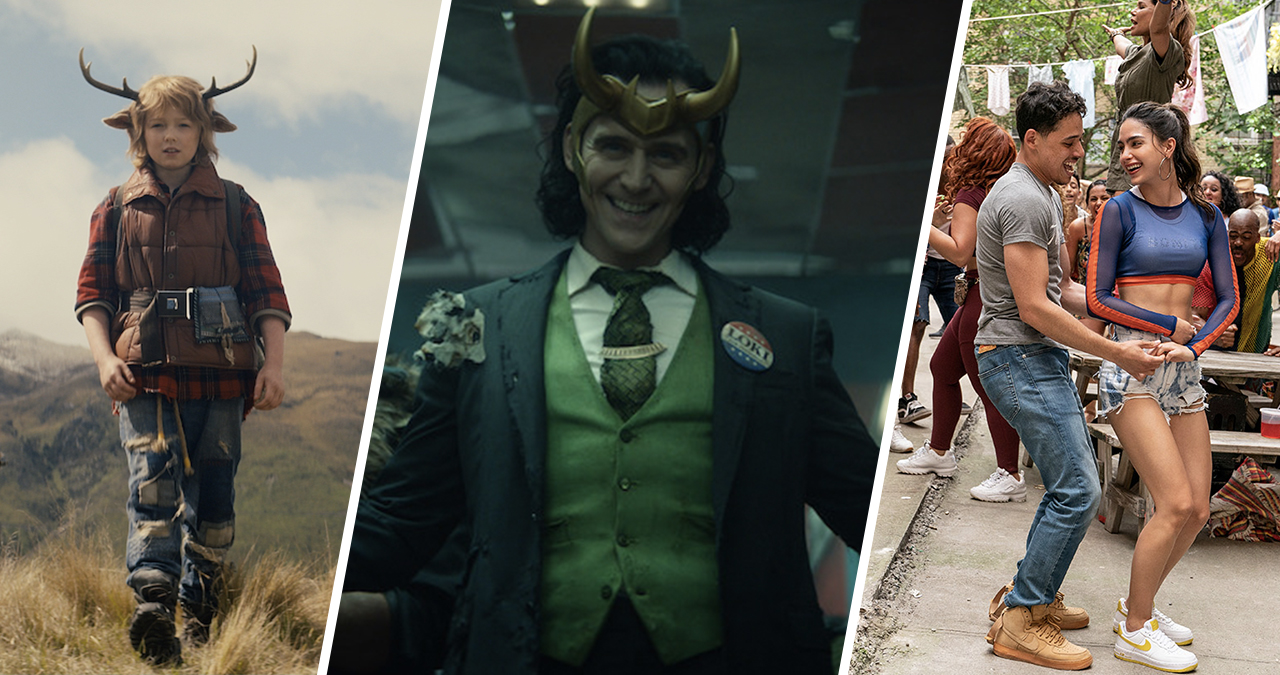 L–R: Sweet Tooth (p

hoto courtesy of Netflix © 2021) // Loki (photo © Marvel Studios 2021) // In the Heights 
(photo © 2021 Warner Bros. Entertainment Inc.)
This week Geek Girl Riot talks about three properties that are ready to take over your screen: Sweet Tooth, LOKI, and In the Heights.
Sweet Tooth
We have not stopped thinking about Sweet Tooth since we first hit play on Netflix. The series about animal/human hybrids emerging amidst a deadly pandemic hits a little close to home but it will immediately pull you into its world with plenty of hope…and also plenty of terrible, no good, awful events. Sherin and Renee curl up in their blankets and tell you why Sweet Tooth is an absolute must-watch, breaking down the cast, the direction, the themes, and more for a spoiler-free intro.
LOKI
The God of Mischief is up to his old tricks again…he breaks into this timeline to set you up for his show, which debuts today on Disney+. Kat, Drew, and Julian join Sherin to break down the first two episodes in a no-spoiler, all-teaser segment. They share their first impressions and what hooked them, before highlighting the standout characters and predicting how they think the show will progress. Our Rioters also tease some things to look forward to, just to make sure you're ready to watch LOKI the second GGR is over.
"Much like Loki himself, I suspect the Loki series is a trickster. It is setting us up ever so slowly in order to double-cross us with irresistible mischief."
–Sherin Nicole

—

"With its Hitchhiker's Guide vibes, this might be the most interesting pilot of the three. Loki is going to have folks fiendin' each week for new episodes."
–Julian Lytle
In the Heights
Julian and Philip jump on to give Sherin a spoiler-free breakdown of In the Heights. The new musical set in Washington Heights is full of love and dreams and the strong pull of community. Our hosts get into the music, how the film achieves the feel of NYC, and the standout performances. They also talk the direction by Jon M. Chu and the scenes they're most excited for you to see, before closing out with their standing ovation/ratings. See In the Heights in theaters or on HBO Max on Friday!
PrettyLitter:

When the kitties in our lives are happy, we're happy. That's why we're teaming up with PrettyLitter to bring you a new kind of kitty litter. Their super light crystals trap odor and release moisture, which means dry, low maintenance, and odor-free litter. AND it's a pet health indicator! Oh, and did we mention PrettyLitter gets delivered right to your door too with free shipping? Yup! Get the world's smartest litter without leaving home by visiting prettylitter.com and use promo code ggriot for 20% off your first order! 
—
Enso Rings: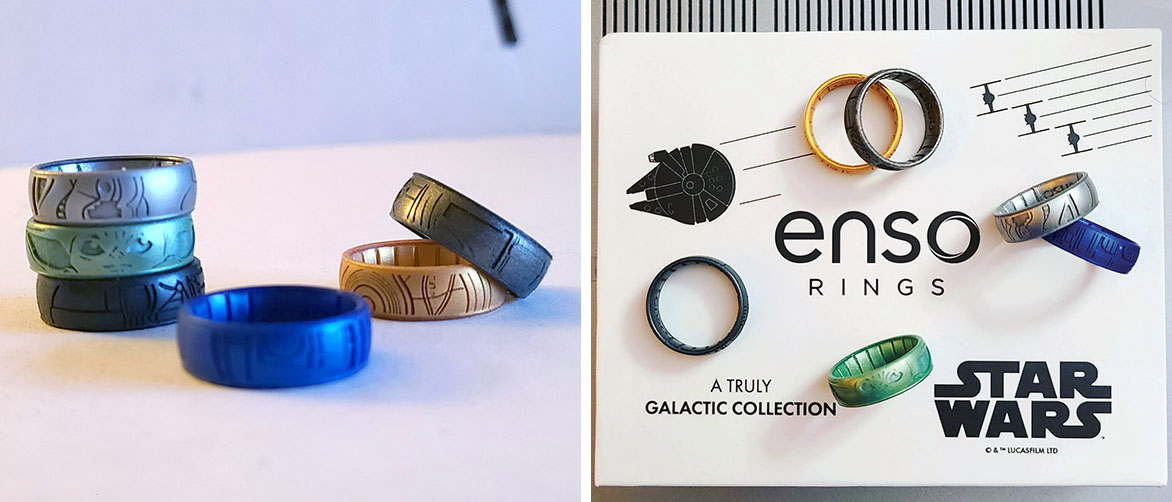 Calling all Star Wars fans! Enso Rings has a collection for you. Their silicone rings are instant collectors items, featuring character designs of: The Mandalorian, Darth Vader, Grogu, R2-D2, C-3PO, and Stormtrooper! So you can rep the galaxy from near to far, far away. This is THE perfect gift for Father's Day…or for any Star Wars fan in your life. Don't wait, order Enso Rings today for the Star Wars fans in your life, including yourself! Go to EnsoRings.com today and get FREE shipping with the code StarWars. 
—
Credit Karma:

Photos via 

Credit Karma
We've teamed up with Credit Karma to get your credit up while you live it up! With a Credit Karma Money Spend account, you can be rewarded for good money habits when you shop—yup, you could win cash reimbursements for debit purchases. Go to creditkarma.com/winmoney to open your free account and start winning Instant Karma. Instant Karma is sponsored by Credit Karma. NO PURCHASE NECESSARY. Exclusions and terms apply. See Rules. Banking services provided by MVB Bank, Inc., Member FDIC. Maximum balance and transfer limits apply.
—
MasterClass:

L: N. K. Jemisin's MasterClass 

/ R: 

Wayne Gretzy's MasterClass
Prepare to explode your mind with knowledge thanks to our team-up with MasterClass! MasterClass hosts virtual classes on a wide range of topics taught by industry leaders, available to you any time, anywhere. Get unlimited access to EVERY MasterClass AND get 15% off an annual membership at masterclass.com/ggriot 
—
Tune in to Geek Girl Riot on idobi Radio every Tuesday at 11pm ET / 8pm PT for your dose of late-night geekery from our team of Rioters. 'Til next time, see a list of everything our Rioters talked about below:
LINKS:
 – Sweet Tooth (read our review)
 – Loki (read our review)
 – In the Heights
 – Y: The Last Man
 – Peter Pan
 – Logan
 – The Hitchhiker's Guide to the Galaxy
 – Time Bandits
 – Brazil
 – Doctor Who
 – The Umbrella Academy
 – The Good Place
 – Lovecraft Country
 – Midnight Run
 – 48 Hrs
 – Psych
 – The Mentalist
 – Castle
 – Green Lantern 
 – In the Heights stage musical
 – 24
 – Straight Outta Compton
 – Hamilton
 – Do the Right Thing
 – Step Up
Podcast: Play in new window | Download