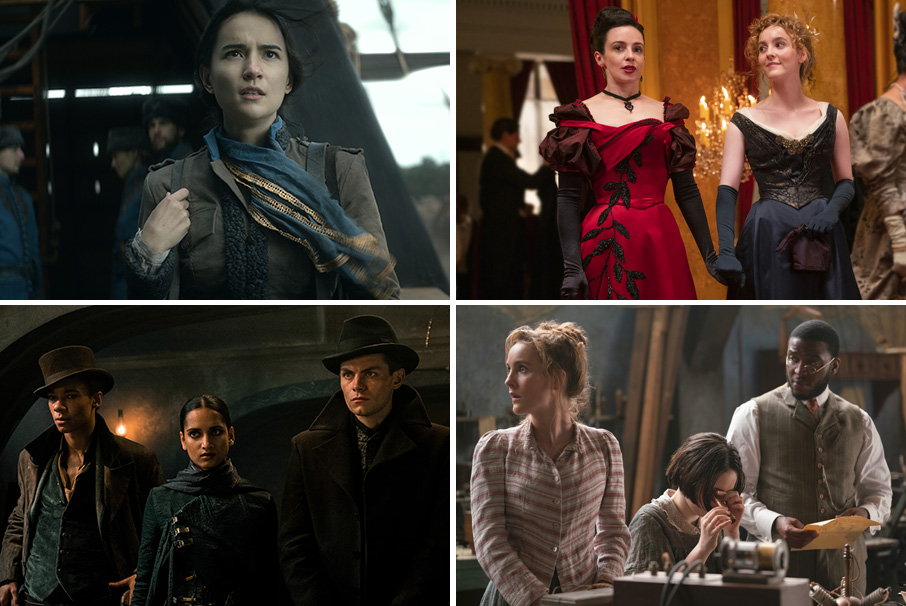 L: Shadow and Bone (photos: David Appleby/Netflix © 2021) // R: The Nevers (photos: HBO/Keith Bernstein)
This week Geek Girl Riot explores the wondrous realms of epic fantasy with previews of Shadow and Bone and The Nevers. 
Shadow and Bone
YA fans delight, for Netflix's adaptation of Shadow and Bone will soon be upon us all—and our Rioters are here to get you fired up. Sherin, Alex, and Sam are joined by special guest Yash who also happens to be a Crow Mom. With varying levels of knowledge about Leigh Bardugo's Grishaverse, our hosts get into their anticipation in the lead up to release vs. their first impressions.
Then they break down the characters and the world-building. Yash and Sam also get into what they hope translates well from the books, before the Rioters discuss the importance of representation and what they'd like to see from the rest of the series. Catch Shadow and Bone on Netflix on April 23rd!
The Nevers
As Sherin says, "No one does prestige better than HBO." This is proven with The Nevers, HBO's new fantasy drama set in Victorian London that follows a group of supernaturally gifted women & their friends as they try to navigate the patriarchal world and fight off the strange forces out to kill them. Sherin says the series is: "A steampunk action adventure imbued with magic gone wild, fabulous femmes, and sharp witty banter that would make Oscar Wilde smile." She gets into the series with Renee and Alex and they explore why it's going to give you thrills & chills (while acknowledging the problems with its creator). Catch The Nevers on HBO starting Sunday April 11th at 9pm ET (and read our review)!
"The Nevers steps on the neck of the Victorian patriarchy with woman power and fashionable footwear—and it's frighteningly fun along the way." –Sherin Nicole
EXTRA…More The Nevers
We had too much to say to fit in the live airing so now you get treated to an extra innings post show breakdown of The Nevers, specifically in its treatment of disability and race—and how we hope the show will handle them moving forward (we're counting on you to do it well, HBO). 

Photos via 

MasterClass

 - keep scrolling for a sweet deal!
Learning new things and finding new inspirations is a Geek Girl Riot MUST—and MasterClass is a perfect way to achieve greatness. MasterClass offers virtual classes on a wide range of topics, all taught by the world's best minds—so you can power up and study hard anytime, anywhere. Get unlimited access to EVERY MasterClass AND get 15% off an annual membership at masterclass.com/ggriot 
Tune in to Geek Girl Riot on idobi Radio every Tuesday at 11pm ET / 8pm PT for your dose of late-night geekery from our team of rioters. 'Til next time, see a list of everything our Rioters talked about below:
LINKS:
 – Shadow and Bone
 – Shadow and Bone – Leigh Bardugo
 – Six of Crows – Leigh Bardugo
 – Arrival
 – Bird Box
 – The Chronicles of Narnia: Prince Caspian
 – Dorian Gray
 – Game of Thrones
 – Pitch Black
 – Peaky Blinders
 – Bend it Like Beckham
 – Snowfall
 – The Nevers 
 – Sherlock Holmes
Podcast: Play in new window | Download