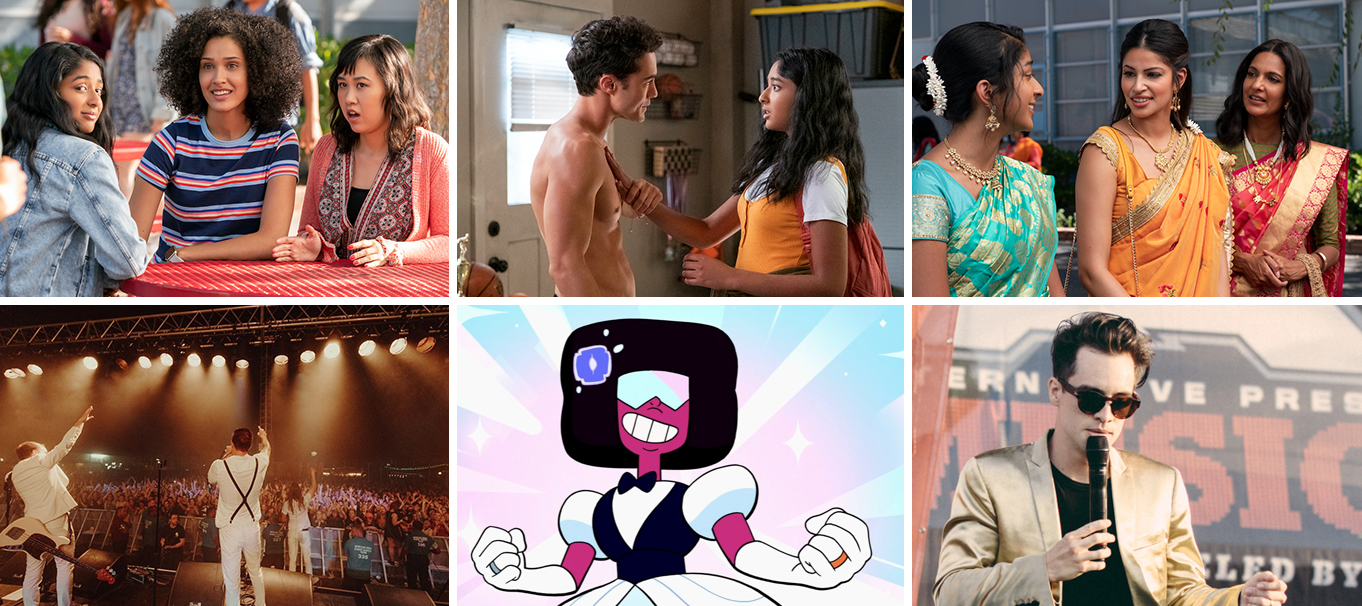 Top row: Never Have I Ever (photos: Lara Solanki/Netflix) // Bottom row L-R: The Maine (photo: Ami Ford), 
Steven Universe, Brendon Urie (photo: Matt Vogel)
This week on Geek Girl Riot we throw love-confetti all over Never Have I Ever before spreading some positivity into the world.
We're Crushin' on Never Have I Ever
Mindy Kaling's new show Never Have I Ever has got us scribbling hearts in our notebooks because it's our latest crush. The coming-of-age story is so wonderfully funny and real with characters we're cheering for. Sherin and Alex squeal over the show and tell you why you absolutely must watch it when it drops on Netflix on Monday, April 27th!
Positivity, Go!
Gerard Way once told us how he's trying to put as much positivity into the world as he can. And we could all use a lil positivity right now, so our Rioters are stepping in to amplify the goodness they feel in everyday life. Sherin, Monique, and Alex share some heartfelt personal stories about family, Steven Universe, and the moments that brought them together.
Music is a Healer
Music is what connects us all and helps us thrive. From dancing our hearts out to The Maine, to belting out some Elton John on a family road trip, to getting chills watching Panic! at the Disco, our Rioters share just a few of their memories about how music has added positivity into their lives. We hope you'll share some of yours.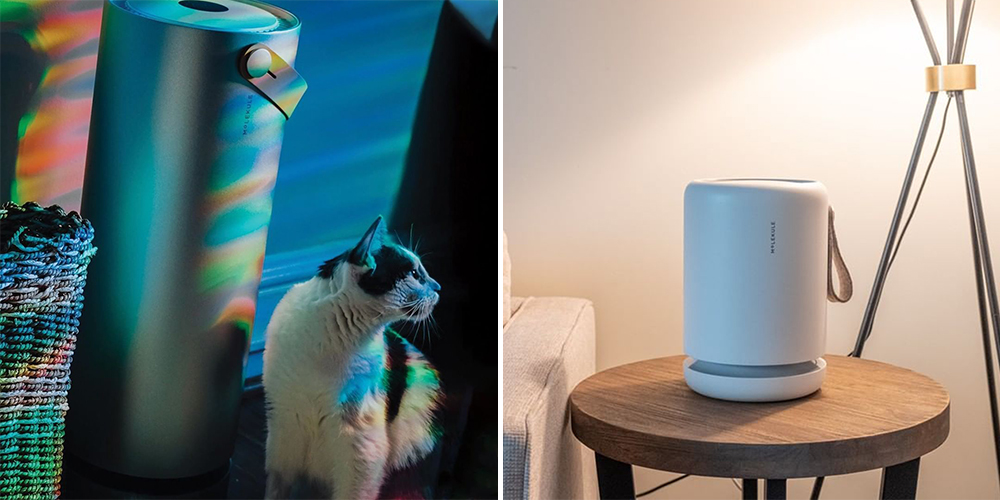 Molekule (photos via Instagram) - keep scrolling for a sweet deal!
We're all about clean air—for its health benefits, the reduction of allergies and pollen, and to help us sleep—and Molekule is stepping up the purification game. Their core technology PECO (photo electrochemical oxidation) is an updated take
on air filters and it's ready to change the air you breathe. For 10% off your
first air purifier order, visit molekule.com and at checkout enter the code GGRIOT.
Tune in to Geek Girl Riot on idobi Radio every Tuesday at 11pm ET / 8pm PT for your dose of late-night geekery from our team of rioters. 'Til next time, see a list of everything our Rioters talked about below:
LINKS:
– The Wonder Years
– Freaks and Geeks
– Heroes
– Four Weddings and a Funeral
– Steven Universe
– One Day at a Time
– Lady Gaga – "The Cure"
– Jimmy Hendrix – "Little Wing"
– Stevie Ray Vaughan – "Little Wing"
– Sting – "Little Wing"
– The Maine – "Another Night on Mars"
– Elton John – "Tiny Dancer"
– Almost Famous
– Whitesnake – "Here I Go Again"
– Brendon Urie – "Bohemian Rhapsody"
– Mest – "Jaded (These Years)"
– Radiohead – "Creep"
– Macy Gray – "Creep"
Podcast: Play in new window | Download