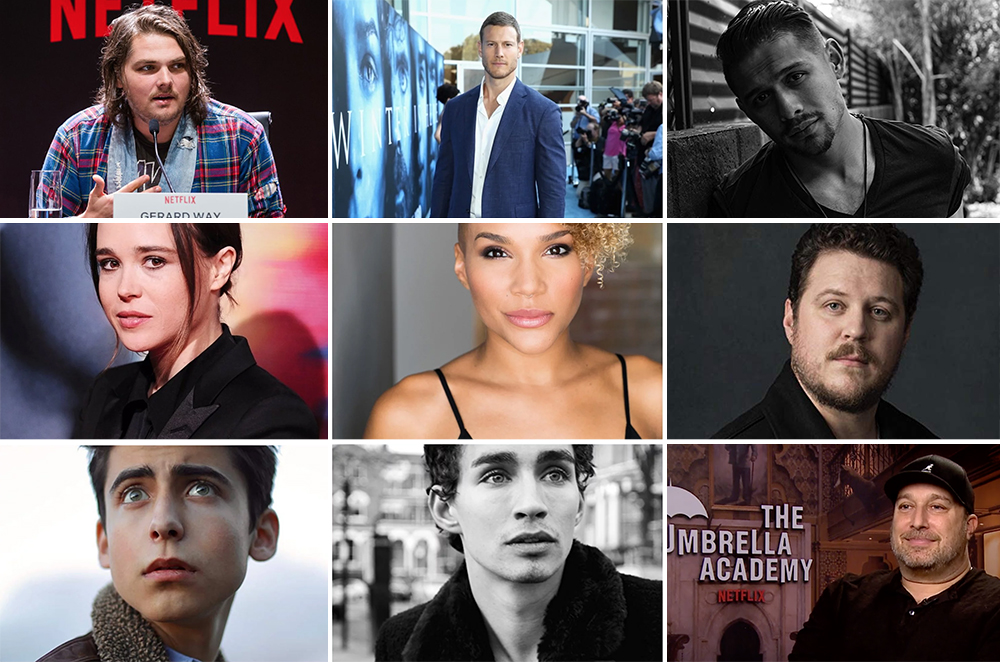 Top row: Gerard Way (photo: Getty Images South America) // Tom Hopper (photo: Neilson Barnard
/Getty Images) // David Castañeda
Middle row: Ellen Page (photo: Jason LaVeris / FilmMagic file) // Emmy Raver-Lampman (photo: 
Joanna DeGeneres) // Cameron Britton
Bottom row: Aidan Gallagher (photo © Rob Gallagher) // Robert Sheehan (photo © Jessie Craig) 
// Steve Blackman
There's one helluva storm coming…The Umbrella Academy is almost here! The beloved comic, by writer Gerard Way and illustrator Gabriel Bá, is coming to Netflix on February 15th and we're about to get you hyped—featuring clips and interviews with Gerard along with the cast & crew!
You're gonna want to stick around for every last second because Sherin talks to Gerard Way about both versions of The Umbrella Academy, his past experience working in comics, and how his art and music influence each other. He discusses the creative process, allowing the audience to explore the weird, and how comics have led him to new understandings in life.
But before we get into that, Sherin, Philip, and Alex dig into the comic and break down each character in the dysfunctional superhero world, comparing the differences onscreen. You'll also hear snippets from idobi correspondent Brett Callwood's interviews with: Tom Hopper (Number 1), David Castañeda (Number 2), Emmy Raver-Lampman (Number 3), Robert Sheehan (Number 4), Aidan Gallagher (Number 5), Ellen Page (Vanya), Cameron Britton (Hazel), and showrunner Steve Blackman. Yup, this show is about to punch you in the feels with awesome so put your umbrellas up and get ready for the apocalypse…
Dive into The Umbrella Academy on Netflix on Friday.
Tune in to Geek Girl Riot on idobi Radio every Tuesday at 11pm ET / 8pm PT for your dose of late-night geekery from our team of rioters. Til next time, see a list of everything our Rioters talked about below along with links to more idobi love for The Umbrella Academy:
Links:
– Season 1 review
– 'A Day Under the Umbrella' by Brett Callwood
– Doom Patrol
– Hellboy
– Star Wars
– Harry Potter
Podcast: Play in new window | Download