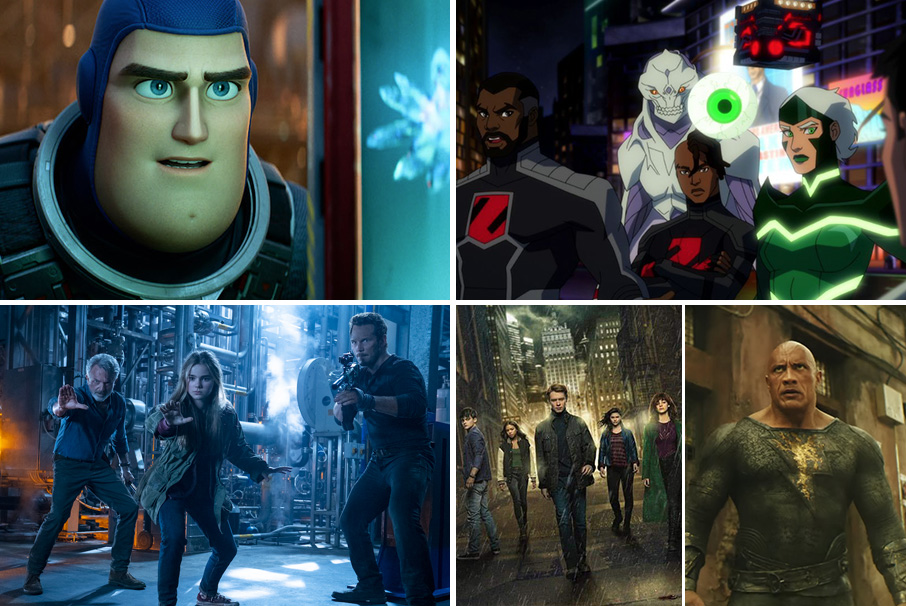 Geek Girl Riot is serving up the binge-worthy goods this week, talking: Young Justice: Phantoms, Lightyear, and Jurassic World Dominion. Our Rioters also down the new Black Adam and Gotham Knights trailers.
Lightyear
Everyone's favorite space ranger is taking off on a different kind of adventure in Lightyear, hitting theaters on Friday. Sherin and Julian talk about Lightyear's storytelling, how it diverges from Toy Story, and what they loved about it. "That is high-level filmmaking in a tangible story about friendship, the enemy inside yourself, growing from your mistakes, and recognizing when you've done what you can do." Julian adds, "Lightyear is a standard amazing Pixar film with great exploration of humanity—that will probably be unfairly called a kids' movie when it's better than most the movies with real people made for adults."
Jurassic World Dominion + Gotham Knights & Black Adam Trailers
Meagan AKA Barbara Gordon joins Sherin and Julian for the next segment, which they kick off by giving her a spoiler-free teaser for Jurassic World Dominion. Sherin says, "It is a big, silly, fun movie that has what I call kaiju action." Then they get into the horror of the Gotham Knights trailer…before raising a glass to the Black Adam trailer!
Young Justice: Phantoms
Y'all, we have been loving on Young Justice for a while now—and with Phantoms coming to an epic close, our Rioters just have to talk about it. Sherin, Julian, and Barbara ring that Spoiler Siren and dive into the latest season, breaking down their favorite scenes, toasting to the characters, and sharing why Young Justice is an excellent animated series.
Tune in to Geek Girl Riot on idobi Radio every Tuesday at 11pm ET / 8pm PT for your dose of late-night geekery. 'Til next time, see a list of everything our Rioters talked about below:
LINKS:
 – Lightyear (read Drew's review)
 – Toy Story
 – The Wire
 – Up
 – Aladdin
 – Buzz Lightyear of Star Command
 – Top Gun
 – Jurassic World Dominion
 – Black Adam
 – Gotham Knights
 – Captain Marvel
 – Indiana Jones
 – Spycraft
 – Star Wars
 – Fast & Furious
 – Sneakerella
 – The Irishman
 – Earth Girls are Easy
 – The Fly
 – Riverdale
 – Batman: The Animated Series
 – Mamma Mia! Here We Go
Podcast: Play in new window | Download