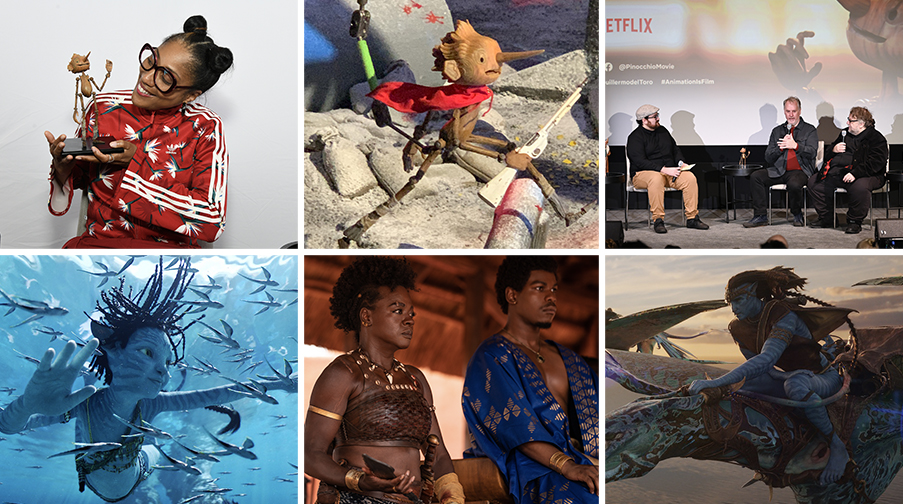 Geek Girl Riot is getting fantastical with Guillermo del Toro's Pinocchio, Avatar: The Way of Water, and our top films of 2022. Before throwing it back to our chat about The Woman King.
GDT's Pinocchio + WAFCA Awards
We've fallen in love with Guillermo del Toro's Pinocchio. Sherin and Julian had the pleasure of attending a special screening and Q&A in New York, as well as attending the Crafting Pinocchio MoMA Exhibit. They share their experience and talk about why this version of the classic tale is an absolute must-watch, applauding the craft and storytelling, as well as the miniature details and love that went into making this film happen. Watch GDT's Pinocchio on Netflix now!
They then take a detour into the 2022 WAFCA Awards, highlighting some of the winning films and stars, while comparing their own nominations and choices as critics.
Avatar: The Way of Water + Top Films of 2022
Sherin and Julian head over to Pandora next to talk all things Avatar: The Way of Water. They prepare you to be immersed entirely into this film's world and share why you must see it in 3D on the biggest screen you can. 
Our Rioters close out the segment with their personal film picks of the year—listen out for your favorites and let us know what your top 2022 movies are!
The Woman King
Finally we throw it back to one of the most fiery films of the year: The Woman King, which tells the story of the Agojie, the all-women warriors in the 1800s. Our dynamic duo talk about the amazing cast, the story and its very real and bloody history, and why you need to see it.
Tune in to Geek Girl Riot on idobi Radio every Tuesday at 11pm ET / 8pm PT for your dose of late-night geekery. 'Til next time, see a list of everything our Rioters talked about below:
LINKS:
 – Guillermo del Toro's Pinocchio
 – Avatar: The Way of Water (read Sherin's review | read Julian's review)
 – Avatar: The Last Airbender
 – The Shape of Water
 – Pan's Labyrinth
 – Sea Beast
 – Oliver Twist
 – 22 Jump Street
 – Nope
 – Broker
 – Decision to Leave
 – Inu-oh
 – One Piece
 – Bleach
 – Chainsaw Man
 – Jujutsu Kaisen
 – Your Name
 – Bell
 – Everything Everywhere All at Once
 – Erin Brockovich
 – The Banshees of Inisherin
 – Wakanda Forever
 – The Batman
 – Bones and All
 – Dragonriders of Pern
 – Dune
 – The Hobbit
 – The Little Mermaid
 – Dances with Wolves
 – Avatar
 – Star Wars
 – Terminator
 – Tár
 – The Fabelmans
 – The Menu
 – Glass Onion
 – Strange World
 – Treasure Planet
 – Atlantis
 – Saint Omer
Podcast: Play in new window | Download