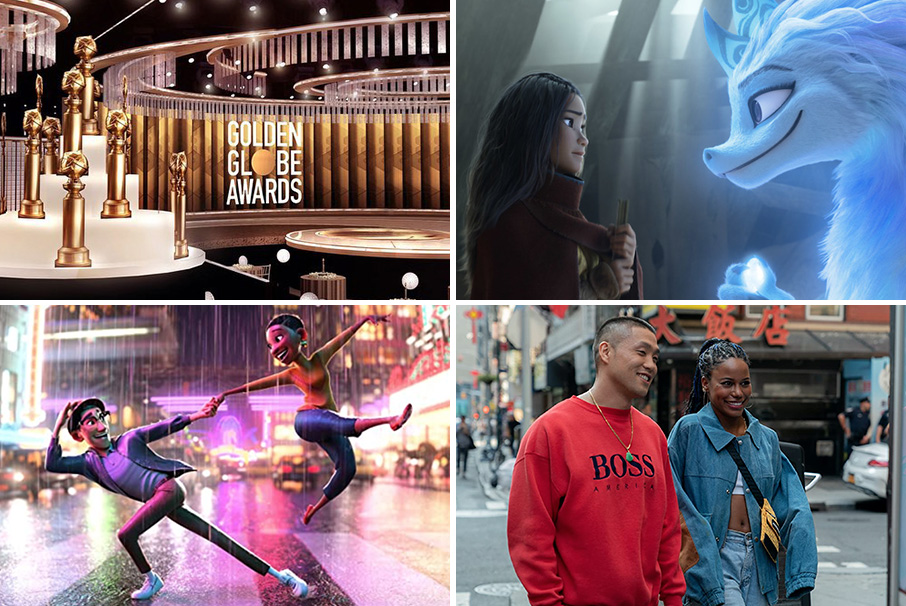 CW from top left: 2021 Golden Globe Awards at the Beverly Hilton (photo via 

Instagram

) // Raya and the Last 
Dragon (photo 

© 2020 Disney) // Boogie (photo by Nicole Rivelli - © Focus Features) // Us Again (

photo 

© 
2020 Disney)
This week on Geek Girl Riot we get into the mess of this year's Golden Globes, before turning up the love for Raya and the Last Dragon, Us Again, and Boogie.
The Golden Globes: The Scandals & the Winners
The Hollywood Foreign Press has been in the spotlight lately and not because they've just hosted the Golden Globes. They're at the center of some scandals: about how they have no Black members; about how their critics are often paid in biased ways (looking at you, Emily in Paris); about how they insisted on putting Minari—an American made film about an American family—in the "foreign" film category. Sherin and Julian spill the tea and cast some shade, which naturally leads them into discussing the 2021 Golden Globes winners. They celebrate the wins that were well deserved—but also wonder whether some of the wins came from pandering (or The Hollywood Foreign Press attempting damage control).
Raya and the Last Dragon
Raya and the Last Dragon is coming to Disney+ on Friday, March 5th to take you to the magical land of Kumandra where dragons and myths collide (read Sherin's review). Sherin and Julian dig into the animation, the storytelling, the voice acting, and those glorious fight sequences. They also take a Sherin Sidebar™️ to explain why claiming RATD stole from Avatar: The Last Airbender is ridiculous. 
Us Again & Boogie
Before you watch Raya and the Last Dragon on Friday, you'll be able to enjoy a Disney animated short named Us Again, which is a beautiful sequence about falling in love with dance all over again and learning what it means to grow older (check out Julian's review). Our Rioters throw some love confetti over it, before getting into Boogie, Eddie Huang's new movie. Sherin says: "This double Taylo(u)r dose has great chemistry…in this slice of life that hits like a throwback to 90s basketball films, but it needed one extra hit of something to turn a corner…Boogie stopped just short of being a touchstone kind of film." Catch it on Friday in theaters!
Tune in to Geek Girl Riot on idobi Radio every Tuesday at 11pm ET / 8pm PT for your dose of late-night geekery from our team of rioters. 'Til next time, see a list of everything our Rioters talked about below:
LINKS:
 – Golden Globes
 – Raya and the Last Dragon
 – Us Again
 – Boogie
 – WandaVision
 – Emily in Paris
 – Bridgerton
 – Da 5 Bloods
 – The Crown
 – The Great
 – Supervillain: The Making of Tekashi 6ix9ine
 – Nomadland
 – Borat Subsequent Moviefilm
 – The United States vs. Billie Holiday (read Sherin's review)
 – Chasing the Scream (The Opposite of Addiction is Connection) by Johann Hari
 – 'The Hunting of Billie Holiday' on Politico
 – Small Axe "Red, White and Blue"
 – Soul
 – Judas and the Black Messiah
 – Ma Rainey's Black Bottom
 – Taylor Simone Ledward's Golden Globes acceptance speech on behalf of Chadwick Boseman
 – Ted Lasso
 – Training Day
 – The Departed
 – Mulan
 – Tangled
 – Frozen
 – Moana
 – Lilo & Stitch
 – The Emperor's New Groove
 – Treasure Planet
 – Over the Hedge
 – Avatar: The Last Airbender
 – Lone Wolf and Cub
 – Dragon Ball Z
 – The NeverEnding Story
 – The Lion King
 – Naruto
 – West Side Story
 – Glee
 – Step Up
 – Bao
 – Fresh Off the Boat
 – Huang's World
 – Above the Rim
 – Sunset Park
 – He Got Game
 – Hit the Floor
Podcast: Play in new window | Download