Top row L–R: The Forty-Year-Old Version (photo: Netflix © 2020) // Soulmates (photo: Jorge Alvarino/AMC)

 
// 

Song Exploder (photo courtesy of Netflix © 2020) // The Haunting of Bly Manor (photo: Eike Schroter 
/ Netflix © 2020) // 

Bottom row L–R: Emily in Paris (photo: Stephanie Branchu / Netflix © 2020) 
// Enola Holmes (photo: Alex Bailey // Legendary © 2020 // black-ish (photo: ABC/Smiley Guy Studios) 
// NYC Graffiti (photo:

 

Jon Tyson

)
Get ready to update your TV watchlist with the latest Geek Girl Riot—then get philosophical as our Rioters discuss what it means to have Villain Schadenfreude Syndrome.
Song Exploder, The Forty-Year-Old Version, Soulmates
Sherin and Alex start off with Song Exploder, a music documentary based on the popular podcast of the same name that has stolen their hearts. Watch it now on Netflix! Then they raise their glasses to Radha Blank for her new Netflix film The Forty-Year-Old Version, which is out on Friday. Sherin calls it "a coming of age for the second time around story" and we cannot wait for you to see it and fall in love for yourself. Next, our Rioters dig into Soulmates, which premiered this week on AMC, and their chat gets pretty philosophical as they ask the question of whether love can be chosen by science or by the heart.
Emily in Paris, The Haunting of Bly Manor
Our dynamic duo head to France to talk about Netflix's new show Emily in Paris and why it's enjoyable but has a few petit problèmes. Then they hand the mic over to Erin and Meinberg to talk about The Haunting of Bly Manor (out Friday on Netflix). They tease what they enjoyed, what to expect, and whether it stood up to The Haunting of Hill House.
Enola Holmes, black-ish, Villain Schadenfreude Syndrome
Sherin & Alex were suitably thrilled by Enola Holmes so they give a special shoutout to Netflix's new feminist action adventure film. Sherin also highlights ABC's black-ish election special that aired last week, that discusses the importance of voting and touches on why running for office is designed for rich people. 
To close out the show, our Rioters talk about Villain Schadenfreude Syndrome. What's that, you ask? Well, in all our favorite stories, the third act is typically reserved for hoping the villain gets the punishment they deserve. But what of those people who feel like villains in real life? How are we meant to feel when someone, who willingly allows hundreds of thousands of their own citizens to get sick and die, suddenly gets sick themselves? When thinking about all the death and destruction they've caused, it's natural to want to see these villains get their comeuppance. But what does that mean when they're not a character in a story—they're an actual human. We're not here to judge, only to explore this topic (and to encourage you to use your voice & Just Fuck!ng Vote).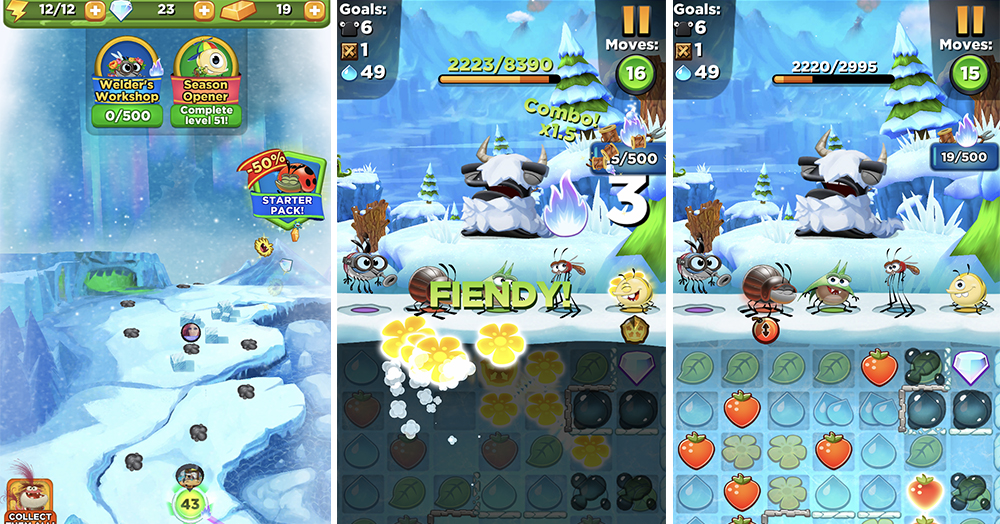 Best Fiends (keep scrolling to find out more!)
We're fiending for Best Fiends! The 5-star rated mobile puzzle game is endless hours of fun and all the cute Fiends will take you on a new adventure. Boredom won't stand a chance when you've got a bunch of slugs to thug. Download Best Fiends FREE on the Apple App Store or Google Play.
Tune in to Geek Girl Riot on idobi Radio every Tuesday at 11pm ET / 8pm PT for your dose of late-night geekery from our team of rioters. 'Til next time, see a list of everything our Rioters talked about below:
LINKS:
 – Song Exploder (read our feature)
 – The Forty-Year-Old Version
 – Soulmates
 – Emily in Paris (read our review)
 – Enola Holmes (read our review)
 – Black-ish election special
 – The Haunting of Bly Manor
 – The Forty Year Old Virgin
 – She's Gotta Have It
 – Hamilton
 – In the Heights
 – Black Mirror
 – Sex and the City
 – Friends
– The Haunting of Hill House
 – E.T.
Podcast: Play in new window | Download