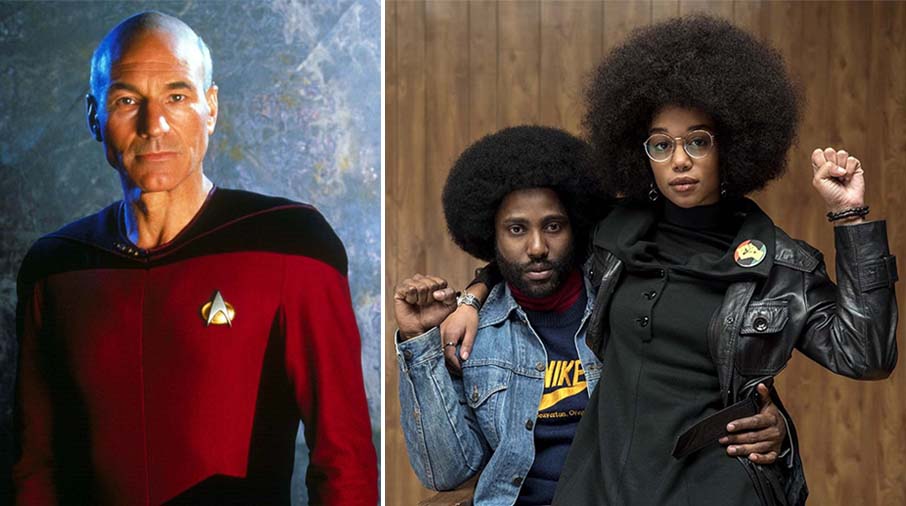 Left: Star Trek (CBS). Right: BlacKkKlansman (© 2018 Focus Features)
The name of this Geek Girl Riot episode is asdfjkl because Philip was hosting and he had no idea what he wanted to talk about first. There has been some highly logical news in the Star Trek-verse lately: Jean-Luc Picard is coming back! National treasure Sir Patrick Stewart has announced his return to Star Trek and we're beaming up with joy. Sherin, Philip, and Alex discover everything about the announcement as well as Alex Kurtzman's transition into showrunner. Then they boldly go into all the entertainment news and shows they're looking forward to.
Next up, Geek Girl Riot is taking BlacKkKlansman to the Oscars. Based on Ron Stallworth's autobiographical book Black Klansman, Spike Lee's latest film is about Colorado Springs' first black American detective, who sets out to infiltrate and take down the KKK. Tim Gordon, creator of FilmGordon and the Black Reel Awards, and Ignorant Bliss' Julian Lytle join Sherin to break down the writing, the acting, and why this is one of Spike Lee's new classics. BlacKkKlansman hits theaters this Friday, get into it.
Our Rioters <3 Full Sail! Wanna learn more about their programs and scholarship opportunities? Head to fullsail.edu/idobi right now!
Tune in to Geek Girl Riot on idobi Radio every Tuesday at 11pm ET / 8pm PT for your dose of late-night geekery from our team of rioters. Til next time, see a list of everything our Rioters talked about below:
LINKS:
– Star Trek: Discovery
– To All the Boys I've Loved Before
– Saga
– Prince of Cats
– Madam C.J. Walker biopic
– Skin & Earth adaptation
– The Venture Bros.
– Sabrina reboot
– Mad Men
– Charmed reboot
– Y: The Last Man
– Buffy reboot
– Men in Black reboot
– Fast & Furious 8
– The Negotiator
– Friday
– Thor
– Mission: Impossible
– Flight of the Conchords
– Locke & Key
– Red Hook Summer
– Chi-Raq
– Inside Man
– 25th Hour
– She's Gotta Have It
– Gone With the Wind
– Birth of a Nation
– Sorry to Bother You
– The Warriors
– Star Wars
– Girls
– Paterson
– Ballers
– Monsters and Men
– Monster
– The Old Man and the Gun
– Love Beats Rhymes
Podcast: Play in new window | Download