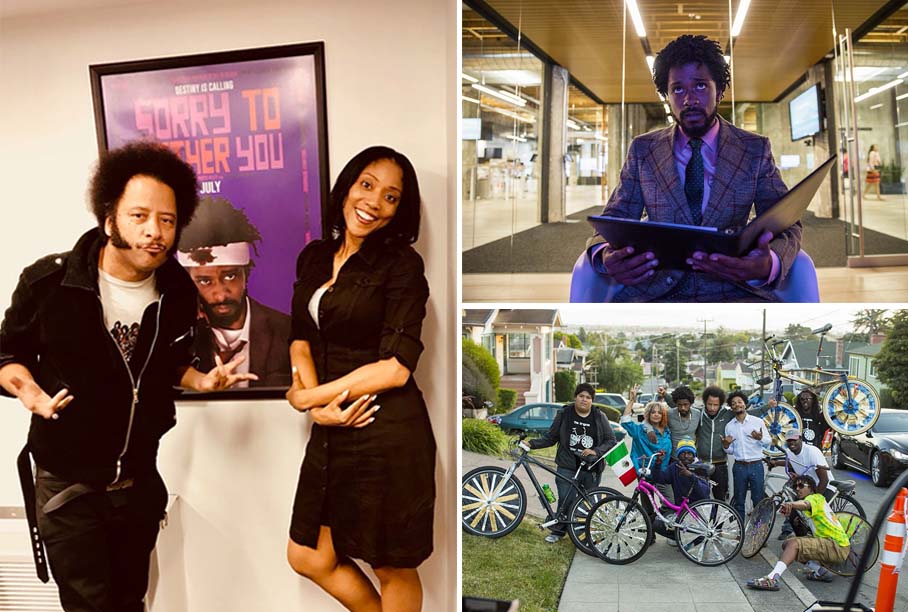 Left: Boots Riley with Sherin / Top right: Lakeith Stanfield (photo: Peter Prato/Annapurna 
Pictures) / Lower right: Sorry to Bother You cast (photo: Pete Lee/Annapurna Pictures)
Sorry to Bother You…but there's a new movie you need to see. This satirical, deeply mindblowing story has so many layers we're still thinking about it days after leaving the screening. Sherin sat down in the Chat Lounge with Sorry to Bother You's creator, Boots Riley, to discuss what went into making this film, his influences, and telling stories that matter without leaning on tropes. Listen up 'cause Boots has a whole lotta wisdom to drop—not only is he one to watch, he's one to listen to.
Then Sherin is joined by Julian Lytle from the Ignorant Bliss podcast to take Sorry to Bother You to the Oscars: They break down the actors, the writing, the directing, the art, the references, and why it's an important piece of filmmaking. Y'all, this movie is so damn meta it goes full on ninja turtle and jumps the kraken on jet-skis (you have to listen to understand). 
 Sorry to Bother You is in select theaters now & out everywhere July 13th—get into it (and get into our review).
Tune in to Geek Girl Riot on idobi Radio every Tuesday at 11pm ET / 8pm PT for your dose of late-night geekery from our team of rioters. Til next time, keep scrolling for the list of everything Boots, Sherin, and Julian talked about below:
Links:
– The Walking Dead
– Lethal Weapon
– Brazil
– Watermelon Man
– Sleeper
– Okja
– Bong Joon-ho
– Jean-Pierre Jeunet
– Delicatessen
– Spike Lee
– The City of Lost Children
– Snowpiercer
– Ralph Bakshi
– Coonskin
– Melvin Van Peebles
– Dave Eggers
– Oliver Stone
– Boyz n the Hood
– John Singleton
– The Hughes Brothers
– F. Gary Gray
– Kasi Lemmons
– Julie Dash
– Jordan Peele
– Donald Glover
– Never Let Me Go
– Michael Ondaatje
– Song of Solomon – Toni Morrison
– One Hundred Years of Solitude – Gabriel García Márquez
– Who Framed Roger Rabbit?
Podcast: Play in new window | Download