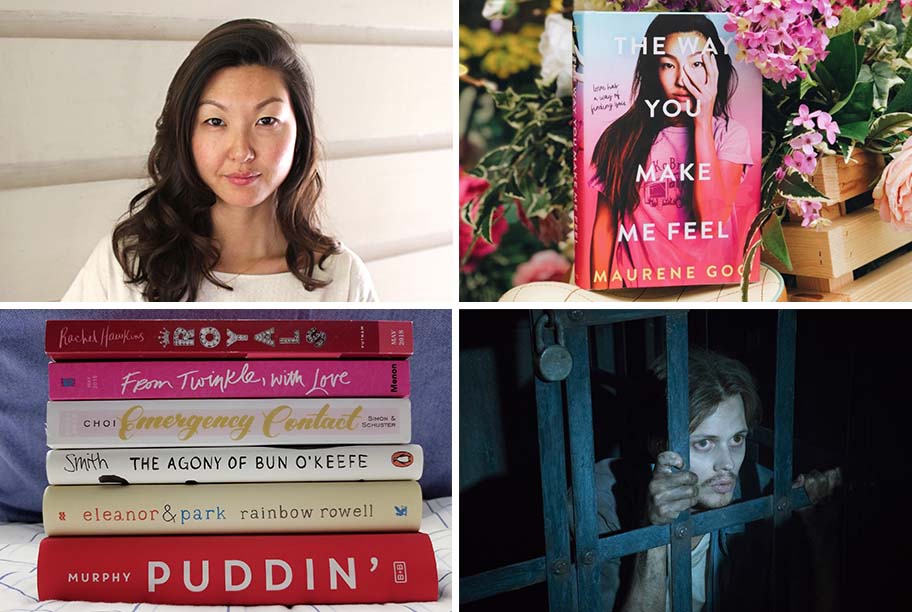 Top left: Maurene Goo (credit: Emma Goo). Top right: The Way You Make Me Feel (via Twitter)
Lower left: YA Roundup (credit: Sam Devotta) / Lower right: Castle Rock (credit: Hulu). 

Geek Girl Riot is jam packed this week: We chat to our pal Maurene Goo, Sam gives us her latest YA roundup, then we explore Castle Rock. But before we begin, Sherin and Philip "The Talent" are bursting to tell you the news on Vertigo Comics' very exciting announcement…and all the kerfuffle over She-Ra.
Dear Maurene Goo, The Way You Make Me Feel is AWESOME
We heart Maurene Goo—not only is she an amazing writer, who makes our hearts sing with YA romance, but she is also a lovely person to talk to. She chats with Sherin and Sam about her new book, The Way You Make Me Feel (yup, we're singing MJ too). They discuss father-daughter relationships, K-pop, John Cho, and writing true friendship stories. She also gives us a sneak-peek into her next YA novel, Somewhere Only We Know… One listen to our chat and you'll be dying to read The Way You Make Me Feel—get it here (and read our review).
Sam's YA Roundup
It's time to add to your reading list: Our resident bookworm Sam Devotta lets you in on all the novels she's been loving, so get ready to cancel all your plans and curl up with these YA faves (see the list & transcript below!).
Enter [At Your Own Risk]: Castle Rock
Now we're headed to Castle Rock…and  we're never sleeping again. Sherin and Philip previewed the new Hulu series based on Stephen King's fictional town and they still have goosebumps. They break down the cast and characters, what to expect, and why you need to watch Castle Rock whether you're a King fan or not (just, y'know, watch it during the day…with company…and a baseball bat…).
Tune in to Geek Girl Riot on idobi Radio every Tuesday at 11pm ET / 8pm PT for your dose of late-night geekery from our team of rioters. Til next time, keep scrolling for the list of everything Maurene, Sherin, Sam, and Philip talked about:
News – Links:
– Vertigo Comics
– Hellblazer
– The Books of Magic
– The Written
– Karen Berger
– Shelly Bond
– Neil Gaiman
– Grant Morrison
– Mike Carey
– Dave McKean
– Dave Gibbons
– Peter Gross
– Garth Ennis
– Glenn Fabry
– Preacher
– Young Animal imprint
– Gerard Way
– The Umbrella Academy
– Kill Your Boyfriend
– Death: The High Cost of Living –  Neil Gaiman, Chris Bachalo, Mark Buckingham
– American Virgin – Becky Cloonan
– She-Ra
– Voltron
– Lumberjanes
– Noelle Stevenson
– Heavy Metal
– Image Comics
– Oni Press
– Boom! Studios
– IDW Publishing
– Aftershock
– EC Comics
– 100 Bullets – Brian Azzarello, Eduardo Risso
– Air – G. Willow Wilson
– American Vampire – Scott Snyder, Rafael Albuquerque
– Astro City – Kurt Busiek, Brent Anderson
– Bite Club – Howard Chaykin, David Tischman
– Black Orchid – Neil Gaiman
– Clean Room – Gail Simone
– Crossing Midnight – Mike Carey, Jim Fern, Eric Nguyen
– Crusades – Steven T. Seagle, Kelley Jones
– Daytripper – Fábio Moon, Gabriel Bá
– Deadman – Bruce Jones, John Watkiss, Ronald Wimberly
– Doom Patrol – Grant Morrison
– DMZ – Brian Wood, Riccardo Burchielli
– Fables – Bill Willingham, Mark Buckingham
– House of Mystery
– Human Target
– Imaginary Fiends
– The Invisibles – Grant Morrison
– iZombie
– Kid Eternity – Grant Morrison
– The Losers – Andy Diggle, Jock
– Loveless – Brian Azzarello
– Scout
– Northlanders
– The Sandman
– Transmetropolitan – Warren Ellis, Darick Robertson
Maurene Goo – Links:
– BTS
– Weightlifting Fairy
– Not the Girls You're Looking For – Aminah Mae Safi
– Somaiya Daud
– To All the Boys I've Loved Before
– To All the Boys I've Loved Before – Jenny Han
– Wish Dragon
– Harold & Kumar
– "If John Cho Were Your Boyfriend" – Nicole Chung
– I Believe in a Thing Called Love – Maurene Goo
– Since You Asked – Maurene Goo
YA Roundup – Reading List:
– Eleanor & Park – Rainbow Rowell
– Before the Devil Breaks You – Libba Bray
– Simon vs the Homo-Sapiens Agenda – Becky Albertalli
– Leah on the Offbeat – Becky Albertalli
– Royals – Rachel Hawkins
– From Twinkle, With Love – Sandhya Menon
– When Dimple Met Rishi – Sandhya Menon
– Puddin' – Julie Murphy
– The Way You Make Me Feel – Maurene Goo
– Emergency Contact – Mary H.K. Choi
– A Lite Too Bright – Samuel Miller
– The Agony of Bun O'Keefe – Heather Smith
Castle Rock – links:
– It – Stephen King
– Rita Hayworth and the Shawshank Redemption – Stephen King
– The People Under the Stairs
– The Dark Half – Stephen King
– Needful Things – Stephen King
– Cujo – Stephen King
– The Body – Stephen King
– Carrie
– Lost
– No Country for Old Men
– Con Air
– The Stand – Stephen King
– The Dark Tower – Stephen King
– Hemlock Grove (Netflix)
YA roundup – Transcript:
Hi Rioters, it's Sam. As you probably know by now, I spend a lot of time reading—in my defense, it's literally part of my job. Since January, I've read a ton of books, and I have to talk to you about some of them.
I'll start with the oldest one on my list: Rainbow Rowell's Eleanor & Park. I know, I know, it came out five years ago, but I only recently read it, and I loved it. Eleanor is the weird chubby new girl with an eclectic fashion sense and messy red hair. Park is the nerdy quiet kid who stays out of the bullies' ways and reads comic books. When they end up sitting beside each other on the school bus every morning, sparks start to fly. It's gradual and beautiful and a little bit tragic—while Park has very supportive parents, Eleanor has a horrible home life that affects her ability to really open up to Park. You'll laugh, you'll cry, you'll fall in love, you'll wonder what took you so long to pick it up. Or maybe that's just me.
Rainbow Rowell is one of my more recent additions to my list of favorite authors, but one of my longtime faves, Libba Bray, released a new book last fall that I finally got around to reading this year. Before the Devil Breaks You is the third book in her Diviners series, a 1920s epic adventure involving science, magic, ghosts, and a healthy shot of gin. It's impossible to summarize the series for you since the three books are all so long, but it's worth spending some time with each installment. There are a lot of characters and a complicated plot, but Bray handles it well, and it's definitely stands out from the usual YA fare.
Unless you've been living under a rock, I'm sure you've heard of—and hopefully even watched—Love, Simon, the movie based on Becky Albertalli's phenomenal debut, Simon vs the Homo-Sapiens Agenda. If you're a fan of Simon and his friends—whether the book versions or the movie versions or both—you'll probably enjoy Albertalli's latest, Leah on the Offbeat. Simon's best friend Leah has always identified as bisexual but none of her friends know. This wasn't a problem before—but now that she's falling in love with her friend Nick's girlfriend Abby, she's worried her secret will soon be out. Not to mention her other goofy friend Garrett seems to be paying more attention to her than usual…Leah is sassy and foul-mouthed and it's great to see more bisexual representation in YA. The plot might be a tiny bit convenient, but it's still a fun read.
Speaking of fun reads: Rachel Hawkins' new book, Royals, is an absolute delight. Coincidentally released just before the Royal Wedding, Royals is the story of Daisy Winters, a completely normal girl living in Florida whose older sister just happens to be engaged to the Crown Prince of Scotland. The summer before the wedding, Daisy is sent to Scotland to learn how to behave in her new public role as the prince's sister-in-law. There, she meets her new brother-in-law's roguish younger siblings, other family members who disapprove of an American consort…and the very cute Miles, one of the lesser nobles who is appointed as her tutor in all things royal. Is this plot ridiculous? Kinda. But is it fluffy and funny and guaranteed to make you smile? Heck yes!
Another book that will make you smile is Sandhya Menon's From Twinkle, With Love. Remember last year when Menon released When Dimple Met Rishi and no one knew how she would be able to top their cuteness? Well, she did. Twinkle is an aspiring filmmaker with a massive crush on the popular jock, Neil Roy. But when Neil's nerdy twin brother Sahil offers her a chance to make a movie for the school talent show, Twinkle slowly starts to fall for him. Both Twinkle and Sahil are totally adorkable and it's hard not to smile at their awkward interactions and general nerdiness.
One spinoff that came out earlier this year is Puddin', the companion book to Julie Murphy's Dumplin', soon to be a major motion picture. This time, Murphy focuses on two polar opposites: the ever optimistic fat girl Millie and tiny, mean girl dancer Callie. Millie's mother wants to send her to fat camp while she wants to do a broadcast journalism internship. Callie, on the other hand, just wants to dance with her school's troupe, but when she makes a big mistake, she's sent off to work with Millie at a dilapidated gym run by Millie's uncle. Over time, Millie and Callie become reluctant friends as they navigate high school together. Murphy's story is one of body positivity and belief in yourself—no matter what life throws at Millie, she keeps going, and Callie soon learns that Millie might be on to something with her positive outlook on life.
Oddly enough, Maurene Goo also wrote a book about two former enemies who end up working together. The Way You Make Me Feel stars Clara, a sassy Korean American troublemaker and Rose, the overachiever who Clara can't stand. After they almost set the school on fire during a fight at prom, they're sent to work on Clara's dad's food truck. Being stuck in such close quarters forces them to make amends—not to mention their bonding over the cute guy who works nearby and can't keep his eyes off Clara. It's a sweet, funny summer read and trust me when I say it will make you hungry.
Most of the books I've mentioned so far are from authors who've already published books before, but we're halfway through the year and 2018 has already offered us a few outstanding debuts in between all the sequels and companion novels. Mary H.K. Choi's Emergency Contact has been getting a lot of attention and for good reason. It's the story of Penny and Sam, two people who meet by chance and conduct the majority of their relationship over text messages. Penny is just starting college and is struggling with her creative writing, while Sam works in a bakery and dreams of a better life—especially once he finds out his ex-girlfriend might be pregnant. After being introduced by a mutual friend, Penny and Sam only see each other face-to-face twice before their friendship blooms, but it's really fun to watch them get to know each other over text. Plus Penny's creative writing professor drops some sound advice in class which is useful to any aspiring authors out there. Emergency Contact is on the higher end of YA—the category that I guess is called "new adult" even though very few people actually use that term—but it's swoony and fun and I highly recommend it.
Similarly, Samuel Miller's A Lite Too Bright is an ambitious debut that is slowly building buzz. Not only has it received starred reviews from a couple of major reviewers but it's also flooding my twitter timeline because Sam Miller, the author, is the frontman for indie rock band Paradise Fears who I absolutely love and who are on hiatus at the moment. I could wax on about Paradise Fears for days, but let's talk about this book for a minute instead. Arthur Pullman the third has always lived in the shadow of his famous grandfather who wrote one of literature's finest novels. People still revere his grandpa's work, but what the fans don't know is that Arthur Pullman the first suffered from Alzheimer's later in life and died miles away from his home after taking a mysterious road trip. When he finds a message from his grandfather in his uncle's house, Arthur the third sets off on a cross-country trip to find out where his grandfather was going before his death. Along the way, he meets some rabid fans who are determined to find the manuscript that Arthur the first had been working on for years. I know it sounds confusing when I try to summarize it, but despite the big page count, this is the type of book that sweeps you along quickly and gets you thinking.
Okay, so now that I've talked your ears off, I guess I should let you go get a head start on your To Be Read list. But one last recommendation before I sign off: I've read a lot of books since January but one of the first books I read this year was Heather Smith's The Agony of Bun O'Keefe and I'm still not over it. I'm not sure how to describe this book but I'll try my best. Bun O'Keefe is kicked out of her house by her mother in 1980s Newfoundland—that's one of Canada's eastern provinces, in case geography isn't your strong suit. Once she's out on the streets, Bun meets a handful of other misfits who live together—a drag queen, a wannabe chef, an indigenous busker, and a school girl desperate to reinvent herself. Within this group, Bun finds a family—the only person she has to watch out for is their sleazy landlord. It's a short novel, but it's deep—once you start to wander the streets with Bun, you won't be able to get her out of your head. I hand out five-star ratings on Goodreads pretty regularly, but The Agony of Bun O'Keefe is genuinely one of the best books I've ever read.
That's all from me for now. Let me know which books you're reading and loving by tweeting us @GeekGirlRiot and I hope you get a chance to check out some of my recommendations for the first half of 2018.
Podcast: Play in new window | Download