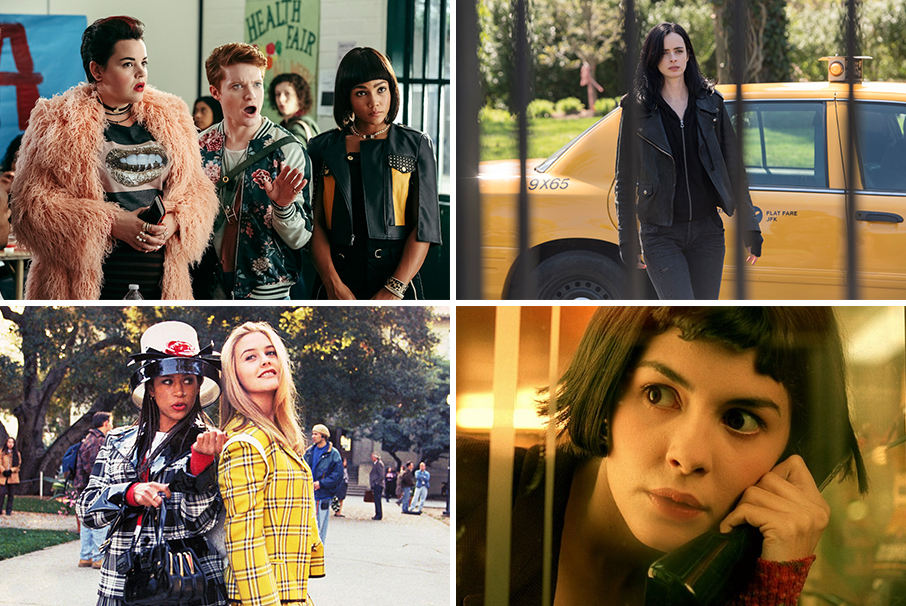 Clockwise from top left: Heathers (Paramount Network), Jessica Jones (photo credit: 
David Giesbrecht / Netflix), Amélie (Miramax), Clueless (Paramount Pictures)
This week's Geek Girl Riot is gonna take you back to school…or school you in the best way. We'll be gossiping about the new Heathers TV show, play detective with Jessica Jones, and talk our fav high school + detective shows/movies!
The Heathers TV Show is Coming…We'd Prefer the Chainsaw
Dear Diary, for some inexplicable reason there's a fashion towards remaking classics that should never be touched…and murdering them even more grossly than all the fake slasher-y goodness of the original 1988 Heathers movie. Kat Bittner and Philip Jean-Pierre—considering they're hosting a podcast—are at a loss of coherent words with just how damn bad this new Heathers TV show rehash is. The Rioters try their best, y'all…their brains are still recovering from watching. Heathers is out on March 7th on the Paramount Network—read our [p]Review here, and prepare yourselves.
Sherin and Soma Play Detective with Jessica Jones
Now onto a much more promising show—one where we'll leave the punching of walls up to the leading lady. Jessica Jones season 2 is returning to Netflix on March 8th, and we got to preview the first five episodes. Sherin Nicole and Soma Brodhun dig into what they're looking forward to in the new season, and give you a special [p]Review.
The Best of the Class and the Lipstick Detectives
To close us out, Sherin, Soma, Philip, and Kat combine the first two segments by like, totally buggin' over some of their all-time fave high school and detective shows + movies. Get ready for a major binge-marathon—we've included the full list below, because we know our Rioters move pretty fast…if you don't stop and pause the show once in a while, you may miss hearing about what to watch next.
Tune in to Geek Girl Riot on idobi Radio every Tuesday at 11pm ET / 8pm PT for your dose of late-night geekery from our team of rioters. 'Til next time, see everything our Rioters talked about below:
Watchlist:
– Crash
– Riverdale
– Jem and the Holograms
– Daredevil
– Luke Cage
– The Defenders
– Constantine
– Hellblazer
– American Gods
– 10 Things I Hate About You
– Brick
– Star Wars: The Last Jedi
– Looper
– Dazed and Confused
– House Party
– Grosse Pointe Blank
– Amélie
– Weird Science
– Friday Night Lights
– Prime Suspect
– Ferris Bueller's Day Off
– Parker Lewis Can't Lose
– Hiding Out
– Clueless
– Fast Times at Ridgemont High
– Veronica Mars  
– Scooby Doo
– Nancy Drew
– Popular
– Better Off Dead
– Better Off Ted
– Cooley High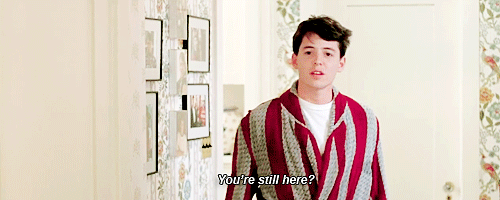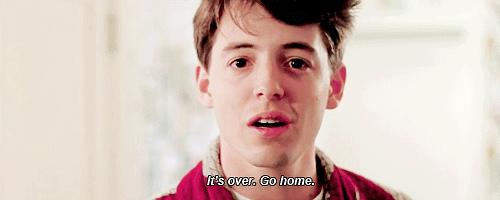 (Ferris Bueller's Day Off – Paramount Pictures)
Podcast: Play in new window | Download