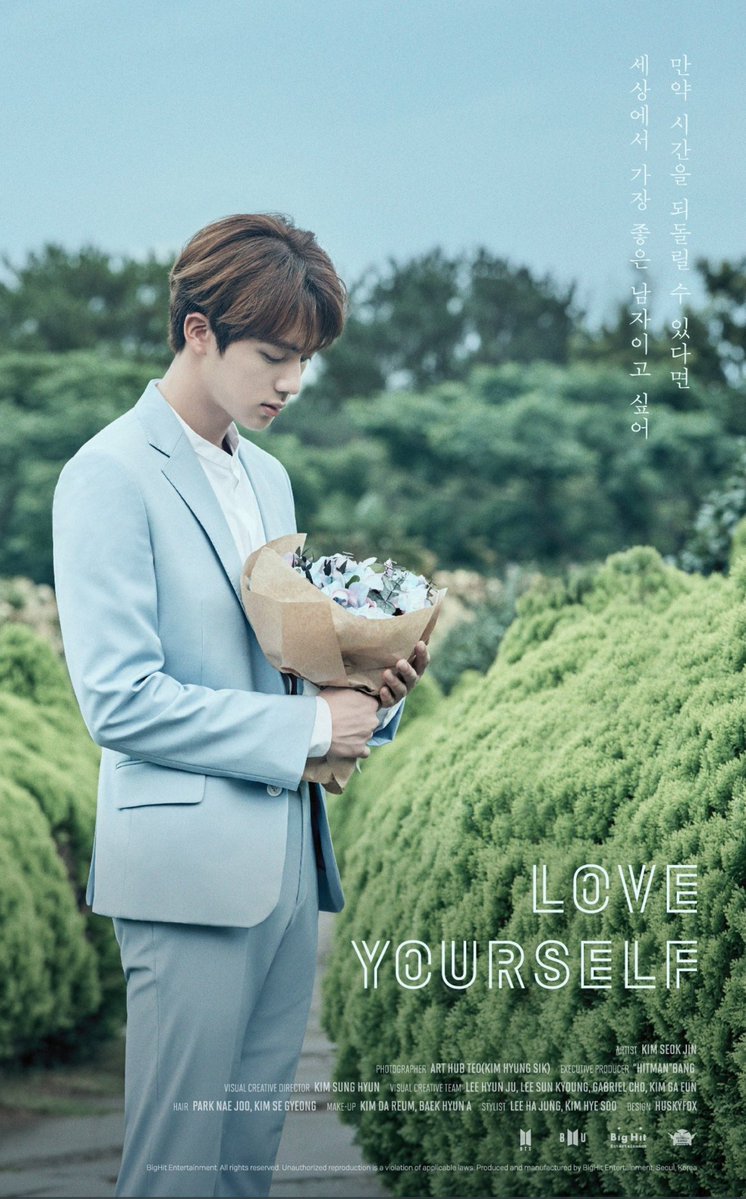 Remember when we said BTS were about to break the internet? Well, you got it, buddy: One by one, they've released all seven teaser posters for their Love Yourself series! Keep scrolling to see each individual poster for Suga, Jimin, Rap Monster, V, J-Hope, Jin, and Jungkook. K-pop lovin' Geek Girl Rioter Mel N. has a lot of feels about the new teasers, and you can find her reactions below too!
The Love Yourself posters each have phrases that show the individual members' attitudes about love, which you can see detailed in the captions below. The series brings the promise of new music, which we're going to get a taste of next month! We know every ARMY member is gonna be hunting for all the tiny details and hints hidden in these 'til then—so let us know what you take from the images, and stay tuned for what's gonna be one amazing era for the K-pop group.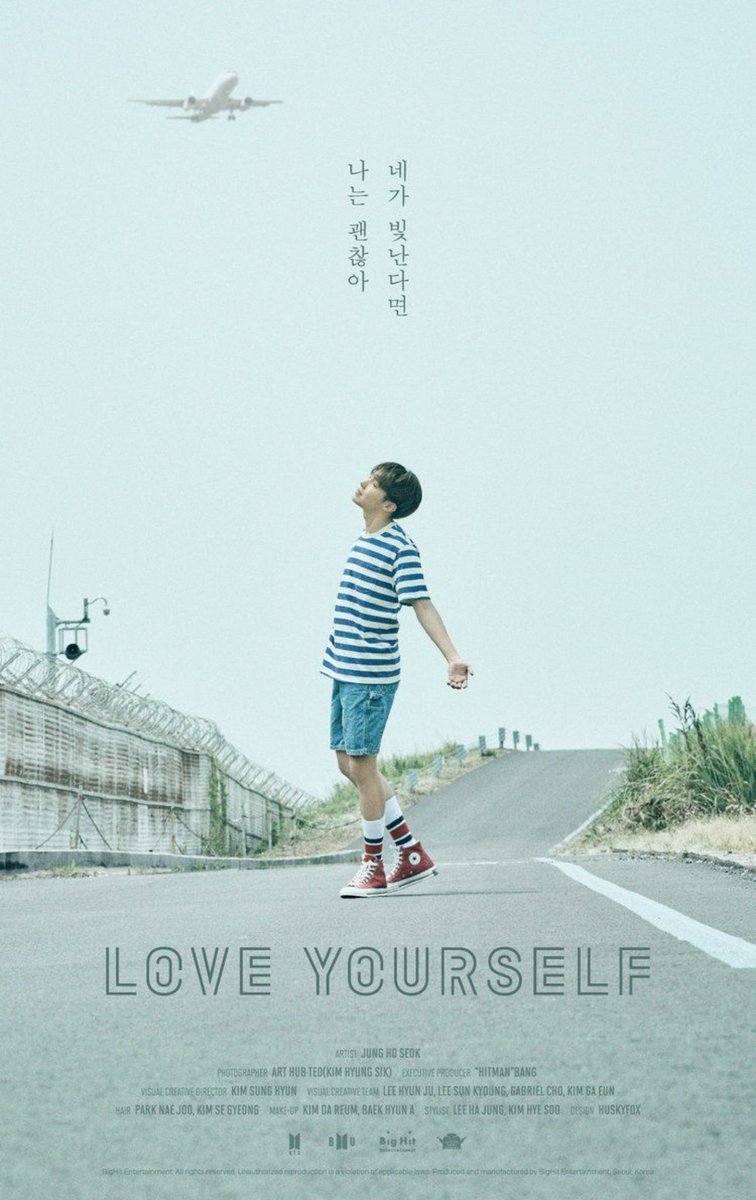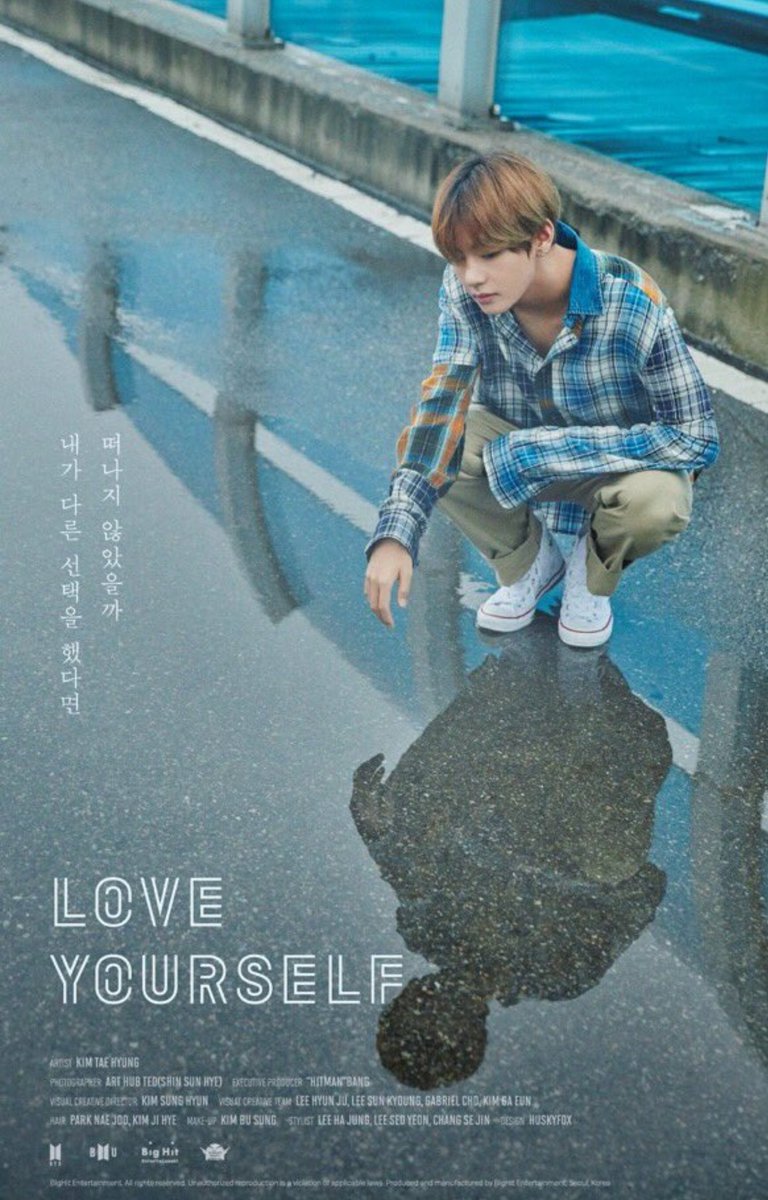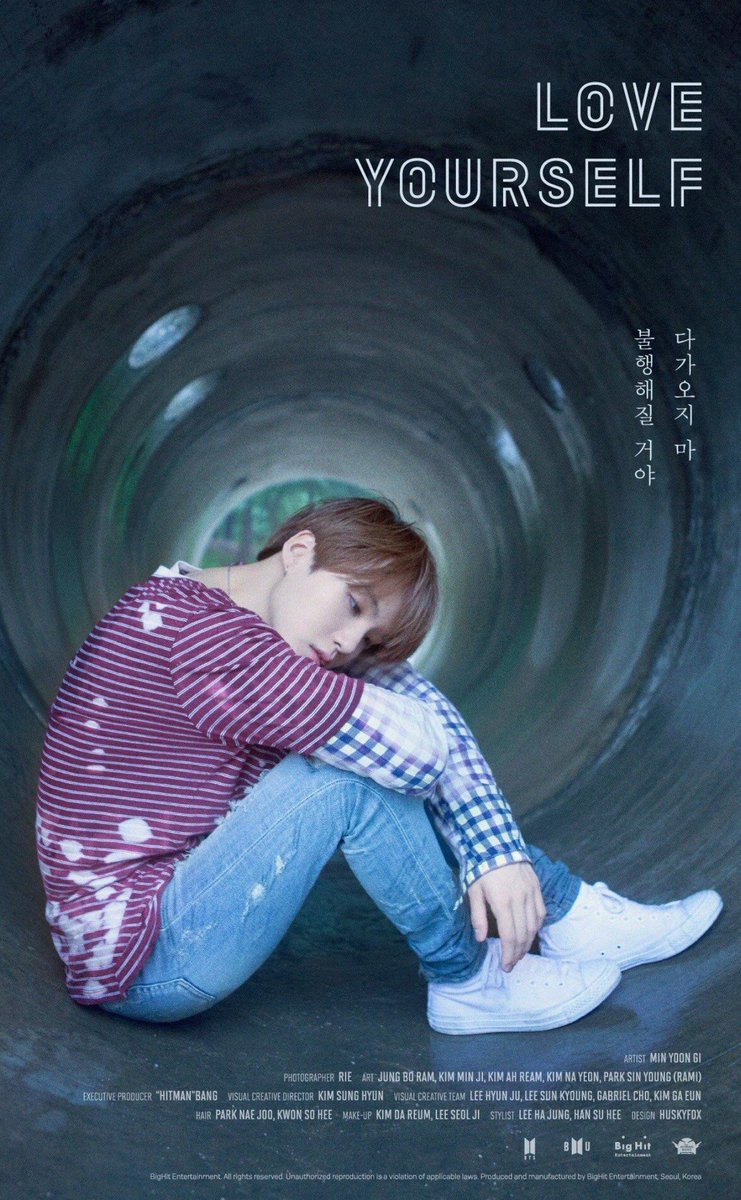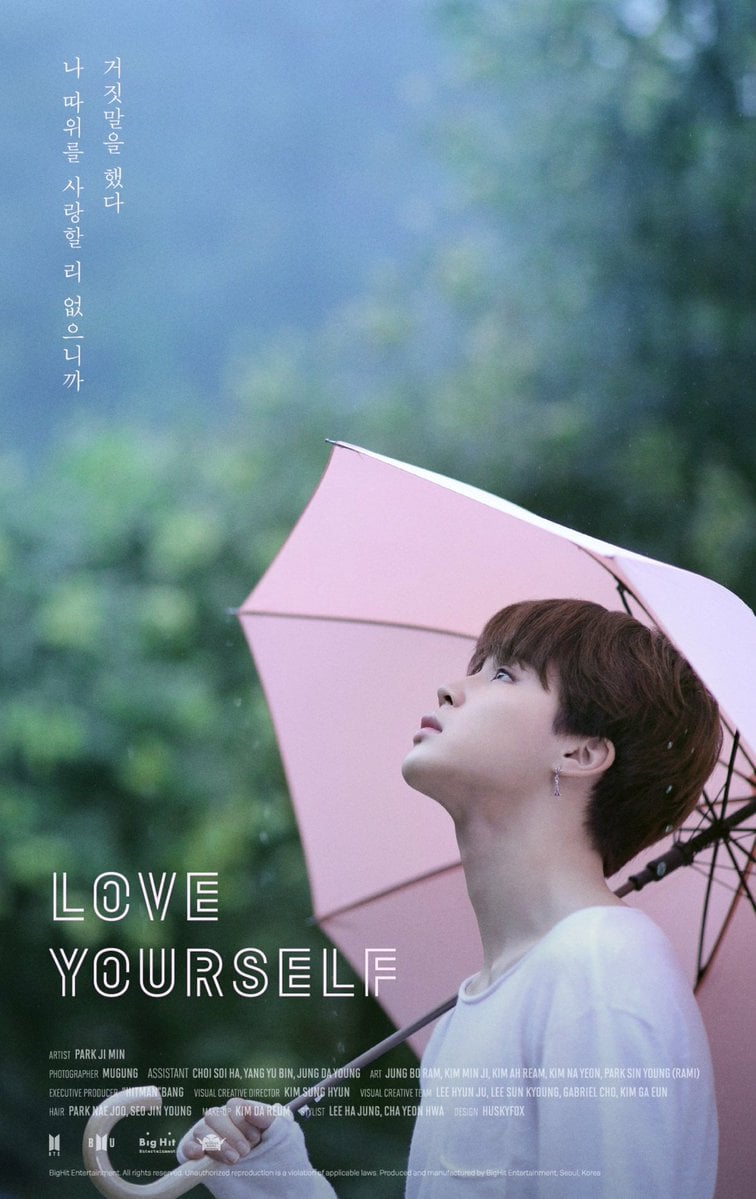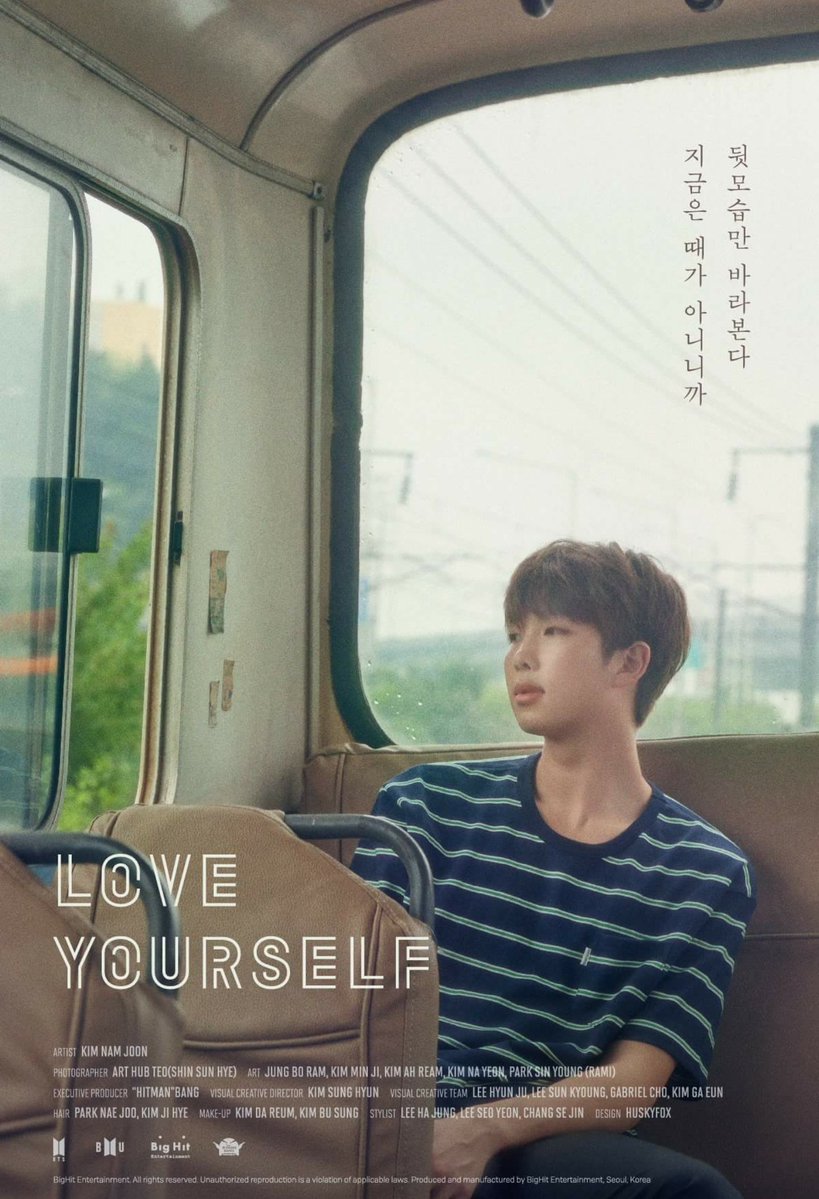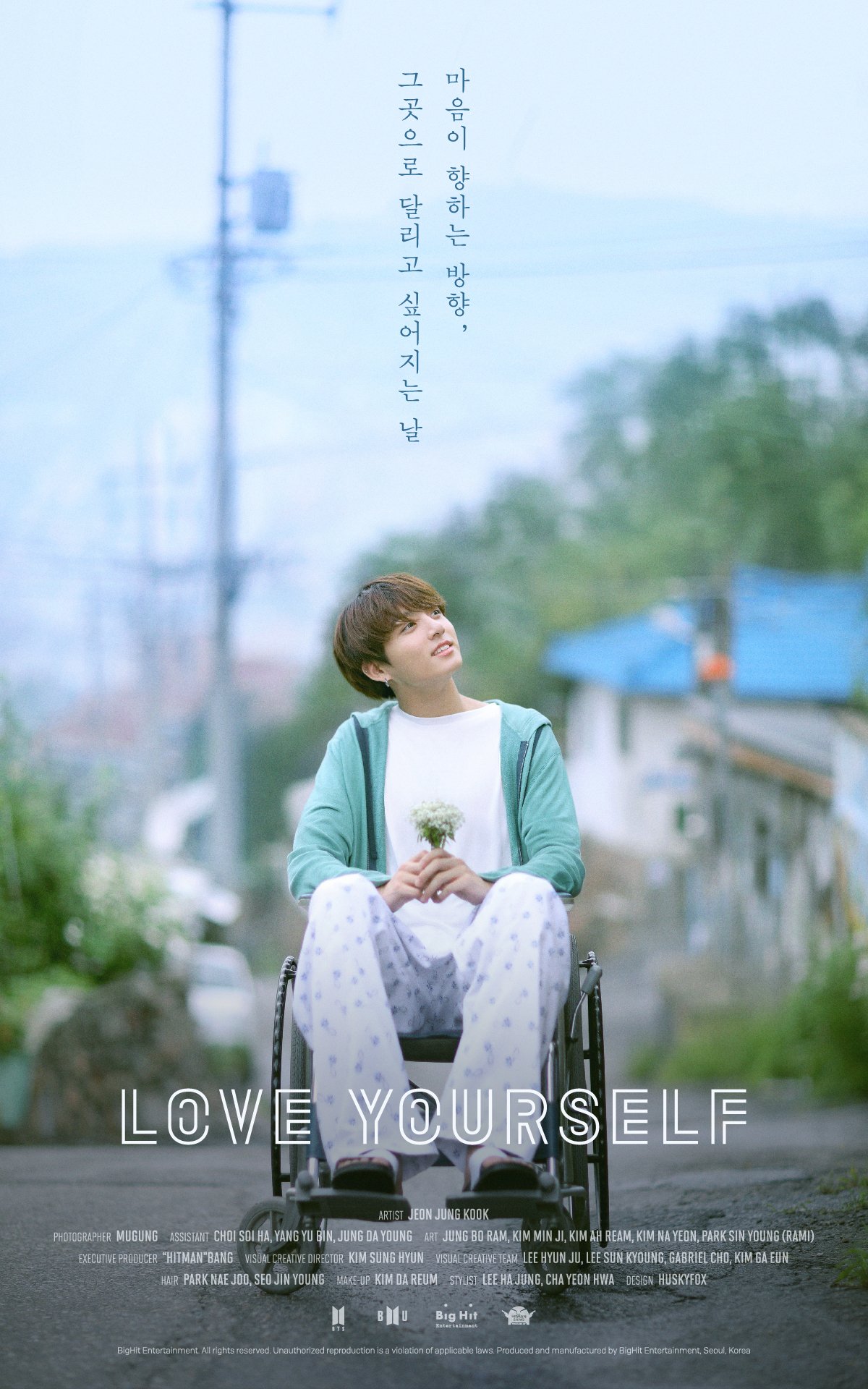 Our Reaction
Isn't Jungkook just adorable? I've already investigated the entire new comeback concept. It's going to be soooo good! I can't wait!! There are always hidden meanings in things. Whether it's hidden in a photo on Instagram…a mysterious Twitter post…in their videos…it's always there and it's not until the next album is released that a lot of it comes to light. It is really cool and well thought out. They must have drama writers in their agency as well.
I am extremely excited about this Love Yourself concept and curious to see how they weave it all together. Big Hit really puts a lot of thought into these concepts and they are really deep—they connect each album with all of their future albums…it's like a long running story. Very creative!!
Big Hit has literally opened up mysterious Twitter and Instagram accounts to lead "ARMY" on a search for info. This company is doing it right for sure…and this  #Love_Yourself comeback is definitely going to be something special.
Also, Suga's new poster reflects his own feelings, he is deeply emotional in his personal life and has openly written lyrics about it under his Agust D albums. And Jimin's poster says, "I lied, because there's no reason to love someone like me." Well his song on the Wings/You Never Walk Alone album was "Lie" and he sings about how he was caught in a lie.
The theories are all over the place, I have gone through the lyrics on the Wings album and in several of the songs Rap Monster talks about loving yourself. In his single "Reflection" he says, "I wish I could love myself" then in "Cypher 4" the lyric:
I love I love I love myself
I love I love I love myself
I know I know I know myself
Ya playa haters you should love yourself
This is repeated through many of the songs on the Wings album. I believe that each poster, and its message, links back to each member's single on Wings. When one reads the lyrics you can make the connections. For example, JHope's poster states "If you shine, I'll be ok".
His lyrics from his single "Mama" state:
But I didn't know that my mom's big contribution
Didn't create a shortcut, but rather
A shining path of dream
His mother was worried for him but still supported him in following his dream. There are connections in everything.
As for Jin's smeraldo flowers…it didn't surprise anyone to see him holding the flowers in his poster…also the parallels between his poster and his song "Awake" from Wings are there for us to explore.
Jungkook's poster…I'm still working on how that ties in…I have some ideas floating…his single on the Wings album was "Begin"; maybe his is about taking care of yourself or you'll get sick. Not sure yet…I'll get back to you…
One thing is for sure, BTS and Big Hit have done it again. This concept and the mystery of it all, has fans, websites and even Billboard talking, searching and thinking…the excitement is building! Everyone is an investigator…and it's fun! It will definitely be exciting to see which theories are proven correct…there are so many out there. Mine is simple…
#LOVE_YOURSELF Concept Theory:
Wings opens us up to their struggles–>overcoming those struggles in the new album–>then live happily and Love Yourself even though you may have faults.
BTS albums are a journey, from their first to this upcoming one, each concept builds and helps form the next album. I just hope that Love Yourself is the first of many new chapters in the story…I want to hear from this group for years to come.
– Mel N, Geek Girl Riot
What are your theories? Get @ us, y'all!
Tags:
BTS
,
Geek Girl Riot
,
GGR
,
K-pop
,
Love Yourself