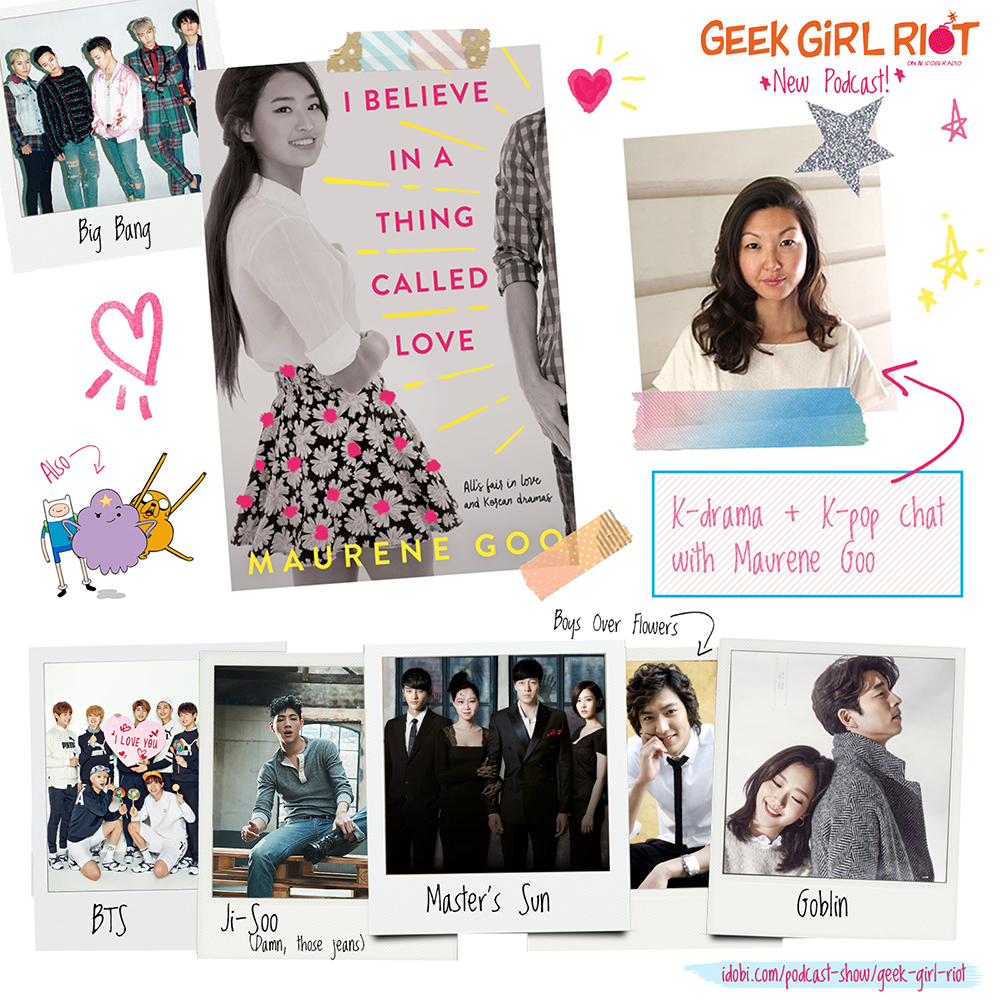 What time is it? Time for Geek Girl Riot, and this week we're gonna start by rockin' your worldview with a visit to Adventure Time! C'mon grab your friends, we'll go to very distant lands…with Sam Devotta for a very mathematical report on Jake the Dog and Finn the Human and the whole magical world of Ooo. Then it's time for a slightly darker adventure, when our resident librarian Angie drops by for her take on Paula Hawkins' new psychological thriller Into the Water.
Now for the main event: Us Rioters ~heart~ all things k-drama and k-pop. We'd pick Boys Over Flowers any day, BTS and CL get us dancing on our morning commutes, and seeing Ji Soo makes us go, Damn, those Jeans. So of course we had to get together to discuss our love of Korean pop culture—featuring a very special guest: Maurene Goo, author of the new YA novel I Believe in a Thing Called Love. Her book's leading lady, Desi Lee, is always prepared…except when romance comes along, and the best laid plans make for the best "flailures". (It's a thing. Maurene says so.) This cute and sparkling romance is sprinkled with a bunch of k-dramas—in fact, Desi uses them as her guide to finding true love—and it's gonna make you fall in love with k-dramas all over again. Maurene offers a sneak peak into the story, and joins Sherin, Angie, Makeeya, and Melissa, as they dive into the k-dramas they're loving, and also what k-pop tunes are simply Fantastic (Baby). See our k-drama-pop list below!
[You'll] Believe in a Thing Called Love, so pick up Maurene's new YA novel now! And if you haven't heard, Geek Girl Riot is now on idobi Radio! Tune in every Tuesday at midnight (aka Wednesday morning) for your dose of late-night geekery from our team of rioters. 'Til next time, start your adventure into k-drama + k-pop with all the songs and shows the Rioters mentioned, and find Sam's Adventure Time transcript below:
K-drama:
– Healer
– Protect the Boss
– Rooftop Prince
– Flower Boy Ramyun Shop
– Descendants of the Sun
– Weightlifting Fairy
– Answer Me 1997
– The Birth of Korean Cool – Euny Hong
– Boys Over Flowers
– Coffee Prince
– The Legend of the Blue Sea
– My Love From Another Star
– Love in Trouble
– My Princess
– Sensory Couple
– Fated to Love You
– Star in My Heart
– Greatest Love
– Secret Garden
– It's Okay, That's Love
– Autumn in My Heart
– Oh My Ghostess
– Splash Splash Love
– Master's Sun
– Good Doctor
– Strong Woman Do Bong Soon
– Kill Me, Heal Me
– My Secret Romance
– Goblin (the entire soundtrack is amazing)
– Madame Antoine
K-pop:
– Miss A – "Bad Girl, Good Girl"
– Big Bang – "Fantastic Baby" / Made / "Bae Bae" / "Last Dance" / "Girlfriend" / "Fxxk It"
– BTS – "Not Today" / "Blood Sweat & Tears"
– So Ji-Sub
– Rain
– Ladies' Code – Myst3ry / "Galaxy"
– Super Junior
– MBLAQ
– SS501
– Exo
– Got 7 – "Never Ever"
– Winner – "Really Really"
– CNBlue
– 7 O'Clock – "Echo"
Adventure Time Transcript
Hello friends, it's Sam here, and, as usual, I'm providing you with a Report on one of my favorite things. In this case, it's the totally algebraic Cartoon Network show, Adventure Time.

Adventure Time has been on since 2010, so I'm hoping by now you've at least heard of it, if not caught sight of some GIFs online. But in case you haven't, let me give you the basics, as I usually do.

Adventure Time takes place in the land of Ooo, a magical world where people can be made of anything – different foods or elements or sometimes inanimate objects – and there are very few humans. In fact, one of the only humans left is a young boy named Finn who wears a white bear hat, and lives in a treehouse with his best friend-slash-brother Jake, who happens to be a dog. A dog who, by the way, can stretch into different shapes and sizes, which comes in handy because Finn and Jake are more than just residents of Ooo – they're heroes.

Ultimately that's what Adventure Time is about: the many quests and heroic escapades that Finn and Jake take on. Along the way, they meet lots of different characters like Princess Bubblegum who is a bit of a mad scientist and also the ruler of the Candy Kingdom; and their sometimes enemy, Ice King who is constantly stealing princesses in an effort to find a wife and has a whole colony of penguins named Gunther; or Finn's ex girlfriend Flame Princess who is a little volatile but still super cool (though not literally since she's basically a ball of fire). And there's my favorite Marceline the Vampire Queen who is part vampire, part demon, part bass player, and all around badass. There are probably hundreds of minor characters so I can't really go into detail without talking for seventeen hours, because here's the thing about Adventure Time: the episodes may only be just over ten minutes long, but they give us a lot of information in the time they have and their characters are larger than life.

Take Finn and Jake for example; they may be two dimensional on your screen, but they're so multi-faceted, they sometimes feel more real than people I actually know. Finn is as loyal and noble as you'd expect a hero to be, but he can also be stubborn and passionate and impulsive. Oh and sometimes he makes up songs in a super auto-tuned voice and at one point he loses his arm and, after a period of depression, grows a flower in its place…you know what, now that I think about it, it's really hard to distill Finn's essence into a handful of sentences. Same with Jake – don't even get me started on his love for his viola, not to mention his half-dog, half-rainbow-unicorn children, or his tendency to get distracted easily (like a real dog, I suppose), or the way he can be the voice of reason in one episode and in the next, he's eating a pickle while Finn fights for his life in another dimension. I mean, their names are in the theme song, so you expect them to have layers, but character development isn't limited to the major players.  

Each character, no matter how minor, is at least partially fleshed out. They might have a throwaway line about their past or maybe they show up again with a bigger role in the next season. Or maybe they're just always doing something in the background so even if you don't know their name, you instantly recognize them.  

But then there are some characters whose backstories have the ability to bring you to tears in ten minutes or less. Like when we learned how the Ice King used to be a kindly human man named Simon until he fell under a spell and adopted a new manipulative persona. Or how he and Marceline have a shared history that only she remembers. There's actually an eight part miniseries called Stakes that dives into Marceline's past and explains why she has some, let's just say unorthodox, powers for a vampire and it's fascinating to see how much thought went into developing Marcy while keeping her characterization consistent.

Like I said, each episode is around eleven minutes long, and there isn't always an overarching plot line – some of the episodes work as standalones while others call back to previous adventures –  but they range from the truly bizarre to the emotionally draining. You may get one episode entirely devoted to Jake making a sandwich, but then the next episode revolves around a discussion of the unhealthy way Finn represses bad memories. So yeah, it's a cartoon, but it has some serious depth.

I haven't watched the latest miniseries, Elements, yet, but a little while ago there was another eight part series called Islands and oh my glob. It was devastating. The first half of the miniseries seems to be a trippy tribute to the Odyssey but the second half punched me in the feels and made me cry. When was the last time a cartoon show, arguably aimed at children, made YOU cry?

I don't want to spoil the story for you but, essentially, Finn learns there's another community of humans living on the other side of the ocean. When Susan Strong – a recurring character who is a sort of modified human – decides to go find this community to learn more about her own past, Finn tags along in the hopes that he might find his mother.

I should mention, we were actually introduced to Finn's dad in an earlier season and he was a bit of a jerk. Nowhere near the type of man we expected a hero to have as a father. His mom on the other hand…well, her story was much more fitting but so much more tragic. It reminded me of the 2006 Doctor Who finale…I'm just going to say "Doomsday" and leave it at that, but if you know what I'm talking about, you'll understand why the end of the Islands miniseries broke my heart.

Adventure Time is wrapping up for good next year but there are still so many stories they can tell. I for one have always wanted to know more about Princess Bubblegum's loyal servant Peppermint Butler who has a funny voice and a disconcerting fondness for black magic.  And while Lemongrab has never been my favorite character – some of the weirdest episodes revolve around the highly excitable Earl of Lemongrab – there's probably more to explore. And Princess Bubblegum herself is one of the most intriguing characters because she has good intentions but is not the most benevolent of rulers when you really think about it. And I've heard rumours of a possible spinoff starring Jake's parents, Joshua and Margaret, who were a smart-aleck team of investigators. Plus there are thousands of possible storylines for  Lumpy Space Princess or Lady Rainicorn or any of the other princesses who rule the different parts of Ooo.

That last paragraph might have sounded like Gibberish to you if you're not familiar with the show, but you know how you can resolve that? By grabbing your friends and watching Adventure Time! You could start watching at a random point, but I'd recommend starting from the beginning, just to get the full effect of how these characters grow and change over the course of the years. Don't let the bright colors and kid-friendly animation discourage you – give the show a chance and, once you get past the trippy episodes in the first season, you'll soon be talking about how absolutely mathematical Adventure Time really is.
Podcast: Play in new window | Download