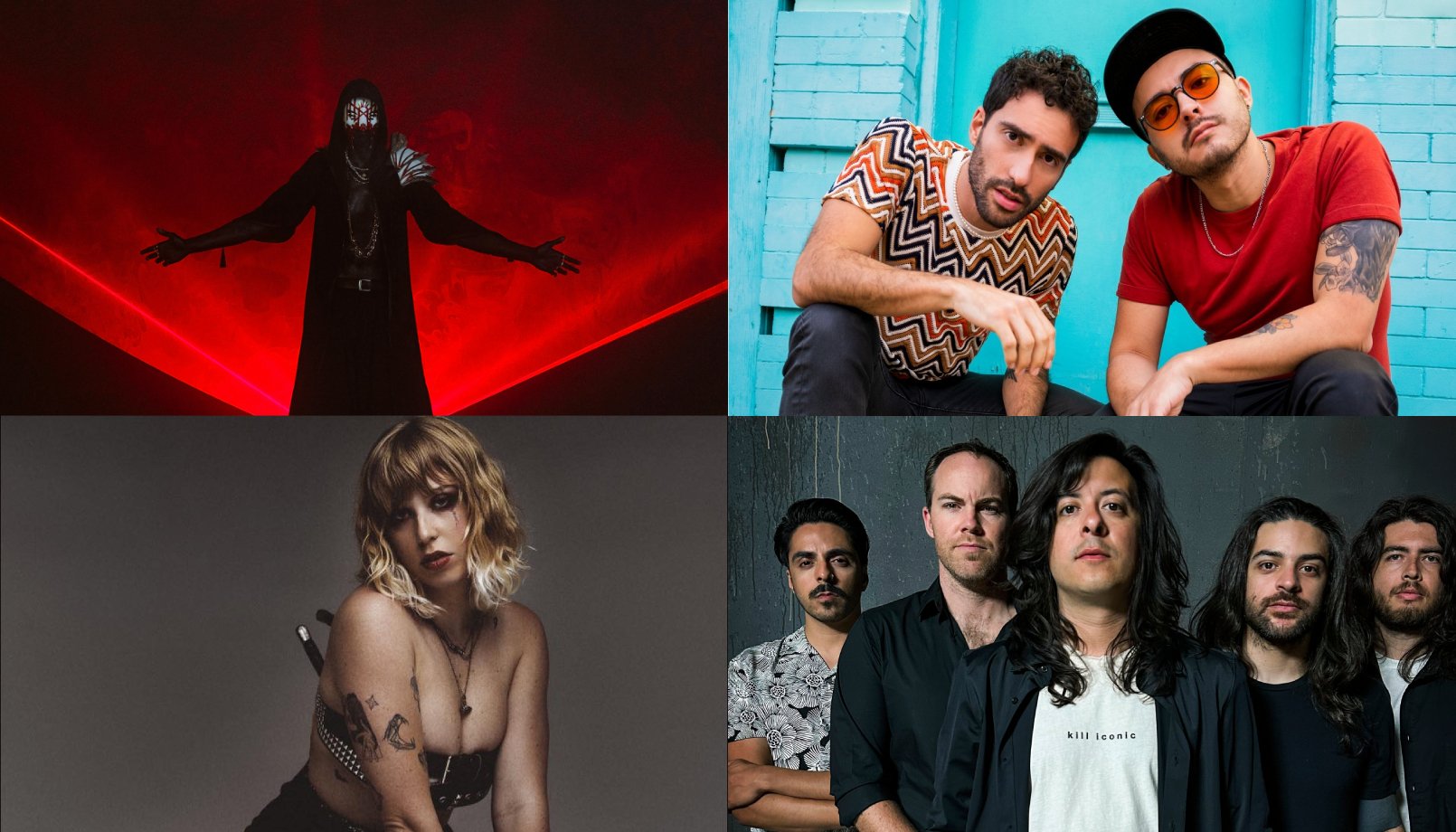 idobi Radio, idobi Howl and idobi Anthm. Three incredible radio stations. Three incredible places to find brand new music. Seriously, we add the freshest new metalcore, pop-punk, hardcore, indie, pop-rock, deathcore and alt to all three of our stations every single week. And we have no intention of stopping anytime soon.

So, with that in mind, here are some of the new picks that you will be hearing in rotation. Enjoy!
Migrant Motel – Party
Have you ever wanted to completely sack off your plans because you're worried you'll see the one person you don't want to see there? Migrant Motel is with you with their latest indie concoction. Not wanting to see the one that got away dancing with somebody else at a party over a delicately constructed beat, it's a real beauty despite its sad premise. Though knowing that we aren't the only ones going through the motions should be an instant comfort, wouldn't you agree?

The Haunt – I'm Done
The Haunt are the sort of band that are by name and nature. Their brand of alternative pop creeps up on you like a vengeful spirit and spins you around their finger. "I'm Done" is a prime example of this mischief in action, with crushing synths and had-it-up-to-here sentiment. Together, the duo deliver the sort of music that soundtracks as many redemptions as it does raptures, and that's a pretty fantastic place to be as an artist.

Hail The Sun – Chunker
Hail The Sun are up there with one of the most underrated acts that have made the scene their home over the last decade. Pushing melody and meticulous songwriting to its limit, their new record Devine Inner Tension will be arriving later this Summer. For now, we have "Chunker", a fast-paced and frantically unrelenting piece of post-hardcore joy and wonder. From Donovan Melero's unmatched vocal cords to the punk-rock thrills of the percussions, it's a near-perfect alternative track from a band you should be obsessed with.

Peni Parker – Disrupt
It takes a lot to be completely transparent when you're writing music, but for Peni Parker, it seems to come as second nature. "Disrupt" is them at their most raw and real, admitting that they are a mess whilst picking at the stitches that hold them together. But it is also an anthem that reminds us that with all our flaws, we are still more than enough and always will be. Set against a rousing pop-punk instrumental, it's a track that will serve as a tonic for those who just want to make it through the day.

Boys Like Girls – Blood and Sugar
A scene staple for as long as we can remember, Boys Like Girls have returned with new music for the first time in 11 years. And based on the sound of "Blood and Sugar", it has been worth every minute. Incorporating the lessons learnt from the band's other projects from across the last few years whilst not losing any of that BLG charm, it's a foot-tapper, heart-flutterer and head-spinner all rolled into one. Can we have some more, please?

Psychic Social Club – We Don't Talk

The way that music transcends borders is one of its most incredible assets. When you hear influences from one country making their way across oceans, it's a feeling unlike any other. That's what you have with Psychic Social Club. Coming up in the middle of Melbourne's indie scene, their latest track, "We Don't Talk", has cues from the sounds of the UK and the US. It feels even more powerful when matched with the sun and the attitude of the land down under. A big track in every sense and one that you will be humming for the next week.

Sleep Token – Take Me Back To Eden
One of the most hotly-anticipated albums of 2023 is finally here, and it is pretty extraordinary. Defying genre as much as it defies gravity, Sleep Token's Take Me Back To Eden is the sort of sprawling and sensational alternative music that goes on to become legend. And you only have to look at the eight-minute-long title track to understand why. Switching between triumphant metal, heartsick pop and ground-shattering rock in the blink of an eye, it is epic. Worship, and worship well.

Anna O – Set It On Fire
Atmosphere is everything, especially when it comes to writing beautiful music. This is something that Anna O has an incredible knack for, especially with her latest creation. "Set It On Fire" plays with layers and textures in a way that crafts a crisp and clear feeling in the air. Throw in some booming bass and plenty of thoughtful emotion, and you have an indie masterpiece.

NIGHTBREAKERS – Heartbreaker
Need a new dancefloor-filling for your upcoming Summer function? NIGHTBREAKERS have precisely what you need. "Heartbreaker" glistens with all the power of the disco ball, with plenty of 80s-leaning funk and soul thrown in. It's self-referential, shimmering and sensationally cute, all of the things that you want from a bright and breezy pop-rock belter. Turn it up loud and bust-a-move

Execution Day – Epitaph
Execution Day have been working with a bit of a legend on their new track, both in co-writing and production. That legend is Justin "JD" deBlieck, formally of the brilliant Ice Nine Kills. And all of the drama and devastation he put into that band is present here, resulting in "Epitaph", a full-bloodied hard rock epic dripping in heaviness. With the ability to cross streams as and when they see fit and some excellent names in their corner, the future looks hopeful.