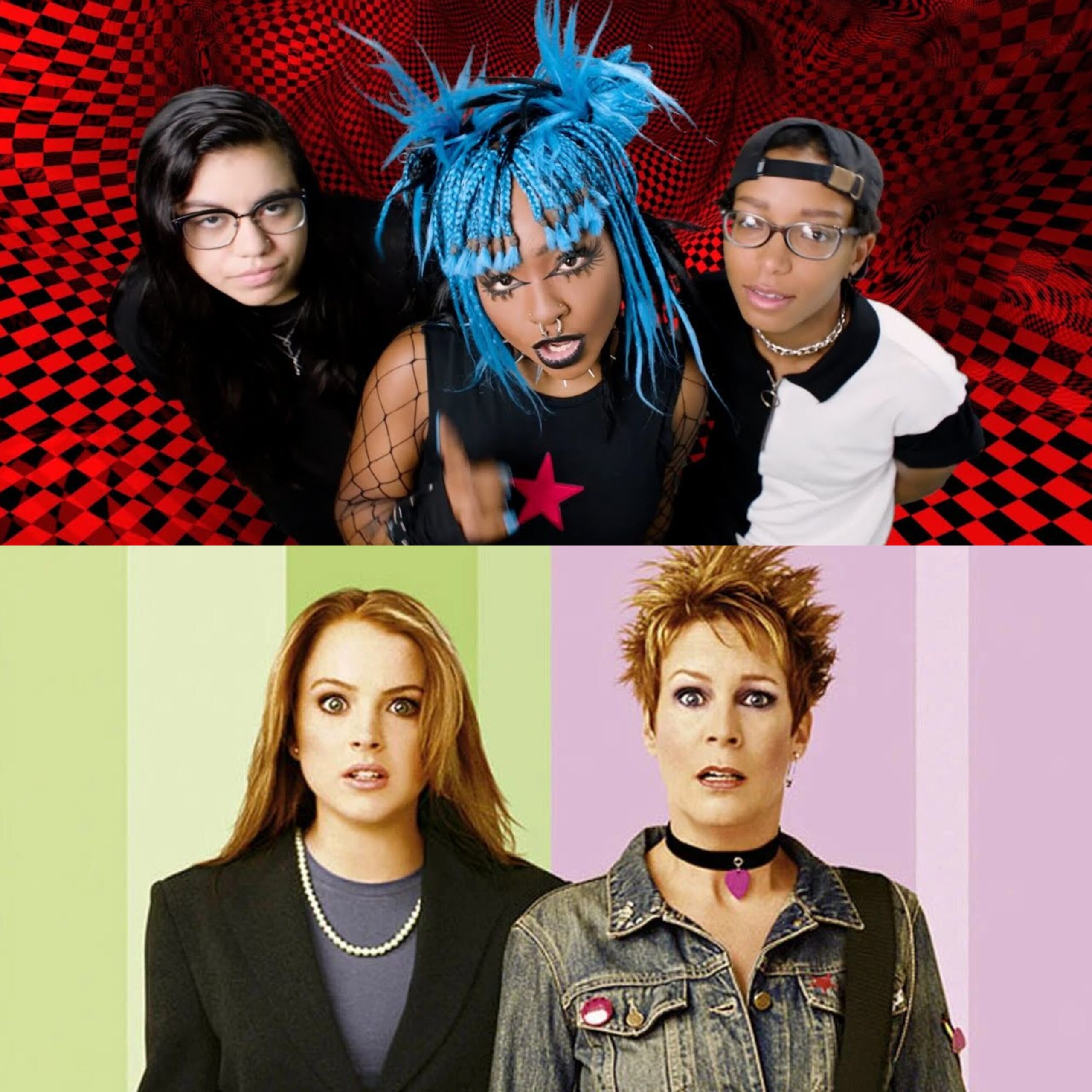 Get up, get out! Could we be getting a blast from the past with a cover of "Take Me Away" pulled from the Blockbuster hit film 'Freaky Friday?' It seems this could be possible as Meet Me @ The Altar has launched an extended video on their Instagram Reels of the group in the studio covering "Take Me Away."
The short clip shows the band members, Edith Johnson, Téa Campbell, and Ada Juarez, jamming to the song with the caption, "Y'all have been asking for this one!" The trio has performed the track on tour in the past to an explosive reception. Check out their full performance of "Take Me Away" on tour below.
The 2003 film 'Freaky Friday' starred Jamie Lee Curtis and Lindsay Lohan and was a huge hit with audiences, especially the soundtrack of the movie, which featured popular songs from various artists, including Simple Plan and Bowling For Soup. "Take Me Away" was one such song that became an instant favorite and was originally released by the Australian all-female group Lash. The upbeat and catchy track was performed by actress Christina Vidal as the frontwoman of Pink Slip on the soundtrack of 'Freaky Friday.'
Earlier this year, Curtis who portrayed Tess Coleman in the 2003 film, suggested that a 'Freaky Friday' sequel was inevitable. In an interview with Variety, Curtis shares, "It's going to happen. Without saying there's anything officially happening, I'm looking at you in this moment and saying, 'Of course it's going to happen.' It's going to happen."
All we're saying is we need Meet Me @ The Altar to be on the sequel's soundtrack in one form or another. In the meantime, check out Meet Me @ The Altar working on their cover of "Take Me Away" below.
The group will be embarking on part two of their Pink Couch headlining tour later this month. They will kick off on May 19 in Gulf Shores, AL at the Hangout Music Fest. The tour will wrap on June 21 in Columbus, OH and you can grab tickets here.
Tour Dates:
May 19—Gulf Shores, AL—Hangout Music Fest*
May 23—Richmond, VA—Richmond Music Hall^
May 24—Baltimore, MD—Ottobar^
May 26—Harrisburg, PA—Harrisburg Midtown Arts Center^
May 27—Atlantic City, NJ—Adjacent Fest^
May 29—St. Louis, MO—Blueberry Hill Duck Room^
May 31—Fort Collins, CO—Washington's^
June 1—Colorado Springs, CO—Vultures^
June 3—Addison, TX—Taste Addison*
June 4—Los Angeles, CA—OUTLOUD Raising Voices Festival*
June 6—Tucson, AZ—191 Toole^
June 8—El Paso, TX—Lowbrow Palace^
June 9—San Antonio, TX—Rock Box^
June 10—Oklahoma City, OK—Beer City^
June 12—Kansas City, MO—recordBar^
June 13—Omaha, NE—Waiting Room^
June 14—Des Moines, IA—Wooly's^
June 16—St. Paul, MN—Amsterdam Hall^
June 17—Chicago, IL—Chicago Pride*
June 19—Milwaukee, WI—XRay Arcade^
June 20—Indianapolis, IN—The Hi-Fi^
June 21—Columbus, OH—Ace of Cups^
* Festival appearance
^ With support from Kid Sistr and Chloe Lilac