This week: Unsolved Mysteries, My Next Guest Needs No Introduction with David Letterman, The Goldbergs, The Conners, black-ish, The Witches, The Queen's Gambit, Bad Hair, The Undoing
Unsolved Mysteries
Volume 2
Mon Oct 19
On Netflix
Photo courtesy of Netflix
It's okay to admit it: We know you're all fascinated by Unsolved Mysteries. The Netflix reboot is definitely fascinating but it remains poignant and sensitive to the people highlighted in each case. Through in-depth interviews with loved ones and detectives alike, each episode pieces together the chilling puzzles that all seem so close to being finished. It'll leave you enthralled yet saddened that the final answers haven't been found yet.
Listen to Geek Girl Riot's spotlight on Unsolved Mysteries!
Unsolved Mysteries returns to Netflix today.
From Netflix:
In six new episodes, Unsolved Mysteries profiles more unexplained disappearances, tragic events, and bizarre occurrences. Perhaps one viewer holds the key to solving these cases. Detectives, journalists, and family members offer intriguing theories in this gripping series, from the creators of the original docuseries, Cosgrove/Meurer Productions, and 21 Laps Entertainment, the producers of Stranger Things.
—
My Next Guest Needs No Introduction
with David Letterman
Season 3
Wed Oct 21
On Netflix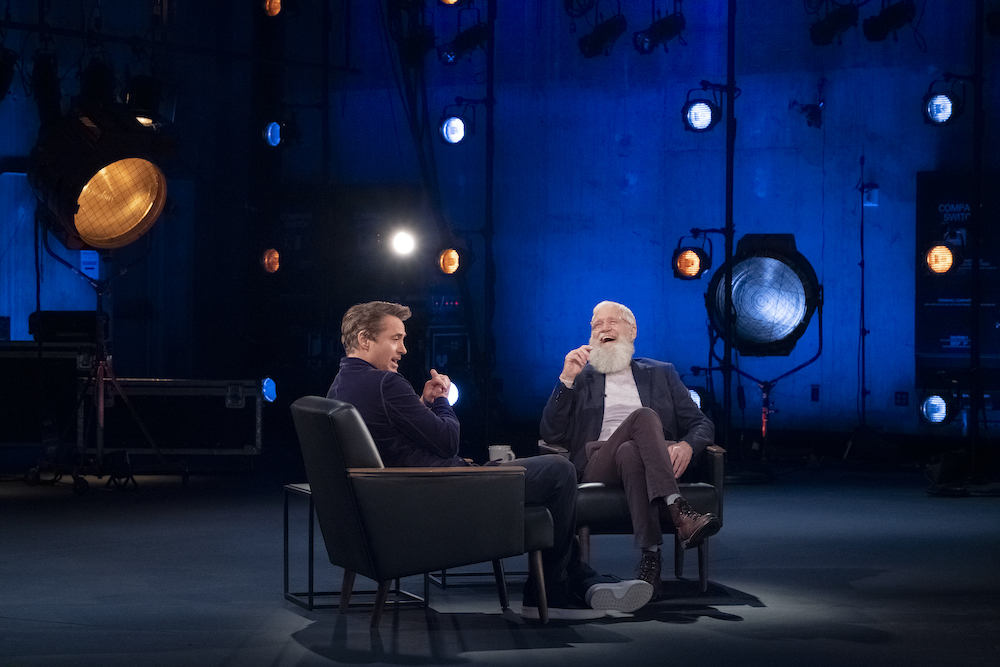 Photo credit: Adam Rose/Netflix © 2020
Our beloved David Letterman is back to pull stories out of some new guests, including Lizzo, Robert Downey Jr., Kim Kardashian, and Dave Chapelle. Letterman puts his guests at complete ease, switching the setup between his stage and their homes (or even CVS for a wild shopping trip). His open approach encourages them to share stories you'd never have known otherwise, mixed in with biographical-style questions to take you into each person's life. The series effortlessly dances between lighthearted and funny to deep and personal, pulling you all the way in. My Next Guest Needs No Introduction is naturally classic and continues to be one of the best interview series going.
My Next Guest Needs No Introduction with David Letterman
is back on Netflix on Wednesday.
From Netflix:
David Letterman returns to the host seat with My Next Guest Needs No Introduction with David Letterman, combining humor, curiosity and in-depth conversations with extraordinary people. The four-episode third season of the Netflix talk show series will welcome another round of guests, including Kim Kardashian West, Robert Downey Jr., Dave Chappelle and Lizzo.
—
The Goldbergs
"Airplane!" / "The Prettiest Boy in School" – Season 8 premiere
Wed Oct 21 – 8PM
On ABC
The Goldbergs returns to ABC on Wednesday.
From ABC:
Beverly surprises the family with an end-of-summer vacation to Miami with the flight down resembling the classic film, and Geoff accidentally spills to Erica the real reason for the trip.
—
The Conners
"Keep on Truckin' Six Feet Apart" – Season 3 premiere
Wed Oct 21 – 9PM
On ABC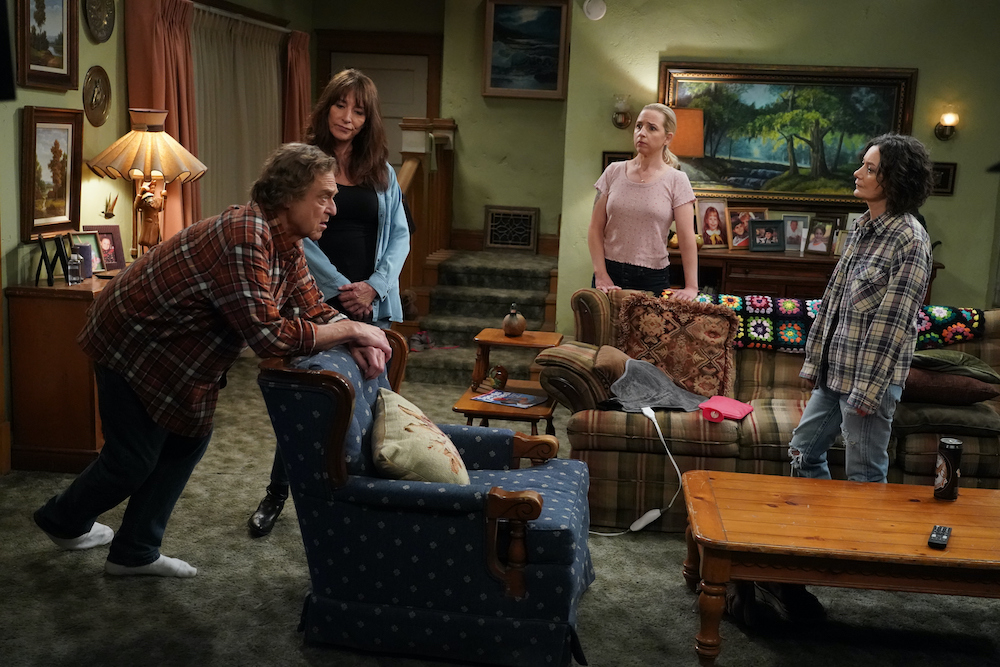 Photo: ABC/Eric McCandless
The Conners have been hit hard by the pandemic. From money troubles to trouble staying six feet apart, facing layoffs to hiding loved ones from ICE, everyone is struggling. Good thing they have each other, right? Well, they have to get over their stubbornness first (which we know will be virtually impossible). The family may be sarcastic and gruff when dealing with each other but they always come through in the end…even if this year won't come through for them. The Conners takes a different approach to portraying the pandemic than other sitcoms (so far), choosing to show just how difficult it is in so many different ways—but it still has its classic gentle sitcom humor to make the truth a little easier to swallow.
S3 of The Conners debuts on ABC on Wednesday.
From ABC:
The Conners are back and dealing with the pandemic, and life's financial troubles loom over the family. Dan is still trying to catch up on back-mortgage payments and avoid a potential eviction, while the Lunch Box is closed for everything but takeout and delivery. Becky and Darlene are both forced to search for additional income at the newly reopened Wellman Plastics plant.
—
black-ish
"Hero Pizza" – Season 7 premiere
Wed Oct 21 – 9:30PM
On ABC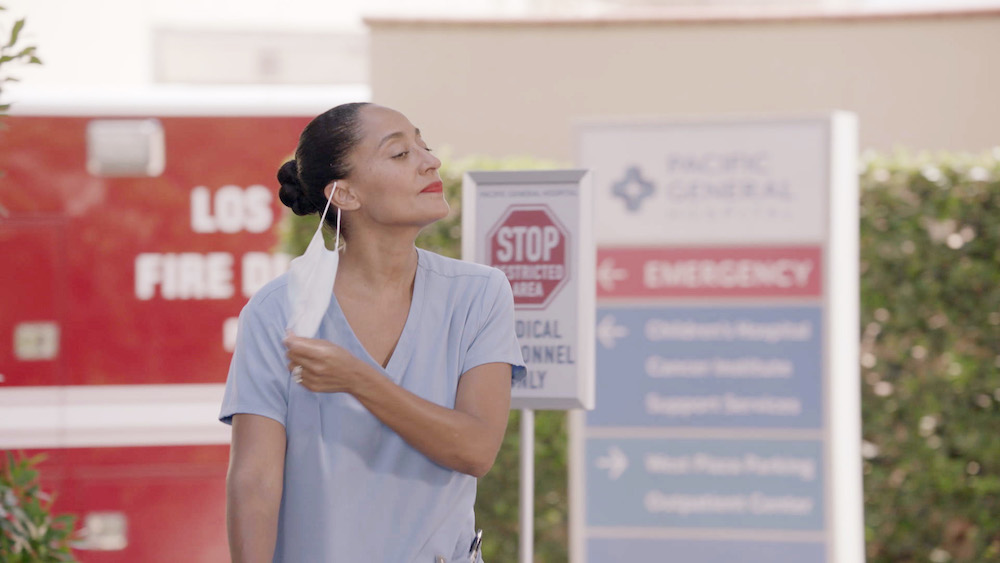 Photo: ABC
The pandemic has also come to black-ish. The Johnson family are going a little stir-crazy with the shutdown, while trying their best to be supportive of Bow (Tracee Ellis Ross) who is now classed as an essential worker. This year has been tough on everyone but black-ish attempts to bring some levity to the new issues we're all facing. And, of course, that comes with a huge dose of heart to make us remember why we're having to stay home—to protect others—and the show puts all the major pandemic-related issues back in perspective.
Watch black-ish on ABC on Wednesday.
From ABC:
The season premiere of "black-ish" takes us to the beginning of the global pandemic for the Johnsons. As a first responder, Bow receives her family's praise for her work, with Junior being her biggest fan. But over time, the family loses their enthusiasm, and Bow discovers someone in her house is breaking the quarantine lockdown rules. Meanwhile, Dre tries to convince everyone that he too is an essential worker.
—
The Witches
Thurs Oct 22
On HBO Max
The Witches comes to HBO Max on Thursday.
From HBO:
Reimagining Roald Dahl's beloved story for a modern audience, Robert Zemeckis's visually innovative film tells the darkly humorous and heartwarming tale of a young orphaned boy who, in late 1967, goes to live with his loving Grandma in the rural Alabama town of Demopolis. As the boy and his grandmother encounter some deceptively glamorous but thoroughly diabolical witches, she wisely whisks him away to a seaside resort. Regrettably, they arrive at precisely the same time that the world's Grand High Witch has gathered her fellow cronies from around the globe—undercover—to carry out her nefarious plans.
—
The Queen's Gambit
Series premiere
Fri Oct 23
On Netflix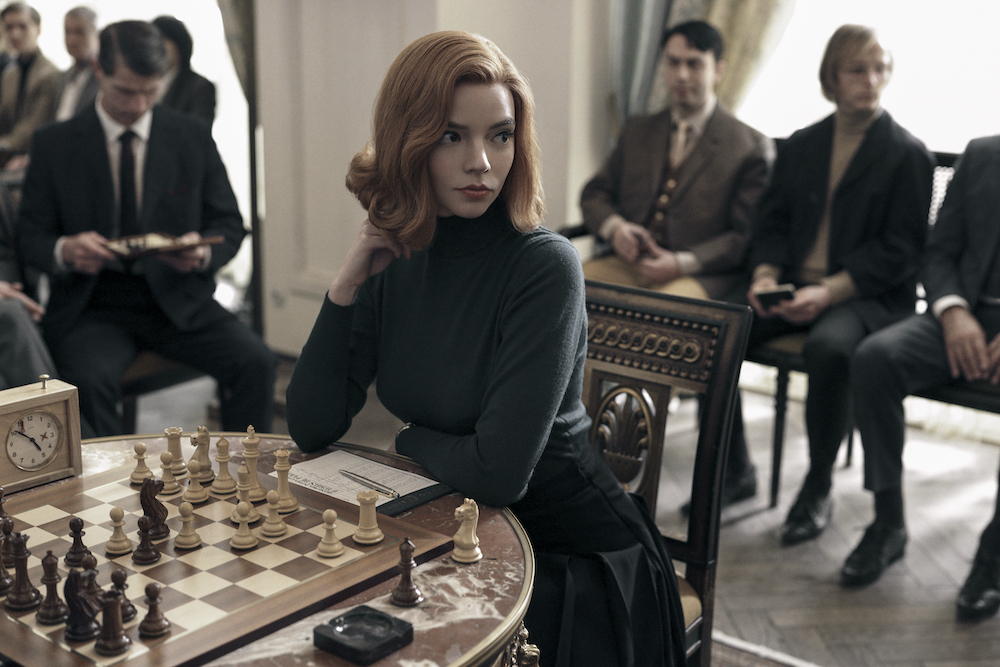 Photo credit: Charlie Gray/Netflix © 2020
They say prodigies can come from anywhere. The Queen's Gambit makes you wonder how many go unnoticed, slipping through the cracks without the right push. Based on Walter Tevis'novel of the same name, Beth Harmon (Anya Taylor-Joy) is an abandoned child left in the care of a Kentucky orphanage. She's kept controlled with structure, rules, and sedatives—but she has one push: A caretaker teaches her to play chess. She soon learns to outplay him and all the other men she meets. Beth is determined to prove her place in a male-dominated game, fueled by addiction and an inability to lose. Chess may be the name of the game but it's merely a pawn in the adaptation that makes dramatic moves in a quietly crushing tone. Just like Beth's analysis of every game, it'll make you second-guess what's next, wondering what would have happened if she had made different decisions. That question extends to those around her—you'll see the effects of her choices reflected in them and the pressures they face due to time slipping away, in chess and in life.
Stream The Queen's Gambit on Netflix on Friday.
From Netflix:
Based on the novel by Walter Tevis, the Netflix limited series drama The Queen's Gambit is a coming-of-age story that explores the true cost of genius. Abandoned and entrusted to a Kentucky orphanage in the late 1950s, Beth Harmon (Anya Taylor-Joy) discovers an astonishing talent for chess while developing an addiction to tranquilizers provided by the state as a sedative for the children. Haunted by her personal demons and fueled by a cocktail of narcotics and obsession, Beth transforms into an impressively skilled and glamorous outcast while determined to conquer the traditional boundaries established in the male-dominated world of competitive chess. The series is directed and written by two-time Academy Award nominee Scott Frank and executive produced by Frank, William Horberg and Allan Scott, who also co-created the series.
—
Bad Hair
Fri Oct 23
On Hulu
From Hulu:
In this horror satire set in 1989, BAD HAIR follows an ambitious young woman (Elle Lorraine) who gets a weave in order to succeed in the image-obsessed world of music television. However, her flourishing career comes at a great cost when she realizes that her new hair may have a mind of its own.
—
The Undoing
Series premiere
Sun Oct 25 – 9PM
On HBO
Watch The Undoing on Sunday, only on HBO.
From HBO:
Grace and Jonathan Fraser are living an idyllic life on the upper East Side of Manhattan. In preparation for a fundraiser at their son Henry's private school, Grace co-chairs the school's auction committee and notes the other mothers' prickly treatment of Elena, a young mom who's new to the group. The night of the Fundraiser, Grace tries to comfort an inconsolable Elena, while Jonathan departs for a medical conference early the next morning. As Grace awaits Jonathan's return, she's blindsided by news of a tragedy within the school community.