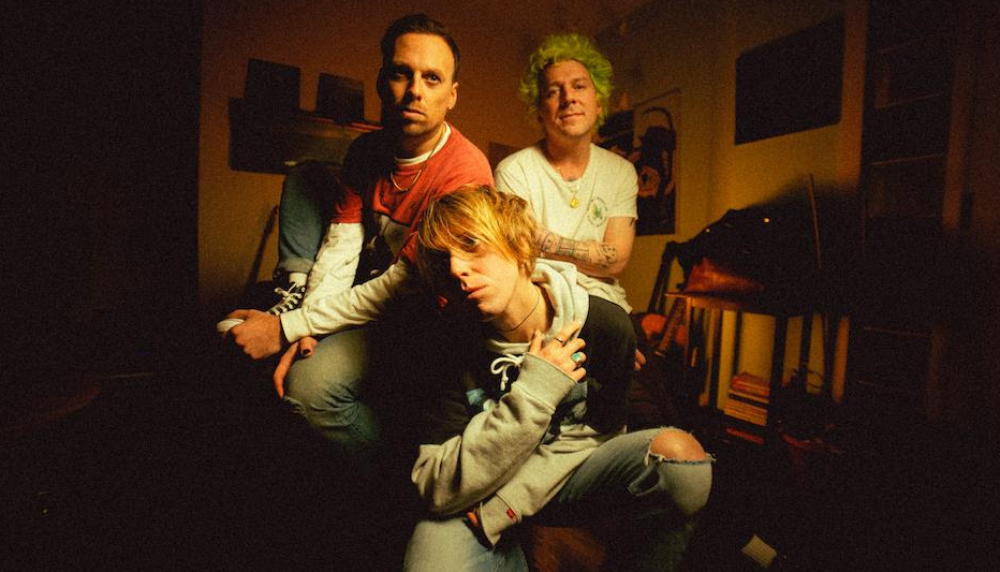 15 years into their journey The Xcerts feel the most like themselves than they ever have. Five years on from their last full-length Hold Onto Your Heart, the world around them has changed as much as their own lives have. Though rather than taking these changes as a sign to slow down and switch gears, they have put their all into their new record. Learning How To Live And Let Go, released via UNFD, focuses on the ebbs and flows that existence throws at us through a vulnerable and cheeky lens. A collection of songs that bristle with as much modern experimentation as they do quintessential rock and roll, it is the band at their most vibrant and fun-loving.

Though more than anything else, it is an album about acceptance of what we come up against. The good and the bad, we take them both in our stride and learn from them. It is how we grow as people, mentally and emotionally, and it is how we harness the true beauty of what this life is capable of. It is The Xcerts in their purest and most powerful form, plain and simple.
To find out more about what this new record and era represents for The Xcerts, we sat down with vocalist Murray MacLeod for a candid chat…
How does it feel to be at this place where The Xcerts are able to release this record?
It's been a hell of a journey to get to this point, and I'm just thankful to be at a place where we can speak about it. There were times when we weren't sure if the record would ever even see the light of day or if anyone would hear it. But I'm just so appreciative that people have responded to these songs and are excited to listen to what we have done.
Feeling like a record may never see the light of day isn't new for The Xcerts, but what made this one feel different? How did it feel as it started to materialise into something that you knew would be part of your story?
This was the first time we had ever had a conversation about pre-writing and recording. The discussion was that we had to switch it up. We knew we had to excite ourselves. We were at a crossroads back in 2019 when we released the Wildheart Dreaming EP. That was just a collection of tracks that didn't make the Hold On To Your Heart cut. When we were on that tour, I personally felt like I had an identity crisis. I felt like we had almost conformed, in a way. We had made quite a small world for ourselves in wanting to be seen as just a mainstream rock band.
But that felt uncomfortable because we are three guys with really big personalities. It felt like we were heading down a road that didn't showcase who we truly are as people, the things we love, and how we wanted to portray ourselves. It felt like we could be going down a much easier and less bold road. Because of how much time we had to make this record, it meant that we could throw everything at the wall and not feel fear or resistance in the studio, which has happened before.

We used to think that certain ideas were really uncool, in a real hipster bullshit manner, like we thought we were Sonic Youth or something. So if we wanted to be bombastic, let's dial it up to 11. If we want to be vulnerable, that's not uncool. That's the coolest thing we could attempt. We've all grown up and want to have as much fun as possible.
It may not be something you were trying to emulate, but this record feels much like The 1975's Notes On A Conditional Form in terms of scope and stature. Just in how many different pools you dip your toes in and have the confidence to push the limits of. Being able to express so many things in that way is a success in itself…
Absolutely. Musically, The 1975 don't inspire us, but I'm a huge fan of them, and that particular record is my favourite. I think the idea of what that band have done from where they came from is inspiring. My first experience of a band that felt like that was Radiohead in the jump from The Bends to OK Computer. Both those records, in their own ways, inspired what we did because they are so unapologetic. If we were going to do something, we would double down on it. If we're going to use autotune, we are going to turn the dial up and use it as an instrument.
I'm also a huge The Clash fan, and I was listening to London Calling a lot while making this album. And that album is absolutely all over the shop. But The Beatles did it as well with The White Album. All these records are so real. Nothing sounds insincere or a savvy move on anybody's part. It's just complete freedom. We took inspiration from that. Equally, modern hip-hop influenced it hugely as well. That genre has such a disregard for the listener, and I fucking love it. You get 20 seconds of a song that you think will last three minutes, and then it changes to a completely different sound and production. Figuring out how to bring that into an alternative rock world was exciting.
A lot of perceptions on what that is has also changed because of the times we are living in now. The openness to difference and experimentation is so much more vast than it used to be, so releasing a 90-second song like "GIMME!" isn't a shock to The Xcerts fans…
Yet "GIMME!" was the first time we had ever felt negative feedback. We have always been in quite a safe lane. And we are self-aware enough to know that a song like it would cause a divide, and I'm totally fine with that. But I didn't see anything constructive, just people saying, "They've written this for TikTok". It's a really interesting conversation that when people don't like or get something, they must find a scapegoat. We wrote "GIMME!" when TikTok wasn't really a thing. We didn't write it the day before we released it. If I were writing a song for TikTok, it would be fucking 30 seconds!
The thing is that humour in guitar music has died. For me, rock and roll has always been theatre. This is why I feel like "GIMME!" is just a fun, short blast of noisy pop, and there's humour in the lyrics there to see.

You're almost in a position where you can look back on yourself and see that you have almost been guilty of taking it a bit seriously as well. But with this record, this feels like the most that you have shown of who you are as a person as part of The Xcerts, on both sides of the coin, in your whole career. That's a fantastic place to be…
There was a real sense of striving for individuality on this record. In order to do that, I wanted to be transparent with the lyrics. Because of the lyrical themes, there wasn't a way that I couldn't be transparent, you know? The only way I could write about the situation I was dealing with, a really unhealthy and toxic relationship, was direct. The humour comes from if I didn't laugh, then I would cry. I'm now in a much healthier position, and I can look back and say, 'That was totally absurd and a mad moment in time'. It was important to showcase both of those sides.
On the last record, there was a real effort to make sure that there was always the light at the end of the tunnel at the end of each song. However heavy they felt, there was the overwhelming idea that everything would be fine. This time, the whole point of the record is that it's cool if things aren't fine. You're still going to be here. The power of now, that's what it is all about. Life can be loud and quiet, beautiful and ugly, and you have to let it ride.
Another layer of acceptance is knowing that every version of yourself who came before you did the things they did for a reason. That's a big part of moving on and growing up, just knowing that you have always had your back in whatever way they could…
I've always looked at, and hope that I can look back on, our records as a map. If I made any discovery throughout the records, from 19, when we made In The Cold Wind We Smile, to now, I can see it. It's important to have a bit of self-discovery in there, and a lot of times on this album, I shocked myself with what I was saying. There's a line on the last track, "It Ain't Easy", that sums it up nicely, which is, "I've been searching for the answer to an unattainable question. I thought I'd find it in the bedrooms of strangers and rock and roll. Maybe I did? Who gives a shit".

By tailing it off like that, I have come to a place where I can just let go. Many people are constantly searching for something, even if we don't know what that is. It's like smoke. It's been tricky at times to navigate that constantly like something has been missing from my life. Maybe I could find it in falling in love, maybe I will find it in a song, Maybe I won't find it at all. There may be no answer, and there may be no question.
Perhaps that's why you still want to be The Xcerts. The reason that you want to keep on coming back and doing this. This deep in, it's about the pure joy of being in this band and how that feels…
The three of us have discovered that the easy route would have been splitting up long ago. But we are still doing it because we love one another. It's a proper brotherhood and family at this point. You wouldn't believe how many times record companies have told us to change our name from The Xcerts and start again. In the past two records, we have heard that. Where is your integrity if you do that? I almost find it incredibly rude at this point because you clearly don't get it. We're not chasing celebrity or the American Dream. It's way purer than that. We do it because we love making music together and hanging out. Love conquers all at the end of the day.