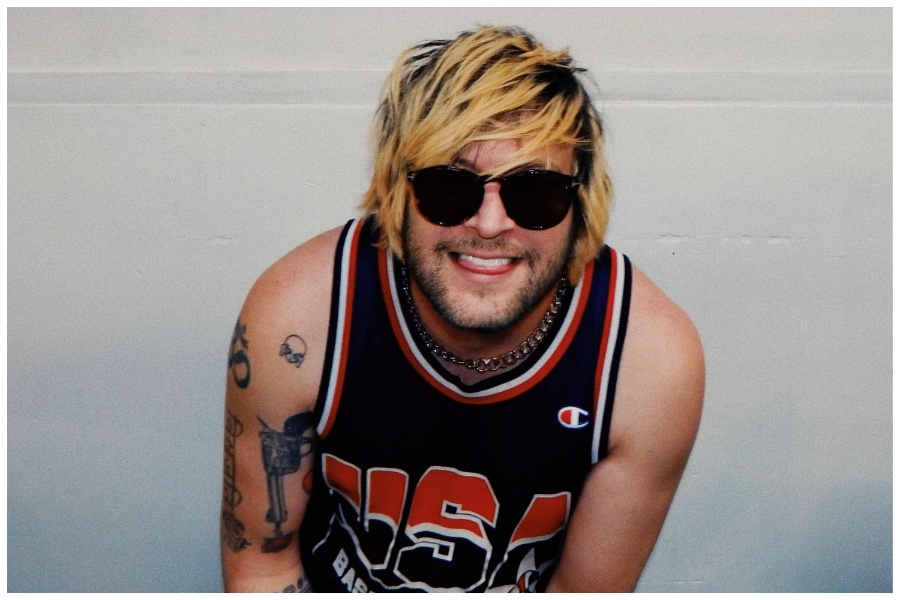 Little Hurt's latest album, Lovely Hours, is an emotionally charged musical journey that invites listeners into a world of introspection, raw emotions, and catchy melodies. With a sonic blend that seamlessly intertwines upbeat sounds with heartfelt lyrics, Little Hurt delivers a collection of songs that resonate deeply with the human experience.
The title track, "Lovely Hours," perfectly encapsulates the album's essence. It serves as a poignant centerpiece, effortlessly capturing the artist's personal struggles and providing a cohesive vision for the entire record. Little Hurt's ability to evoke feelings rather than thoughts is masterfully showcased in this song. The focus track for the album, "I Can Do Better Than You" is an addictive earworm that pulls you in with a sick synth line throughout, and crisp pop-punk guitars that make it a perfect summertime jam!
The mastermind behind Little Hurt, Colin Dieden (former lead vocalist of The Mowgli's), caught up with idobi to share an exclusive track-by-track to accompany the album release. Check out Lovely Hours below.
"Lovely Hours"
I decided to name the album after this song because I felt like it perfectly encapsulated what I've been going through and what rounded out what this record sounds like. Sonically happy but with sad lyrics. "Lovely Hours" became the title track for this record the second I wrote it. Something about it seemed to sum up the entire vision of this collection of songs. After writing it I felt like it made you feel more than think.
"Get Out Of My Life"
This is potentially my favorite song on the record. I love the energy it comes with and I wrote it at a time when I REALLY needed to. "Get Out Of Life" is one of the most honest songs on the record. Every single word of this song I experienced more than I'd like to admit. It's also my favorite music video of my career.
"Modern Art"
This song is about the same person that 99% of this record is about but this one is fun because I got a little angrier than I usually get. "Modern Art" was a song I needed to write to work through a relationship that was simultaneously one of the best and worst experiences of my life. I wrote the chorus of this song almost 9 years ago and could never find the right place to put it, but for some reason, it helped me complete this story.
"I Can Do Better Than You"
This was a really fun one to write. Sometimes writing songs feels like a regular job but this was just super fun. I'm glad we picked it as the single. "I Can Do Better Than You" was one of my favorites to write on the record because of how energetic it is. It is about my ex like many of these are. I hope she hears it and thinks, "This is a nice song."
"Laughing At Myself"
This is one of my favorites on the record because of how the chorus moves. It has that feeling that makes everyone want to throw their hands in the air. "Laughing At Myself" was one of the first songs I wrote for this record. I started writing it a couple of years ago and was finally able to complete it for this album.
"Pineapple Pizza"
I wrote this song years and years and years ago and it's so cool how it found its way onto my new record. I think this song has some of the strongest lyrics on the record. "Pineapple Pizza" is kinda mean—but it's better than most songs. If she just let me enjoy pineapple on my pizza, neither of us would have had to go through all of this. I recognize it's kind of mean, but it's insanely good.
"See You Again"
This is definitely the chilliest, cruisiest song on the record. I'm glad we have one like this because everything else is insane. "See You Again" is the first love song I've released since I was in The Mowgli's. Love songs are hard to write because love is hard to navigate…
"Buttercup"
I think this is one of the catchiest songs on the record for sure and it was so cool to have one of my best friends, The Ready Set, featured on it. He is a good fella and an amazing producer. Working with friends is the best.
"Cooler If U Did"
This is a fun one because it changes genres entirely like 4 times within the song. It's cool to be able to take risks like that. "Cooler if U Did" was written when I was really drunk and I don't entirely remember what I was going on about, but I do know that it's super catchy. My ex texted me after she heard it and said, "Is this about me?" and I was like, "Yea"… But it isn't!
"Down Bad For You"
This is another one where I got to have my good friends StuDaBoi and Matt Malpass write with me, and Stu was featured on it. They are amazing writers, and I like this one because it doesn't sound like anything else on the record and I got to yell a lot!