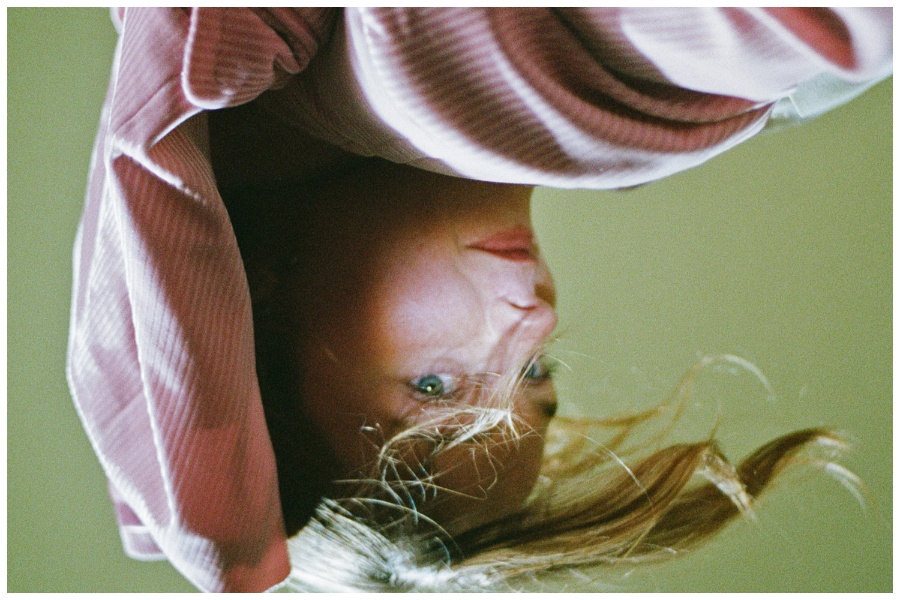 Since their inception, Dizzy has ensnared audiences under a spell with their irresistibly sugary-sweet indie-pop sound. It's as if they possess an innate ability to effortlessly conjure bittersweet earworms that dig deep into the recesses of your being, setting loose a flutter of butterflies that reside in the stomach.
At the heart of this captivating sonic journey is frontwoman Katie Munshaw, whose voice wields a dizzying hypnotic power. Her lyrical expressions are akin to a timeless elixir, imbibed during the precious final hours of youth, capturing emotions that span beyond our wildest thoughts. Each word she pens encapsulates the yearning, the hopes, and the fleeting moments that define the transition from innocence to experience.
Dizzy's latest self-titled album, their third venture, radiates the same enchanting whimsy that embodies the essence of the greatest coming-of-age tales. With their music, Dizzy doesn't just create melodies; they craft windows to the past, doorways to introspection, and bridges across the spectrum of emotions that color our journey from innocence to wisdom. This sonic alchemy, filled with the hues of emotion and the glimmers of fleeting moments, is something that even Netflix can't replicate on screen.
In idobi's exclusive interview with Munshaw, she expresses her hopes that the album can be a companion for listeners. She envisions the album not only as a collection of songs but also as a source of solace and companionship during different chapters of people's lives. Dive into this candid conversation with Munshaw, as we explore the journey to their self-titled album, their evolution as artists, and the depth of emotion that defines their distinctive sound.
This album is a self-titled album. What specifically inspired the decision between you and the band to release a self-titled album at this point in your musical journey? 
I think with our first two albums, there was a period of growing pains and figuring out who we wanted to be as a band. I think with our first album, we didn't plan to make an album. It was just a bunch of songs that we had been playing live and in bars in Ottawa and Toronto. And then, when we were approached by a label, and asked, "Do you have songs to make a record?" We were like, "I guess we do. We have all of these." And so that just became the first album, which was Baby Teeth. 
Of course, the second record was another instance of figuring out who we wanted to be for the first time now that we were actually planning to make a record. And so, in a sense, it felt like our first actual record when we were making our second. I feel like we've really cut our teeth and figured out who we are sonically, lyrically, and visually. And that's why we wanted to make this album self-titled. It felt just like the most us that we've ever been.
Given that the sophomore album was what felt to you guys like the first album just in the creative process and how you guys were obviously meticulous regarding your craftsmanship with this third album. How does it differ from your previous releases?
Our first album, Baby Teeth, was largely electronic-based. I think we were really influenced by bands coming up at that time wanting to sound like them. Lorde was always a big reference point. It was the first time we had ever worked with a producer, so that was pretty scary, and we had to learn to stand up for ourselves. Our producer was lovely, but at the same time, you're young, and you don't really know what you want to sound like. So the first record went like that.
With the second record, we wanted to do it all ourselves. We felt rebellious and like we had all the answers, and it was a lot of work. I'm really proud of that record, but I can definitely see where we lost perspective a lot of the time because we were so in our heads about not getting help. And then, with this record, it was like the self-titled album. We were ready to say, "Okay, I don't have all the answers, and let's pull everything back." And I think the product is more concise than the other two albums. You can probably hear that sonically in a more pop-facing production.
I think one of the things that I admire most about Dizzy is that you've consistently injected your music with wistfulness and youthfulness that is so relatable. I've always considered your overall releases to be almost the soundtrack of a coming-of-age story. It reflects you guys growing up and the trials and tribulations and even tragedies that you've all faced, as individuals and as a group. How did you keep that youthfulness intact as you continued to get older with your releases? How have you how have you maintained that? 
As a lyricist, I have a tendency to write in a really nostalgic way. I'm yearning for days past when I was a little younger. There's a lot of beauty in a juvenile situation. I think whether I'm 22, 45, or 60, there will be relationships in my life that are young and new. And I probably gravitate toward writing about things that are new and scary.
My sister is quite a bit younger than me, she's eight years younger than me. And I lived with her up until about a year ago. I was also surrounded by this youthful person I loved and deeply felt emotions through. I am making that connection now, but that also has something to do with it.
What do you think is your favorite song on the album? Is there a specific song on the album that you think really captures the essence of who you are and who the band is?
I have a lot of favorites, and I think mine changes. I feel really dearly about "Cell Division," "Knock The Wind," and "My Girl." The one that feels most like us is probably "My Girl." That song went through so many different stages. It was one of the first songs that we had for the record that we were like, "Oh, this is good. We just can't figure it out." It had totally different production before, and we took it to our producer that we ended up working with, David Primack.
We worked the shit out of the song and still could not figure it out. At one point, it had chugging guitars behind it, and it was like this dancey thing. And then Charlie, our drummer, who also does a lot of our production, just took it back to the studio at home and just stripped everything away and did all the production you hear now that's super magical sounding and eerie. I think it just matches the tone of that song so well.
Were there any massive trials or tribulations you guys had to go through during this third album's recording or writing process?
In a way, yes, because we were writing the album in 2021, right after the big C word had started. And for me especially, I was having a lot of doubts if I wanted to make another record, if I wanted to keep doing music. The biggest thing was that I was really in a place where I felt stagnant because I wasn't touring, and for some reason, my brain doesn't allow me to believe that working on a song for a couple of hours a day is work. So I was having a lot of self-confidence issues.
I ended up applying for a job at the record store where I'm from in Oshawa, and it gave some structure to my life. It really helped renew my connection with music, and, in a couple of ways, it really grounded me a little bit and being like, "There are so many musicians and so much music. You are the smallest grain of sand in all of this." It was just nice to not be so in my head about feeling like this is the biggest thing. It was just really reaffirming to be around people who still consume albums and will line up for a release or line up for Record Store Day. And yeah, so that was probably one of the bigger mountains to climb for me.
You also touched on how "My Girl" was one of the songs that was so hard for you guys to nail down and that, you worked on it. Were there any songs on the album that just completely flowed out of you?
"Knock The Wind," which is probably an easy answer because it is the most simple song on the record. That song I was really, at the time, inspired by Leith Ross. I really, really love Leith Ross' style, and that inspired me. It happened very quickly, in about a day. That was the first song we worked on production-wise with our producer David, when we all got together in the same room. There were talks of adding more production, but in the end, we just realized that it needed to remain a bit of a sleepy tune.
One of the other things is the album artwork. It's so beautiful and simple, but complex at the same time. Is there a story behind that?
There was a decision before this album for me to start wearing a mask onstage and in some of the photos. We worked closely with our friend Ryan, who did our very first music video on all of our visuals for this album. I just felt like it was a decision that I made for myself. Selfishly, I have a weird relationship with being on camera and social media, and it felt like control a little bit to be able to say, "This is when you can see me, and this is when you can't." And that's where that came from. I think, honestly, that that confidence is another reason why this album is self-titled. I think the mask represents that, and it represents all of us as a band members.
Are there any central themes or messages that you really hope that people grasp?
I hope this album can be, maybe a friend or company for somebody. Because I think there is a very distinct difference between putting music on and then absolutely devouring an album over the span of a month or two and letting it totally just seep through into your personality and your emotions for that period of time. So I would love it if this album could just be somebody's friend for a while. That would be really nice.