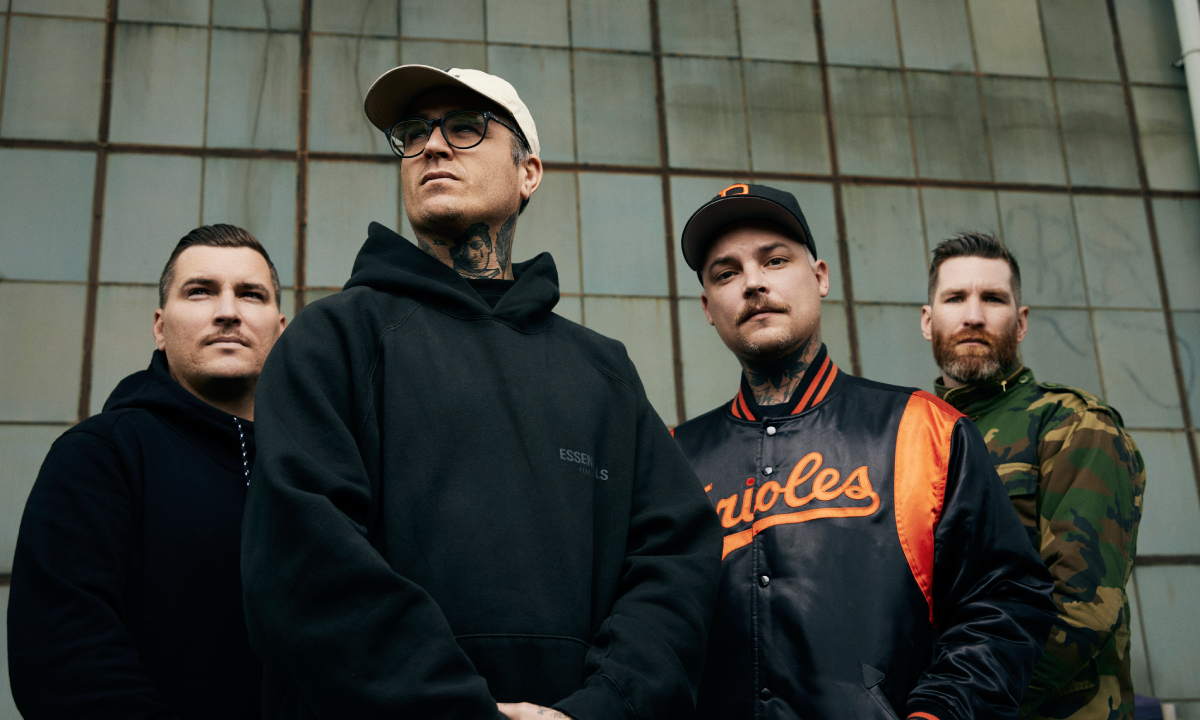 The Amity Affliction recently released their latest full-length Not Without My Ghosts. One of the most punishing, powerful and poignant moments in their incredible journey so far, it's an album built on heartbreak and healing. It sums up the last two years in this cruel world both cathartically and chaotically.

So much of that feeling comes from the actual band. Their career has been one where honesty is the best policy. And when it comes down to channelling the most raw and real parts of existence into art, then the members of Amity make sure to leave no stone unturned.

To find out more about the process of bringing such a record together, idobi caught up with vocalist Joel Birch…


What was the catalyst for you wanting to write an album like Not Without My Ghosts? Was there a particular moment or thought that made you decide it was time to focus on this subject?


There wasn't a particular catalyst for the entire record. However, a lot of the songs obviously have roots in personal experience. Though in the case of "Show Me Your God", it was yet another school shooting in the USA. I grew up Pentecostal and so have – although somewhat diluted over the years from not being engaged with scriptures – some knowledge about the Bible.

I decided to write about how I would likely have been able to follow through with a suicide attempt had I been afforded the access to guns that people are in the US. In 2021 alone (the lyrics were penned in early 2022), there were over 20,000 suicides that used firearms in the US.

I don't know what the answer to their particular problem is. Having spent so much of my life there over the past 13 years, it has become something of a second home to me. I do spend a lot of time thinking about how their media has stoked a religious fervor around guns. They view adherence to the Second Amendment through the lens of Christianity. Additionally, I've spent over a decade just reading about US politics and then going to University to study US politics during COVID. All of that culminated in the lyrics to "Show Me Your God".

Sorry for the extended answer focusing on just one song. But I do feel that is indicative of how the rest of the songs form as I write the lyrics. They're not thrown together and are usually written in a period of contemplation about whatever the subject may be. Ranging from mortality and the guilt associated with the persistent suicidal ideation I experience when I have lost friends to suicide to the aforementioned gun violence in the US.

What was that like to face these things head-on? What were the conversations you were having with each other about your own experiences?


We're men, so the conversations were a little cursory, to be honest. Writing "I See Dead People" was an amalgamation of writing for Ahren [Stringer, Vocalist/Bassist] as he lost one of his closest friends, writing for myself, having lost a close friend to suicide just prior to Misery, and then writing about the loss of Louie Knuxx / Todd Williams as well. As for the process of grieving, it's something I have put off because the last few years have had other traumas I have needed to overcome and digest. I'd say I'm well overdue for a visit to a therapist [laughs].

What was the most challenging part to bring to life? What are you most relieved that you could get down on paper and into a The Amity Affliction song?

For me, personally, writing lyrics isn't hard. I write them in one go for the most part and don't edit them. How I send them to Ahren is how they were written. I don't read them either once they're put into the notes app on my phone; I'll write over a year leading into recording and then send him everything that has followed on from the previous album. My notes for Amity lyrics still have the unedited lyrics I wrote for Misery. Once Ahren gets them, he splices some together, and there is a little re-writing / editing process that happens to make sure the songs make sense, and that's what everyone hears when the songs come out.
He sometimes arranges them in songs almost from start to finish without any editing. In other cases, I have quite a bit of re-writing to do and have to flesh out a song from a few lines Ahren liked for a chorus. At this point in our career, it's become a very organic and natural process, and as I said earlier, writing comes easily for me, and it's also enjoyable.

There are moments on this record that feel like the heaviest things you have ever done. Is this something that you noticed as you were putting it together? How did it feel to be reaching these places?

This is easily the heaviest record we've ever written, full stop. We all channeled our own experiences and emotions from the previous two years into the album. I will say that after Everyone Loves You… Once You Leave Them, we made a conscious decision to return to our roots and create a heavy album. However, it was only in the studio that we decided that on "I See Dead People", we wouldn't have Ahren singing. Instead, all the low-end screams you hear were done by him. That felt timely and long overdue, given that he has added them to our live set for some years now.

How important was it for you to be able to include Louie Knuxx's voice on a The Amity Affliction release?

This is something that Dan [Brown, Guitarist] came up with, and to be honest, I am just appreciative of that and his family's willingness to let us use his voice and also some footage from one of his music videos. I hope it steers people towards his music. Todd was one of the most intelligent and deep people I have ever met, and I am better off as a person for having him in my life. Many times, he challenged me on my positions, and many times he blessed me with his wisdom, so having him on the record feels beautiful.
Regarding the other guests – Andrew Neufeld, Landon Tewers – what drew you toward them to be featured on these particular songs?

Andrew from Comeback Kid is one of the top five vocalists that have ever existed within our various sub-genres. That was an easy pick, as was Landon. The Plot In You have been our friends since we first met them on a European tour, and they continue to be a band we love.

What has the creation of Not Without My Ghosts granted you in the aftermath? What has it taught you about The Amity Affliction?

Emotional release. I am still determining what it has taught us. Patience? We finished in July 2022, and it came out in May 2023. Other than that, I think it will take a year of playing the songs live before we digest what the songs mean to us, as playing them in a live context is what gives them new meaning and a new life to see how the crowd reacts and engages with the songs is – for me – the best part of being in a band.

What does it mean for you to be in a position where you can still express yourselves in the same way with The Amity Affliction after all of these years?

Not many people get to experience this, and so I feel very fortunate.