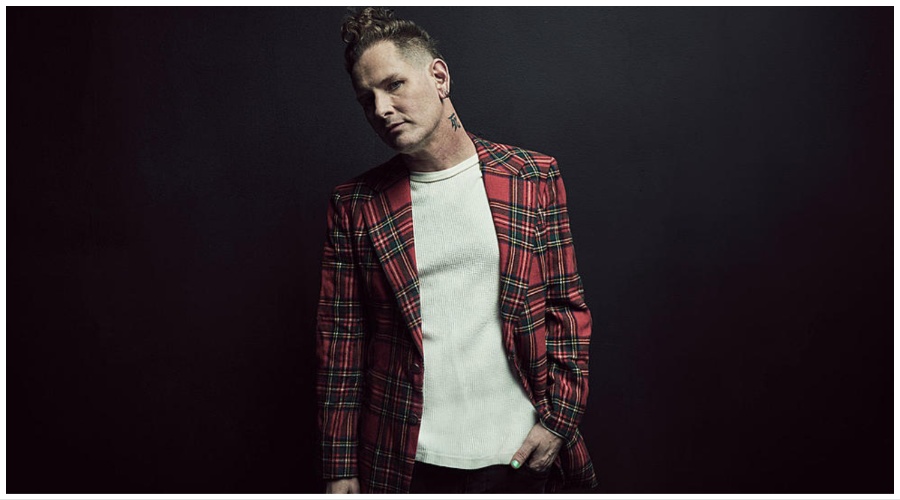 We could go "on and on and on" about Corey Taylor, the renowned vocalist who has led Slipknot and Stone Sour to massive success over the last 20 years. On the verge of his newly-announced sophomore solo album, CMF2, expected to arrive on Sept. 15, Taylor has issued the captivating new single "Beyond." The track showcases Taylor's versatility as an artist, delving into a more melodic and introspective territory compared to his heavier, metal-driven endeavors.
The song immediately transports listeners to a realm of contemplatation and unity that seems forgotten in our modern society. Taylor's distinctive vocals, brimming with emotion and unrestricted intensity, intertwine with the instrumentation, creating an immersive and captivating sonic landscape. With each passing moment, the song gains momentum, fueled by cascading layers of guitars and drums that enrich its musical tapestry. Taylor's vocal prowess effortlessly transitions between delicate, vulnerable verses and resounding, euphoric choruses, leaving an indelible mark.
In an interview with Rolling Stone, Taylor reveals, "I originally wrote it as an aggressive romantic song, but I'm also looking at it now as a kind of 'come together' song. Bringing the masses together and letting them know that I want my music to take them beyond what they may think about me. Maybe they've had a misconception about me. It's not exactly a calling card, more like throwing the bat signal up and being, 'All right, let's turn everything on its head.' It's almost a dual threat because now I look at it from two standpoints."
Check out Corey Taylor's captivating, introspective video for "Beyond" below.
In addition to the new track and album announcement, Taylor will embark on a 28-show tour, including performances at Rocklahoma, Louder Than Life, and Aftershock, with special guests Wargasm, OXYMORRONS, and LUNA AURA. You can preorder CMF2 here and grab tickets today at 12 PM ET/9 AM PT here.
Tour Dates:
Aug. 25—Denver, CO @ The Fillmore Auditorium
Aug. 27—Kansas City, MO @ Uptown Theater
Aug. 28—Minneapolis, MN @ The Fillmore Minneapolis
Aug. 30—Milwaukee, WI @ Eagles Ballroom
Aug. 31—Chicago, IL @ Riviera Theatre
Sept. 2—Chesterfield, MO @ The Factory
Sept. 3—Pryor, OK @ Rocklahoma 2023
Sept. 5—Detroit, MI @ The Fillmore
Sept. 7—Cleveland, OH @ House of Blues Cleveland
Sept. 9—Cincinnati, OH @ The Andrew J Brady Music Center
Sept. 10—Alton, VA @ Blue Ridge Rock Festival 2023
Sept. 12—Montclair, NJ @ The Wellmont Theater
Sept. 13—Boston, MA @ House of Blues Boston
Sept. 15—Wallingford, CT @ The Dome at Toyota Oakdale Theatre
Sept. 16—Huntington, NY @ The Paramount
Sept. 18—North Myrtle Beach, SC @ House of Blues Myrtle Beach
Sept. 19—Lake Buena Vista, FL @ House of Blues Orlando
Sept. 21—Huntsville, AL @ Mars Music Hall
Sept. 22—Louisville, KY @ Louder Than Life Festival 2023
Sept. 24—Houston, TX @ House of Blues Houston
Sept. 25—Dallas, TX @ House of Blues Dallas
Sept. 27—Albuquerque, NM @ Revel Entertainment Center
Sept. 28—Tempe, AZ @ Marquee Theatre
Sept. 29—Henderson, NV @ The Dollar Loan Center
Oct. 1—San Diego, CA @ House of Blues
Oct. 3—Riverside, CA @ Riverside Municipal Auditorium
Oct. 5—Los Angeles, CA @ The Wiltern
Oct. 7—Sacramento, CA @ Aftershock Festival