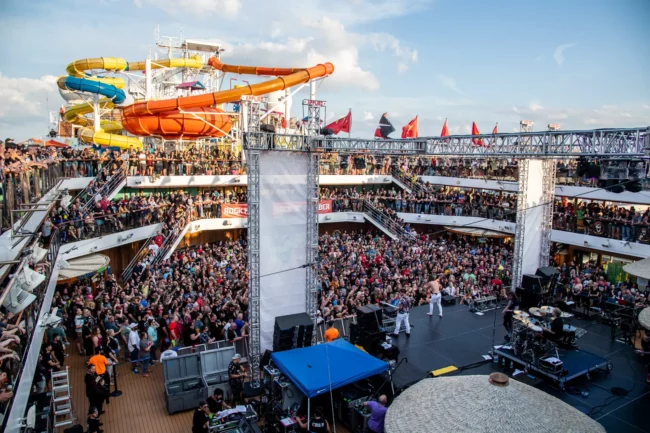 The January 2023 Shiprocked was a huge success with an astounding attendance of over 4,000 fans and sold out in a matter of a few days. Today, the 2024 initial line-up has been announced and it is totally stacked with both artists known for their legacy and exciting upcoming acts. Shiprocked will showcase artists like I Prevail, Killswitch Engage, Beartooth, Highly Suspect, Code Orange, Badflower, Scene Queen and more. Leaving from Miami, FL on February 14th and running until February 10th, the cruise will make stops in Bimini, The Bahamas, Ocho Rios, Jamaica, and Grand Cayman.
The floating music festival is the premier rock music vacation, offering dozens of performances and unique collaborations, artist-hosted events and activities, theme nights, and ample opportunity for fans and bands alike to unwind and create new friendships in tropical paradise. You can purchase your rock vacation here.
Several bands and artists performing on Shiprocked shared their excitement with fans. Check out what they had to say and view the full line-up below!
Brian Berkheiser of I Prevail: "ShipRocked is an institution. And the fact we get to headline is a blessing. We are definitely ready to give all the ShipRockers a kick ass show! And defend our Family Feud title! See y'all there!"
Jesse Leach of Killswitch Engage: "Killswitch Engage, and our appropriately named High Seas Crew, are stoked to be a part of this event, and to play alongside some killer bands! We've always been about having a good time at our live shows, so this seems perfect."
Caleb Shomo of Beartooth: "We've played ShipRocked a few times, and every time it's hard to grasp how much of a family everybody feels like out there. Many attendees are returning customers, which is a good sign of a great event. Playing out in the open water is a pretty wild feeling; nothing can come close to that. We can't wait to come back and rock the boat!"
Badflower: "ShipRocked is the epitome of rock n' roll. And year after year it has become a family reunion with fellow bands and fans that have become friends…A true communal atmosphere and a lot of fucking fun."
Dorothy Martin: "So excited to be joining the upcoming ShipRocked cruise stopping in the Bahamas, Jamaica and the Cayman Islands and can't wait to jam with my Black Sheep in paradise! See you soon!"