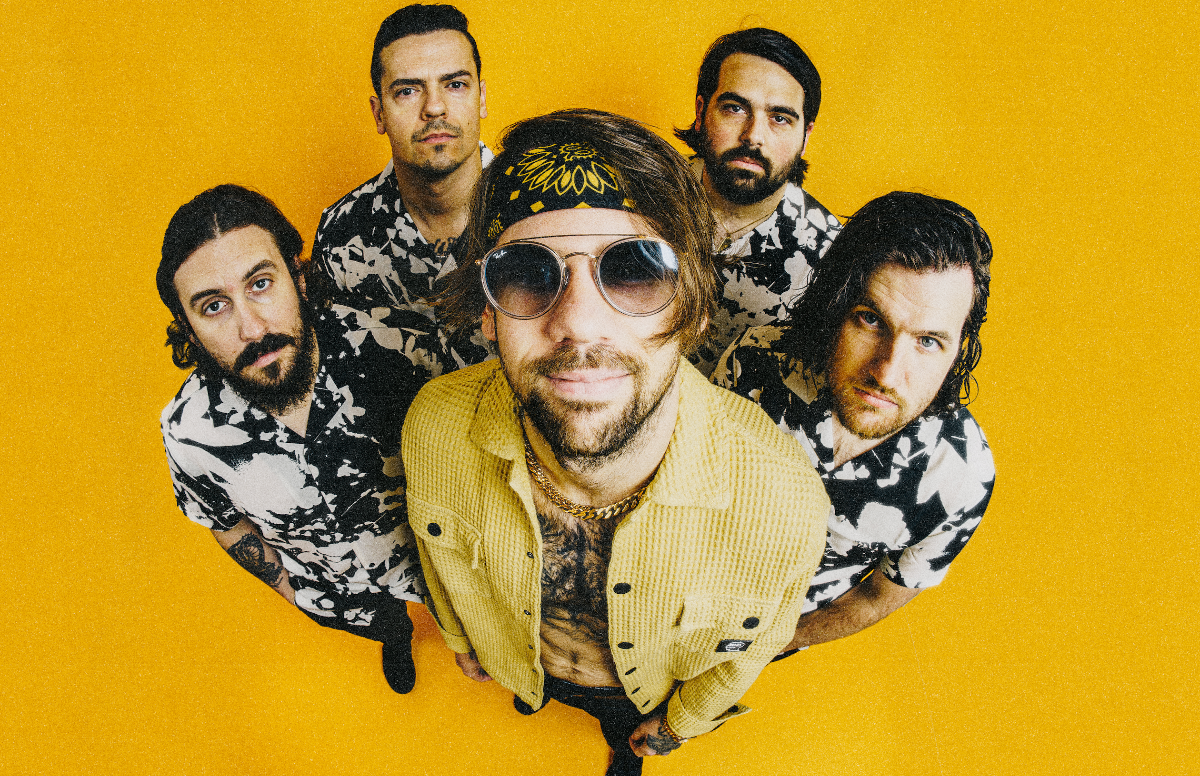 Earlier this year, Beartooth joined Papa Roach on their collaborative effort, "Cut The Line," a re-released track featured on Papa Roach's 2023 album Ego Trip. Now, we've got our first taste of 2023 of Caleb Shomo and co. doing what they do best on their new single, "Sunshine!" 
Marking the group's first new release since July 2022's "Riptide," "Sunshine!" is a startlingly optimistic track offering filthy breakdowns with the group settling for a juxtaposing acoustic, stripped-down chorus that stands out amongst their past releases. Even upon first listen, it's easy to hear that "Sunshine!" will become a staple of the group's live performances with the infectious, singalong arrangement. Despite the track's lively title, Shomo's repetitive, "The end is coming," indicates otherwise.
"'Sunshine!' is about a lot of things, the most obvious being seasonal depression," Shomo shares. "It's always been prevalent in my life but as I grow older, it gets more intense. This song is also about moving on from the dark place I was in during 2020-2021. At the end of the day, life should be enjoyed and a Beartooth song doesn't always have to be miserable."
Following the release of "Sunshine!," Beartooth will embark on an extensive, 38-show co-headline tour with Trivium. The tour will kick off today, April 21, at 98RockFest in Tampa, FL, and will see the group perform a hometown return show at this year's Sonic Temple Festival in Columbus, OH. You can check out the band's touring schedule below and grab tickets to see them live here.
Tour Dates:
April 21—Tampa, FL @ 98RockFest*
April 22—Orlando, FL @ Earth Day Birthday*
April 23—St. Augustine, FL @ Planet Band Camp*
April 28—Newark, NJ @ Rock The Rock Fest*
April 29—Worcester, MA @ The Big Gig*
May 1—Stroudsburg, PA @ Sherman Theater
May 3—Green Bay, WI @ EPIC Event Center
May 4—Milwaukee, WI @ Hog Fest*
May 6—St. Paul, MN @ Twin City Takeover*
May 8—Grand Rapids, MI @ GLC Live at 20 Monroe
May 9—Buffalo, NY @ Buffalo Riverworks 
May 10—Huntington, NY @ The Paramount
May 12—Hampton Beach, NH @ Hampton Beach Casino Ballroom
May 13—New Haven, CT @ College Street Music Hall
May 14—Portland, ME @ State Theatre 
May 16—Richmond, VA @ The National 
May 17—Raleigh, NC @ The Ritz
May 20—Myrtle Beach, SC @ House of Blues
May 21—Silver Spring, MD @ The Fillmore 
May 23—Pittsburgh, PA @ Stage AE
May 24—Nashville, TN @ Marathon Music Works
May 25—Columbus, OH @ Sonic Temple Festival*
May 26—Indianapolis, IN @ Egyptian Room at Old National Centre
May 28—Corbin, KY @ Corbin Arena 
May 30—Omaha, NE @ The Admiral 
May 31—Clive, IA @ Horizon Event Center 
June 2—East Moline, IL @ The Rust Belt 
June 3—Kansas City, MO @ Uptown Theater 
June 4—Tulsa, OK @ Tulsa Theater 
June 6—Austin, TX @ Emo's
June 7—Dallas, TX @ The Factory in Deep Ellum 
June 9—Tempe, AZ @ Marquee
June 10—Las Vegas, NV @ Brooklyn Bowl 
June 11—Riverside, CA @ Riverside Municipal Auditorium 
June 12—San Francisco, CA @ Warfield 
June 14—Spokane, WA @ The Podium 
June 15—Seattle, WA @ Paramount Theater
* Festival Performances with Beartooth Only