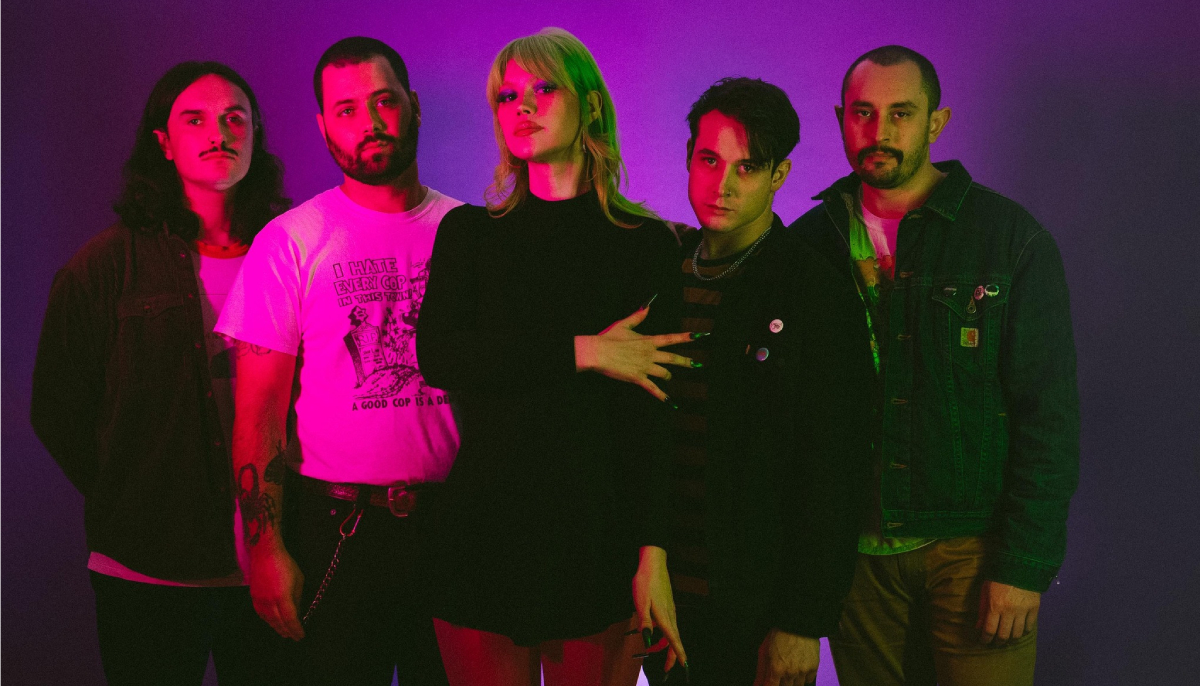 Scowl are one of hardcore's biggest victors over the last few years. Since they first dropped music back in 2019, they have gone from strength to strength both in their local scene and on a worldwide scale. Pushing the limits of what hardcore punk can be in 2023, delivering as much crushing brute force as much as heartfelt vulnerability, there seems to be no limit on the heights they can reach. And with their latest EP Psychic Dance Routine, they have peeled back a whole new layer of experimentation and expression, with vocalist Kat Moss opening up more than ever before about her feelings on perception, expression and individuality.

She has been on a journey of discovery, on a personal level as much as a musical one, and the lessons she has learnt along the way have become absolutely invaluable…

How does having this incredibly personal EP out in the world feel?

This whole process with this EP has been really fun, but we have been doing so much at the same time all at once alongside it. Nothing has really sunk in yet. With every single we put out, we did it whilst we were on tour. The EP was released whilst we were in New York rather than at home. We have done so much around it I didn't feel like it was real yet. I've been sitting with this EP since Fall when we recorded it with Will Yip, but even that process was sudden. The songs were written over the Summer, and then we recorded these songs in a week. I had just a day to do vocal tracking. So it was fast-paced, but gratifying to see it get such a reaction.

Despite the speed of it all coming together, the songs represent things that have been on your mind for a long time. Things that you've been trying to talk about but have been waiting for the right moment…

Talking about what you're writing about is a vulnerable step to take, and I feel like I was already in that vulnerable direction with what I was writing about in the first place. Honestly, that is just growth for me because I was afraid to be too vulnerable for a long time whilst still pouring my heart out. I've been thinking about this stuff for a long time, though. I believe that when it comes to a lot of the lyrical content and the direction it went emotionally, we hadn't sat down and written Scowl songs since early 2020. That's when we wrote How Flowers Grow, so these things have been stewing for a while, and I've had a lot of things on my mind to talk about.

Of course, with a song like "Opening Night", it's clear how I felt about my life at the time and how I feel now. It's an experience I have been thinking about at 100mph for a long time. I've always been an overthinker and always that person who is afraid of being perceived. Sometimes I get insecure even saying that I'm a person who is afraid of receiving attention because it's super hypocritical to be going on stage every day and saying you're afraid of it. But that's also how I've been growing up, and now I do something that requires me to do that. I love it a lot, but it's still scary and overwhelming. I had been writing loosely about it in my journals and poetry, so getting to do it with the band meant a lot.

So much about the world has changed between those times that you wrote, but also so much about who you are as a band and as a person has changed as well. You've gone from being a band playing to friends in your local area to being watched and supported worldwide, all without you actually doing that much…

That's such a nail on the head. There's a lot of confusion in doing what is normal for me and being myself with the scene and world changing around me, on top of the audience going from me knowing everyone in the room to a bunch of kids I've never seen in my life. That's a great thing and something we want to see in hardcore, but suddenly there is so much more attention on us, and there is so much more to it than I ever anticipated. More than I got myself involved for. I'm scared of that, but I will still fly, you know? I've always put 100% into it no matter what, so playing in a DIY hardcore band, I will give it my all. But there was no real expectation of that, whether that's playing local shows or fests, and that's when it has blown up to be more than I ever expected. I'm just as grateful and happy for it, though. It's stuff to get used to, though. I was scanning groceries a couple of years ago, so it's a lot not to be in a position where I can go on tour as a job.
And when that side of things is growing so fast, you don't have the time to process why all these people are here are paying you attention, and you're singing songs about things completely different from how you feel now. But the roots of that, even within the style you sing now, were always there…

Oh, I was pissed on How Flowers Grow. But where I choose to sing rather than scream and yell now, that is intentional. Getting my emotions across, either way, is intentional. I also wish I could wear a sign that says, "THIS IS MY FIRST BAND". I've never done this before and never had the opportunity to play music, a beautiful privilege I wish more people had. You learn so much about yourself and yourself as an artist, two sides that everyone has but doesn't nurture. But I can't sit on my hands and do the same thing repeatedly because that defeats the point. As an artist and a human being, I have to do something that takes on different shapes. And with this being my first band, this is my shot at doing that. I'm doing it in a way that's true to my band and me.

There's such a pureness to that. People may have done it since they were 16, but they are then set in their ways from their experiences. You are a clean slate that has bided their time to know what is right for you and when. It must allow you to disconnect and just be yourself as much as it helps you to invigorate the band…

I indulge in my everyday routines as much as I can. You don't get routine on tour, and we have been on tour for a minute. I'm stoked about that, but I thrive on waking up, having coffee, eating breakfast and doing my laundry. Two years ago, I had to literally kick myself in the ass to go and do those things, and now I find joy in them more than ever. I was depressed back then, and now I don't have time to be depressed! That's just how it goes. Anything you do with a lot of your time will affect your life. It just happens to be music, which feels weird and crazy. We're playing in a punk band. We're not classically trained musicians who had this future ahead of us forever. This is better than what I had initially planned, though, which God only knows what that was.

Those moments of normality are also things that are never really a part of the ethos you're projecting or brought up in. It's the same with talking about anxiety and depression. You're more likely to hear the Hatebreed side of dealing with things than The Get Up Kids way of dealing with things. When you're stepping out, and people are looking to you as a voice and a guide, you're thinking more about the aspects of this that aren't a part of it. That's a strange place to be, isn't it?

I think that's a great point. There is such a hard exterior wrapped around being vulnerable that we are so used to. For someone like me, I didn't reinvent the wheel by going on stage in a dress and go-go boots. I'm not the first to channel this hyper-feminine look. I like doing that. But I think the composition of that with being pretty raw and vulnerable and the stuff I'm dealing with. It's a lot to take in. I'm okay with that because it's just what I'm doing. From the jump, it's not hard to see what this was all about. And it's stuff that many young women and people who exist in hardcore also deal with. I can't pretend, you know? I will talk shit, but I will also talk shit about myself. The first essential thing I learned in hardcore was if you have something to say, then say it. Grab a mic and say it. That's what I feel is such an important part of this that I don't want anybody to get lost. It doesn't matter if it sounds good or bad. It's punk.

What would you say your outlook on things was before you had Scowl there to express those things?

I grew up spending a lot of time riding horses. I got competitive in it. I wasn't financially well off, so I would spend every day at the barn working to pay for my lessons and things like that. I did a lot of physical labour working on ranches. But I still struggled with many things, and I found that still wasn't enough, so I found myself leaning into making friends on the internet and Tumblr. That's a really common experience when you were born at a time when you could go outside and play, but you also had YouTube.

Music was a platform for that, too. My later teens were when I discovered punk. I didn't have any friends who were into it. The thing I thought of as punk wasn't the 80s stuff. It was Warped Tour and bands like The Story So Far and The Wonder Years. I didn't know about The Misfits or The Adolescents or Circle Jerks. It took me a little bit longer but reached me when needed, revitalising my brain. I felt like a sham, though, because a lot of people in hardcore had been going to punk shows from a much younger age than I was. But then, when I got into the hardcore scene in the bay area and started participating, my outlet was going to shows and being helpful all the ways I could. Then that's where Scowl came in, and it became my hyper fixation. My outlets have always been very physically in front of me, and I have had to spend all day every day with them.

Everybody has a journey, and every journey is valid, and with the scene developing like it is, those journeys will be even more varied. As long as you find and feel it, you're on the right path…

I genuinely fell in love with it, and I am sad that I miss many shows at home now because I'm busy. I'm busy because I want to be busy. I want to experience this. But the energy is irreplaceable. It's powerful, and there's a reason we are all attracted to it. It's why it has taken over our lives in the way it has. It doesn't mean I can't love other things, though, this is a large part of who I am, but I'm also me.

It feels like Scowl embodies that brilliantly now. Everybody is unique, and everybody has more to them than this, but this thing is still very much at the centre of why we are all doing it. And that's what you have created from being true to yourself…

To be honest, I fucked around, and I found out. I faked it till I made it. I didn't graduate high school, and I thought I would hopefully make enough money to support myself for the rest of my life. I hoped I could be someone who didn't have to put out a lot to get a lot, and that's okay. Now I have the privilege to travel the world and play music; the only way I could be convinced I could do that was because of other DIY bands doing it. That ethos is so important I hope it never gets lost. I hope people can now look at Scowl and think, 'Yes, I can start a band too'.