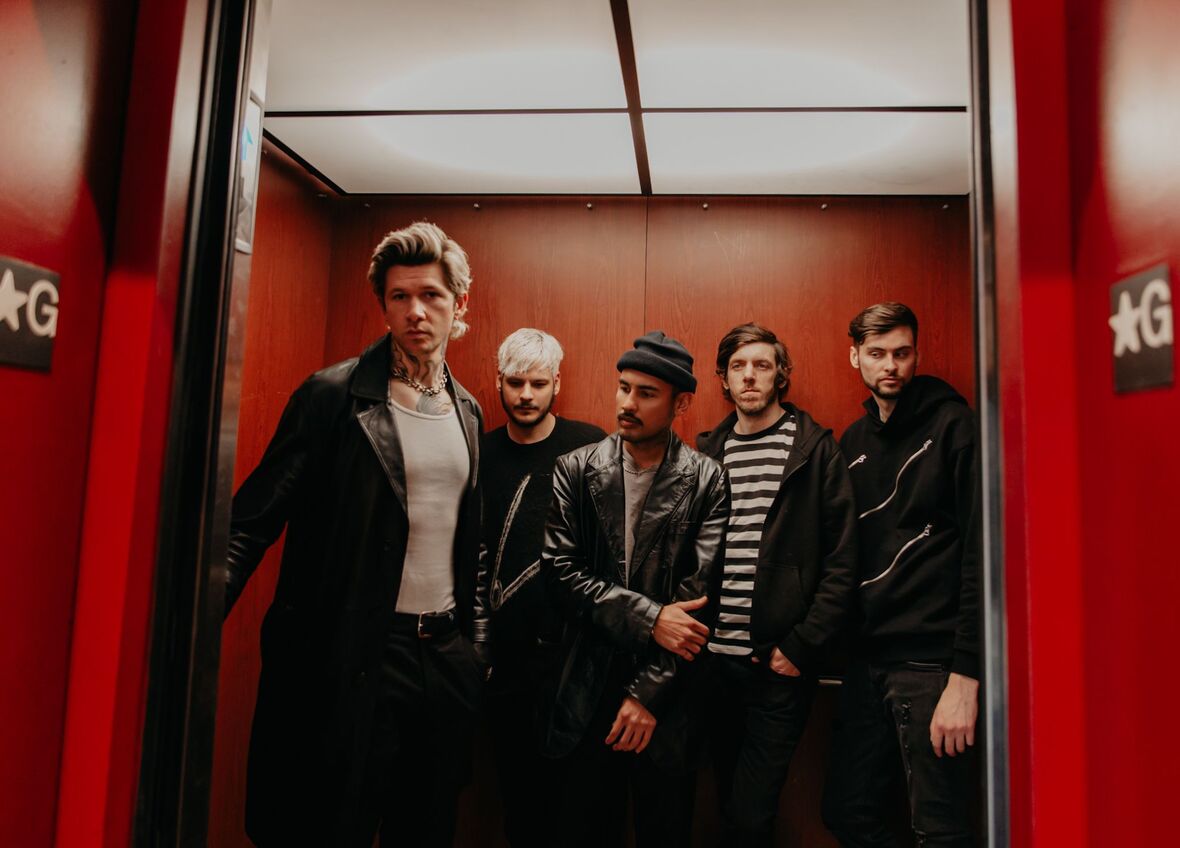 Post-hardcore unit Rain City Drive (known formerly as SLAVES) has launched a reimagined rendition of their fan-favorite single "Blood Runs Cold." The fresh take on the track will be featured on the group's forthcoming deluxe edition of their self-titled alum, which is set to arrive via Thriller Records on June 23.
Of the deluxe album, fans can expect five reimagined tracks from the band's discography, including "Cutting It Close," "Waiting On You," "Bury A Lie," "Psycho," and their popular single "Talk To A Friend," which has amassed more than 23 million streams since it's release in 2020.
In contrast to the original version of "Blood Runs Cold," which dropped in 2022, the reimagined version of the track takes a haunting and atmospheric approach with heavily stripped-back instrumentals. Pulling back the layers of pulsating percussions and intense breakdown, "Blood Runs Cold (Reminagined)" is highlighted by soft acoustics that create space for lead vocalist Matt McAndrew's delivery to soar. The emotionally-charged track conveys the melancholic mood through McAndrew's raw and vulnerable performance peppered with his delicate falsetto. While the original rendition of the track is spectacular on its own, the reimagined version of "Blood Runs Cold" effortlessly captures the pain of the lyrics with clarity and emotional depth.
"'Blood Runs Cold' is about not being able to walk away from someone because your connection is so strong that they feel like a part of you" McAndrew shares. "We had a lot of fun rearranging 'Blood Runs Cold' for the deluxe album. The five of us enjoy listening to and performing a wide variety of genres and we're looking forward to showing the fans a different side of our sound."
Take a listen to "Blood Runs Cold (Reimagined)" and check out their deluxe album tracklist below. You can preorder Rain City Drive Deluxe here.
Rain City Drive (Deluxe) Tracklist:
Waiting On You
Gardens Of Misery
Dreams
Dying For
Nothing Left
Psycho
Cutting It Close
Blood Runs Cold
Eternity
Ophelia
If I Was Right
Blood Runs Cold (Reimagined)