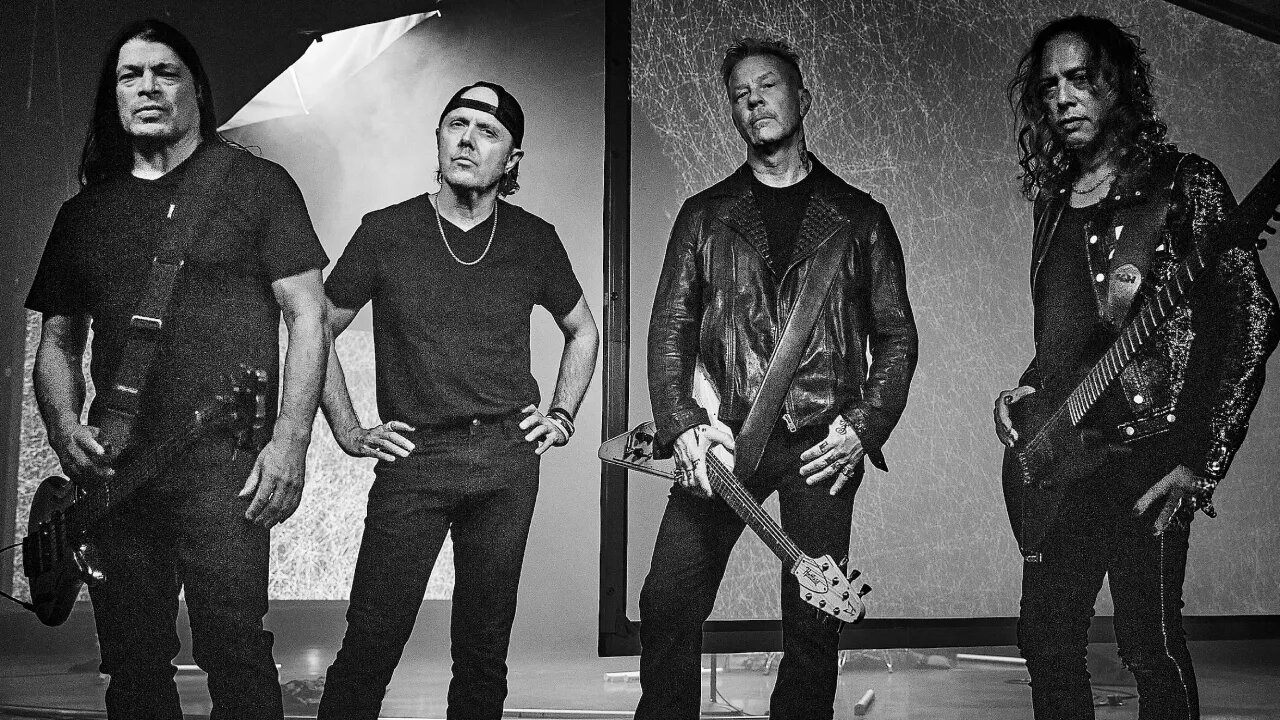 Metallica are about to release 72 Seasons, their first full-length album since 2016, and possibly the most personal of their extraordinary career. They've now shared the epic title track, clocking in at nearly eight minutes.

A track that combines both the thrashing intensity of the band's roots with the big and bold anthemics of their later years, it's a song that perfectly embodies everything that the band are in 2023. Though the depth comes from the ideology behind the title. The fact that we change over time, and the things that we once thought were right are now completely against how we see the world now. There is no shame in change, and knowing that you are able to is a part of growing older. As they enter new chapters in their lives, Metallica simply want everybody who listens to them to know that.

Frontman James Hetfield had this to say about it all:

"The first 18 years of our lives that form our true or false selves. The concept that we were told 'who we are' by our parents. A possible pigeonholing around what kind of personality we are.
"I think the most interesting part of this is the continued study of those core beliefs and how it affects our perception of the world today. Much of our adult experience is re-enactment or reaction to these childhood experiences. Prisoners of childhood or breaking free of those bondages we carry."

Metallica will be releasing 72 Seasons on April 14th via Blackened Recordings.

Here's previous single, "If Darkness Had A Son":

Metallica will also be heading on a world tour starting next month. Here are all of the dates:

2023
April 27 – Amsterdam, NL @ Johan Cruijff Arena
April 29 – Amsterdam NL @ Johan Cruijff Arena
May 17 – Paris, FR @ Stade de France
May 19 – Paris, FR @ Stade de France
May 26 – Hamburg, DE @ Volksparkstadion
May 28 – Hamburg, DE @ Volksparkstadion
June 16 – Gothenburg SE, Ullevi Stadium
June 18 – Gothenburg SE, Ullevi Stadium
August 4 – East Rutherford, NJ @ MetLife Stadium
August 6 – East Rutherford, NJ @ MetLife Stadium
August 11 – Montreal, QC @ Stade Olympique
August 13 – Montreal, QC @ Stade Olympique
August 18 – Arlington, TX @ AT&T Stadium
August 20 – Arlington, TX @ AT&T Stadium
August 25 – Inglewood, CA @ SoFi Stadium
August 27 – Inglewood, CA @ SoFi Stadium
September 1 – Glendale, AZ @ State Farm Stadium
September 3 – Glendale, AZ @ State Farm Stadium
November 3 – St. Louis, MO @ The Dome at America's Center
November 5 – St. Louis, MO @ The Dome at America's Center
November 10 – Detroit, MI @ Ford Field
November 12 – Detroit, MI @ Ford Field

2024

May 24 – Munich, DE @ Olympiastadion
May 26 – Munich, DE @ Olympiastadion
June 7 – Helsinki FI, Olympic Stadium
June 9 – Helsinki FI, Olympic Stadium
June 14 – Copenhagen, DK @ Parken Stadium
June 16 – Copenhagen, DK @ Parken Stadium
July 5 – Warsaw, PL @ PGE Narodowy
July 7 – Warsaw, PL @ PGE Narodowy
July 12 – Madrid, ES @ Estadio Cívitas Metropolitano
July 14 – Madrid, ES @ Estadio Cívitas Metropolitano
August 2 – Foxborough, MA @ Gillette Stadium
August 4 – Foxborough, MA @ Gillette Stadium
August 9 – Chicago, IL @ Soldier Field
August 11 – Chicago, IL @ Soldier Field
August 16 – Minneapolis, MN @ US Bank Stadium
August 18 – Minneapolis, MN @ US Bank Stadium
August 23 – Edmonton, AB @ Commonwealth Stadium
August 25 – Edmonton, AB @ Commonwealth Stadium
August 30 – Seattle, WA @ Lumen Field
September 1 – Seattle, WA @ Lumen Field
September 20 – Mexico City, MX @ Foro Sol
September 22 – Mexico City, MX @ Foro Sol
September 27 – Mexico City, MX @ Foro Sol
September 29 – Mexico City, MX @ Foro Sol