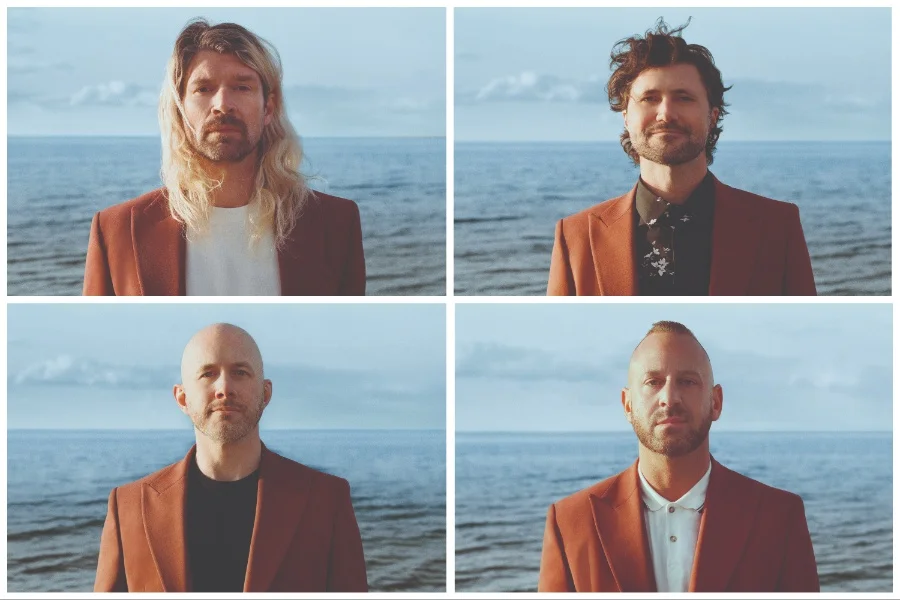 Throughout a remarkable journey spanning over two decades and marked by the release of eight full-length albums, Taking Back Sunday stands as an unwavering and highly sought-after presence, both for their devoted fans and within the rock music scene. With each new release, Adam Lazzara and Co. have consistently harnessed the same sonic enchantment that has become synonymous with their name. This magnetic quality, be it through Lazarra's iconic mic swing or the group's give-it-your-all stage presence, initially captured the hearts of fans during the golden age of MTV and VH1, cementing their place as a beloved fixture in the rock world.
As they have evolved and adapted, the core essence of the band has remained unyielding. The interplay between vocalists Adam Lazzara and John Nolan, combined with their dynamic musical arrangements and emotion-evoking lyricism—not to mention the bond that has moreover solidified the unit as brothers—has been the driving force behind their enduring success.
On the heels of their new collection, 152, a reference to Lazzara's North Carolina roots that fans may recognize from across the group's history together, Taking Back Sunday masterfully captures the spirit of a generation. The album takes listeners on an unshakeable journey, from the hypnotic ballad "I Am The Only One Who Knows You" to the quintessential sound of "S'old," 152 explores a rich spectrum of emotions, evolving right before your ears to unveil the band's heart, laid bare for all to hear once more.
idobi Radio spoke with co-lead vocalist/guitarist John Nolan, delving into the intricacies of the album, the band's creative process, and the unique perspective the 2020 pandemic offered them as they reimagined their sound with a fresh perspective.
I'm really intrigued by this album because of the simplicity of the title and the inspiration behind it. You've mentioned that you found inspiration in this connection to a road in North Carolina. Could you elaborate on that and what the actual significance is to you as a group? 
So, Adam grew up in North Carolina. He's the only one of us who didn't grow up on Long Island. And there was this exit between where he and some of his other friends lived, where a lot of times if they were going to a show, they would meet up there because it was a halfway point and then travel together.
And so that had significance to him when he moved to Long Island and started playing with Taking Back Sunday. When it came time to do the artwork for Tell All Your Friends, we included a picture of that exit. I think it was on the back of the album if I remember right. From then on, that 152 has been, in one way or another, worked into every album cover we've ever done. Sometimes, it's been in merch, and it became a little bit of an inside reference for long-time fans and people who really paid attention to us through the years. It felt like with this album, it would be a good time to bring that front and center instead of hiding it in the background.
I feel like 152 is a callback to your roots. So much that you guys recently did, like a backyard house show, and turned it into a video. But it feels like it's calling back to those house shows and VFW hall performances in Long Island. It feels very personal. Was this something that was intentional when you guys started the recording process, or was this something that just happened naturally?
It definitely happened naturally. Some of the things like the in-the-house show in the music videos, there was an intentional effort put into it connecting back to Long Island. So that was something we thought about. I think, as far as the music that we made on this record, I feel like, in a lot of ways, it's a departure from most of what we've done. But I think that anyone who hears it, it's obviously still Taking Back Sunday. It's not us trying to reinvent ourselves or turn ourselves into something that we aren't. But I think it's definitely a step in a new direction. At the same time, there's still an acknowledgment of where we came from and our connection to it.
You guys are definitely not trying to be the next Taylor Swift, and it feels, from my personal perspective, that Taking Back Sunday is one of those bands that is aging like fine wine. It's getting better and better every single year that you guys are putting your whole heart and soul into everything. The music still feels like Taking Back Sunday, but it feels like a progression. It feels like you guys are always leveling up. 
That's always the goal, especially with this album and with all the nostalgia and all of the people who are into our band but are more focused on the earlier albums. I think we still have a very real sense that we have to prove to people that we are worth paying attention to right now and right here, and with what we're writing and making. I think it could easily become just another Taking Back Sunday album, and it could become that for a band like us that's been around for a long time. We want to continue to put everything we have into our songs and keep people coming along with us.
You guys have taken almost a seven-year break from creating or putting a new album out. But you never really slowed down during that period of time. You've always been on tours, you've always been doing the circuits of Riot Fest and all the things that we would expect to see Taking Back Sunday doing over the years. How did that extended break between albums influence the creative direction of 152? 
It's hard to say. Some of the time that it took between albums did have to do with the pandemic—probably a year and a half, maybe more. We didn't play a show, and we would have normally during that time had been writing and probably would have even released the record within a year and a half of our last tour.
The pandemic really forced us to take the first long break we ever had from writing, recording, and touring. We all had that time to stop and evaluate ourselves in our lives in a way that we hadn't before. Because when you keep touring, keep going and going and going, you don't really have much time to stop and consider who you are and how you feel about what you're doing and everything. So, I think that was probably the thing that had the biggest influence on what the record ended up being. We all were changed in one way or another by that experience. 
Part of why Taking Back Sunday has found so much success is you've always had a really beautiful, eloquent, and articulate way of expressing emotion through your music. Adam Lazzara has gone on record saying that your goal with each release is to make people feel something, and you've accomplished that through varying emotions across the spectrum and across each album. What emotions were you trying to evoke, or you just happened to fall into while you were writing and recording this new album?
With lyrics, Adam and I both, when we write, or to some extent, try to tap into something subconscious, something that will come out of you without forcing too much thought. I think we've always both found that those end up being the best lines or the best songs. We don't realize what themes or what kind of emotions we are trying to put out there until after it's done, and we can take a step back and look at it.
Sometimes, once other people start hearing it, they'll start telling you things that they're picking up on or feeling that you didn't even expect or even realize. So it's always an interesting process. Also, because of the way we do it like that, there is this thing that's happening with us as writers and the audience at the same time. We are processing what we have been putting out there at the same time that the audience is. 
Speaking of the overall themes and messages of the album, it feels hopeful and bright, but it also still feels like an elevated version of the quintessential Taking Back Sunday that I think you're very devoted fan base has grown to know and love over the last 20 years. Could you touch a little more on what those themes and messages ended up becoming across the album?
The lyrics definitely cover more of a variety of emotions and ideas than maybe we have in the past. Adam and I both, over the years, have made somewhat of an effort to branch out. It can get really easy to access negative emotions to inspire a song. At least, it's always been that way for me—that is the thing that I can pull out from my subconscious the quickest and easiest. It's usually something that's a little bit angry or unhappy.
We definitely realized a while back that that can't be the only thing you're doing as a lyricist. We both tried to explore a lot of different types of emotions. I'm proud of that on the album. There are songs that are very hopeful and very much inspired by love and connecting to people. There are songs that are some of the angrier songs we've written, too. Some have an element of sadness in the music, and the lyrics will feel a certain way. Then, once you dig into the words and look at them, I feel like it takes the perception of the song in a different direction than it seems on the surface.
One of the things that we've learned about this album, in particular, is that the writing process started before the pandemic, but a lot of the songs went through transitional periods and transformed and took a new shape as you guys workshopped these tracks and selected them very carefully for the album. Were there any drastic changes that songs experienced or even you guys as a unit experienced throughout the several year process?
Yeah, there definitely was. Right before everything went into lockdown, we had done our first demo session. I think at that point, we only had three, maybe four songs—just rough demos. The way we work on songs very much relies on us being in a room together and discussing ideas and throwing ideas out to each other.
During the pandemic, we all worked on ideas on our own, but we didn't make any progress on making the record. So then it was like this long break. Then, when we went back to listen to the three or whatever songs we had from before the pandemic, it's crazy because you're listening to something from over a year ago that none of us had even revisited since we recorded it. So it was almost like hearing those songs for the first time or like that somebody else had written them. That was a weird experience. 
There's a song on the new album called "I Am The Only One Who Knows You"—that was one of the ones that we recorded, at least a version of it, early in the process. The original version of that song is really upbeat, kind of heavy, a rock song with like these rolling drums. It really couldn't be further away from the style of the song that it ended up being. But a lot of it is the same melodies, same lyrics, even some of the same chords, but just musically made into the almost exact opposite style of song that it started out as. It's crazy to me that it works so well the way it ended up on the album.
At some point, I would like to put the demo version of it out there just because I think it's so surprising where it started out and where it ended up.