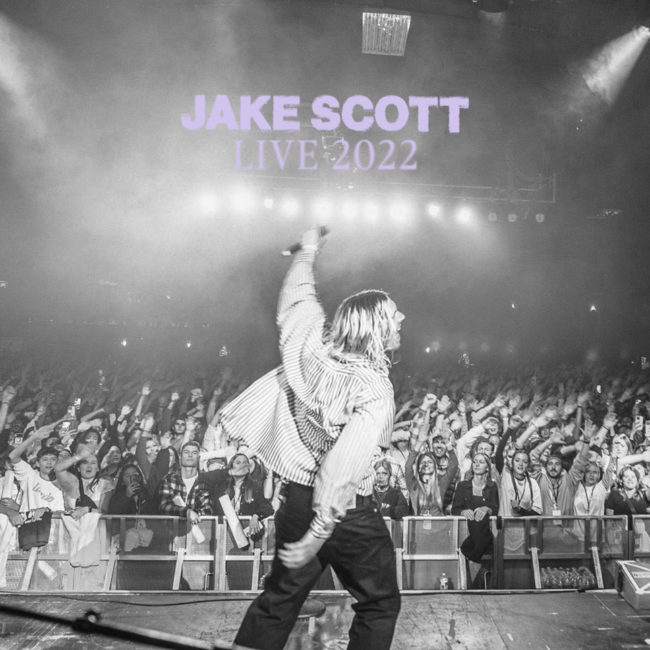 Los Angeles-based pop singer-songwriter, Jake Scott released his new album Live 2022 today. The album was recorded during his Lavender headline tour in the fall of last year. Each song on the album was recorded during a different night of the tour and allows fans to revisit their experience of seeing Scott live on stage. The effort showcases Scott's high-energy, deeply authentic and heartfelt songwriting, and overall engaging performances. Check out the track list for the live album below.
CWJBHN (Live 2022)
Texas Girl (Live 2022)
She Likes It (Live 2022)
Maybe (Live 2022)
I Don't Miss You (Live 2022)
Overthinking (Live 2022)
Like This (Live 2022)
She (Live 2022)
Working For You (Live 2022)
Whole Lives (Live 2022)
All Too Well (Live 2022)
We Haven't Looked at Our Phones (Live 2022)
Green Eyes (Live 2022)
She's Not You (Live 2022)
Good Day (Live 2022)
Tuesdays (Live 2022)
Favorite T-Shirt (Live 2022)
Earlier this month, Jake Scott attended the CMT Awards on behalf of his nomination for "Collaborative Video of The Year" as the feature on Russell Dickerson's smash hit "She Likes It." The song is now RIAA Certified Platinum and has amassed 280M+ worldwide streams. Along with being a featured artist on "She Likes It," Scott co-produced, mixed, and co-wrote the track with Dickerson. Scott has also seen live TV appearances on The Today Show, Good Morning America, and The Kelly Clarkson Show.
Captured during Scott's biggest sold-out show to date in Salt Lake City, you can watch his performance of "Tuesdays (Live 2022)" below!