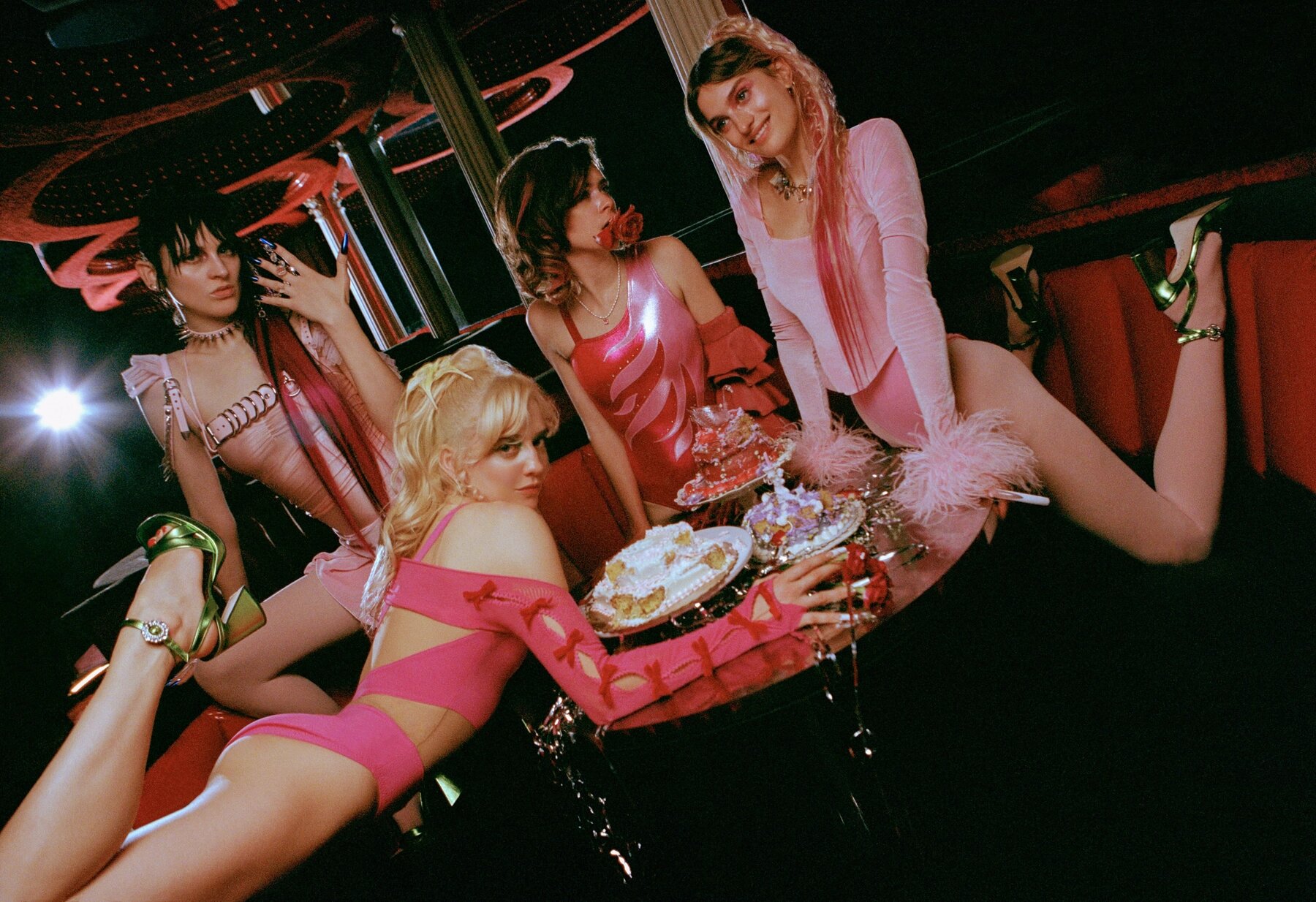 New York four-piece, cumgirl8, has released their latest effort "cicciolina" and inked a record deal with 4AD ahead of their support dates alongside Le Tigre this summer.
Inspired by the Hungarian-Italian former porn star turned politician Cicciolina Ilona Staller, the band shares, "Cicciolina is an Italian icon, porn star, and former politician that was elected to parliament in the 90s. She advocated for human rights and the eradication of nuclear weapons. Cicciolina said 'make sex not war' and used her divine power of femininity to troll the status quo while disrupting it from the inside. We feel her ideals are foundational to the cumgirl8 philosophy of subversive change, peace, and strength in vulnerability. We hope she loves our song, we love her very much. Cicciolina is cumgirl1"
"cicciolina" is a rough around the edges, grunge meets pop medley that pays homage to the empowering feminity that Cicciolina Ilona Staller embodies and a reflection on sexual freedom. Check out the full track and accompanying video directed by Emmie America.
cumgirl8 will also be performing a three-night stint alongside the Kathleen Hanna-led Le Tigre this summer. You can check out all of their upcoming tour dates below.
Tour Dates:
April 19—New York City, NY @ Baby's All Right (DJ Set)
April 20—New York City, NY @ Nublu
May 9—London, UK @ Moth Club
May 11—Brighton, UK @ Great Escape
May 12—Leeds, UK @ Headrow House
May 13—Margate, UK @ Justines
May 15—Southampton, UK @ The Joiners
May 17—Paris, France @ Pop Up!
May 18—Gent, Belgium @ Trepunt
May 19—Amsterdam, Netherlands @ London Calling Festival
May 20—Le Havre, France @ Foul Weather Festival
May 25—Madrid, Spain @ Wurlitzer Ballroom
May 26—Donosti, Spain @ Dabadaba
May 29—Barcelona, Spain @ Primavera
June 9—Hilvarenbeek, Netherlands @ Best Kept Secret
June 17—Kriens, Switzerland @ B-Sides Festival
June 18—Mannheim, Germany @ Maifeld Derby
July 1—Oakland, CA @ Mosswood Meltdown Festival
July 7—Trenčín, Slovakia @ Pohoda Festival
July 21—Toronto, Canada @ History*
July 22—Montreal, Canada @ L'Olympia*
July 24—Boston, MA, USA @ Royale*
Aug. 18—Wales, UK @ Greenman Festival
Aug. 19—Glasgow, SC @ Core Festival
Aug. 30—Berlin, DE @ Popkultur Festival
Nov. 10-11—Paris, France @ Pitchfork Paris
*Supporting Le Tigre.