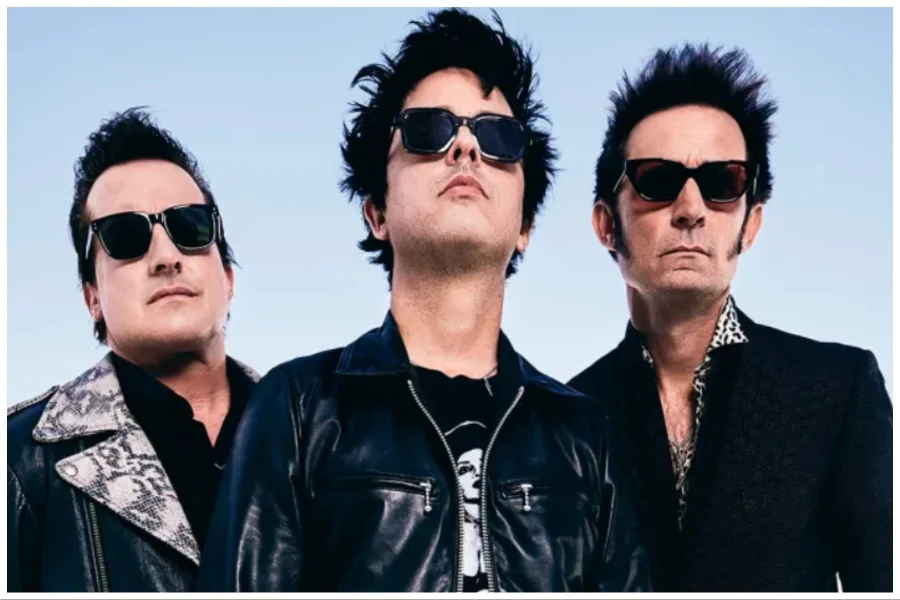 It has been an eventful week for Green Day and their fans! As When We Were Young Fest 2023 began to draw to a close and reached a fever pitch of thousands of fans basking in the pop-punk glory that the iconic band brings to the stage, the trio couldn't help but treat fans to yet another yet-to-be-released, forthcoming single titled "Look Ma, No Brains!" This new track debut follows the live debut of their track "The American Dream Is Killing Me," which is set to arrive on Tuesday, October 24.
According to a fan account on TikTok under the handle greendayitaly, "'Look Ma, No Brains' by Green Day is the second track on the vinyl given out to some lucky fans during the gig at Fremont Country Club in Las Vegas last Thursday. Big shoutout to [TikTok useer] u-dersdividedsky for this cool find!!! And get ready because the worldwide tour is just around the corner."
During their epic performance, "Look Ma, No Brains!" was sandwiched between two of Green Day's most iconic hits, "Boulevard Of Broken Dreams" and "Longview," leaving the crowd in raptures. Blasting through the speakers, the new track is a pop-punk-fueled phenomenon with a tongue-in-cheek chorus, throbbing drums, and signature Green Day guitar work. The track perfectly captures the group's rebellious spirit and is destined to become a classic amongst Green Day's storied discography.
Check out Green Day's new track, "Look Ma, No Brains!" below.
More on Green Day
Green Day recently celebrated the 30th anniversary of their classic album Dookie with a special release and special performance in Las Vegas, NV, leading up to When We Were Young Fest. The anniversary release, featuring previously unreleased demos, outtakes, and live performances, is the ultimate accompaniment to one of the most influential and revered albums in the band's discography. You can pick up your copy here. It follows on from the 25th-anniversary edition of Nimrod that the band released in 2022. With this becoming a trend for the band, perhaps we are heading towards a similar celebration for their other records. 20th anniversary of American Idiot? 15th anniversary of 21st Century Breakdown?

The band has also been hinting over the course of the last couple of years at a new album they have been working on. The project is seemingly titled 1972. They have worked on it at RAK Studios in London and Ocean Way Recordings in Hollywood alongside producer Rob Cavallo. It's the first time that they have worked with Rob since the UNO, DOES, and TRÉ trilogy a decade ago. Until now, only small teasers of music have been released, but it appears that Green Day channeling an old-school punk style and that new music could be arriving on October 24.